Macro photography is the most creative but challenging genre. Here, you highlight the beauty that we normally miss with our naked eyes. The challenges come when you try to photograph the small physical world and fight with diffraction and motion blur. 
Don't worry, all you need for macro photography is a good macro lens and some practice. 
Here we look at all about the macro lens, how you use it for better compositions, and most importantly, we compile some ideas for the best macro photography lenses.
Let's get started!
What is a Macro Lens in Photography?
A macro lens is a unique camera lens made for taking close-up shots because of its extremely close minimum focus distance. It is a must-have tool for every professional photographer and videographer.
The magnification ratio connects the in-focus subject's projected size on the imaging sensor with its actual size. The macro lens typically has a 1:1 ratio and depicts the subjects as lifelike or larger than that.
When you can take close-up shots of highly detailed small objects using a macro lens, refer to "macro photography." In the early 19th century, Frank Percy Smith (1880-1945) revealed his interest in both artistic and naturalistic aspects and recognized macro photography with bellows, extension tubes, and motion capture equipment. From that time to now, not only has the time changed but also the equipment; the basics have not. Macro photography enters the world of photography simply to explore it more closely.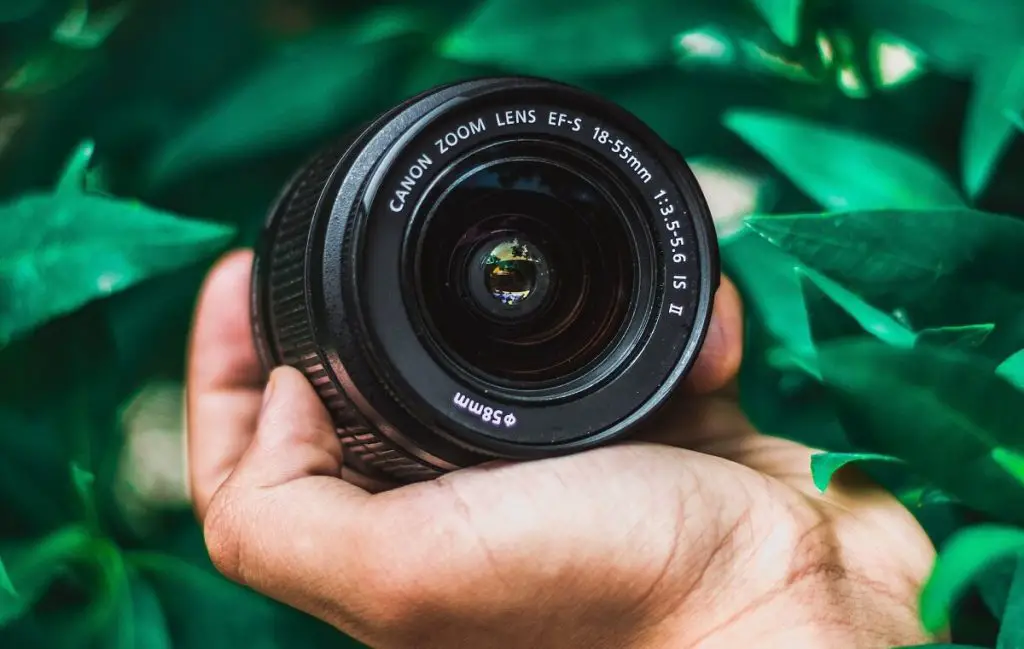 What is a Macro Lens Used For?
When it comes to macro lens definition, you could turn everyday small objects into an art form. But it changes when you discover macro lens expertise in different fields. You surely might be surprised that it's not only used for closer shots and that it has versatility. 
Its magnification capabilities produce outstanding detail on small landscape subjects.
It can also take sharp, intimate portrait shots with its moderately wide aperture and long focal length.
Macro lenses mostly overlooked their versatility for general photography. But if you carefully study its methods, it has the potential to capture photos for general purposes.
It can also be used for food photography, capturing action shots, or adding creativity to it.
You can also use it for jewelry photography to capture its detailed features.
Moreover, the macro photography world is vast, and macro lenses are no longer limited to just one field but are moving forward.
How Does a Macro Lens Work?
When we look at the regular lens, its focal point is closer to the camera's sensor point. 
In contrast to how it normally works, a macro lens has its focal point far away from the camera's sensor point because of its greater magnification ratio. It stands closer to the subject. It requires a larger lens barrel and more glass elements to get deeper and take sharp shots. 
Macro lens fully depends on the magnification ratio and focusing distance while capturing shots.  
However, what macro lens's focal length produces the best results?
If the macro lenses' focal length ranges from 35mm to 65mm, they give perfect results for everyday use, while the range from 90mm to 105mm offers excellent macro shots and is the bread and butter for professional photographers. While going beyond the range of 105 mm, it can shoot moving subjects closely without any worry of camera shake or chromatic aberration.
What Is the Difference Between a Macro vs Telephoto Lens?
Now we've figured out the macro vs telephoto lens differences, which mostly plunge you into confusion. This will never happen to you anymore; we've come up with the clarity. 
Macro lenses capture incredibly detailed and textured images, such as up-close shots of flowers and insects. 
Since the minimum focusing distance is typically smaller, you can get closer to the subject initially. 
When using an actual macro lens, the subject will appear larger on the sensor and allow for more details when the magnification ratio is at least 1:1.
The focal length of a macro lens is usually shorter than the subject's focusing distance of regular lenses.
Macro lenses are ideal for macro and micro photography, emphasizing the details of your subjects. 
It can be challenging to spot the slightest movement without shifting the subject out of focus.
Telephoto lens is a unique lens that distorts the distance between a subject and the viewer.
It has a very short minimum focusing distance, so you can bring distant subjects closer like looking through a telescope. 
The magnification ratio of the telephoto lens is typically lower than the macro lens. 
The focal length of a telephoto lens is larger and has a limited angle of view indicating that it is adaptable and simple to use in different situations. 
Moreover, telephoto lenses are ideal for wildlife photography, portrait photography, and sports photography. 
Telephoto lenses can capture movement in shots.
Have a look: What Is the Best Lens for Close-Up Shots?
How to Choose a Macro Photography Lens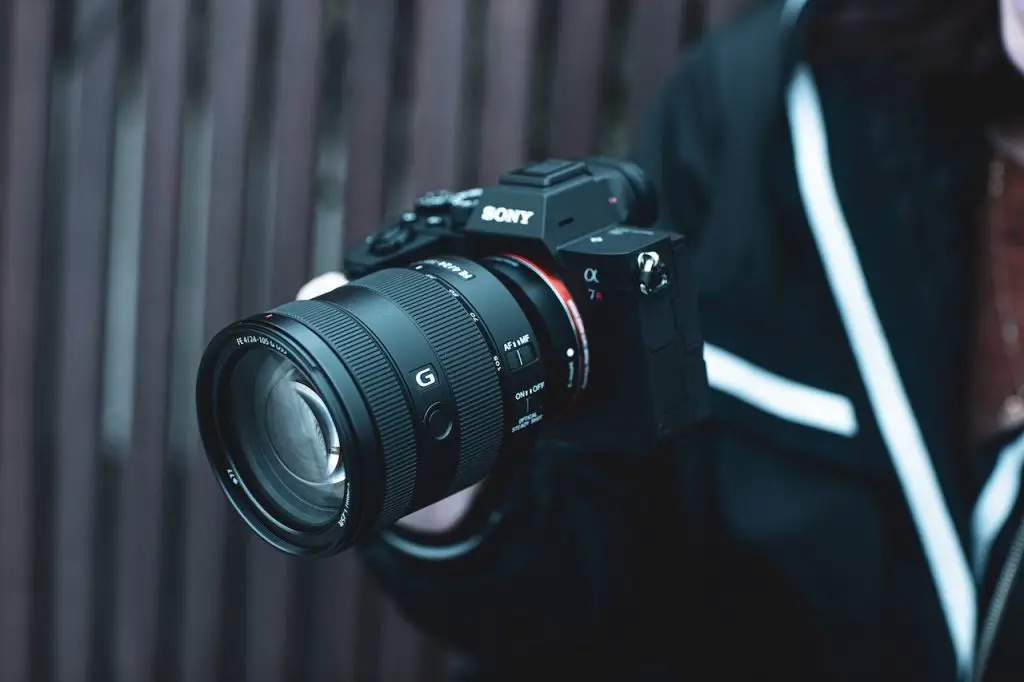 Macro lenses do not have all-in-one solutions, but they can be versatile in some cases. When purchasing a macro lens, you must carefully consider the factors that we have gathered for you.
There you go!
Focal length 
Macro lens focal lengths come in a variety of ranges, from 40 mm to 200 mm, but they all have a fixed focal length.
When buying a macro lens, try one with a 100mm or longer focal length, which has a longer minimum focusing distance and gives you more working room. On the other hand, shorter focal lengths are cheaper and lighter, saving costs and requiring you to get closer to the subjects.
Magnification
Magnification is typically expressed as a ratio of 1 to 100, which is written as 1:100. 
A true macro lens should have a ratio of around 1:1 or greater, such as 1:1, 2:1, or 5:1, but not 1:2, 1:3, or 1:5, as these are not true macro lenses. A "macro" mode on some zoom lenses does not allow for the same macro lens closeness with the subject.
Aperture
When deciding on a macro lens, the aperture's flexibility is crucial. 
Given the importance of lighting sources, a large maximum aperture provides more flexibility for various settings. Macro lenses with apertures of f/2.8 or f/4 are recommended for shooting portraits. On the other side, if you're capturing macro shots, work with limited depth of field and narrow apertures, including f/8, f/11, and f/16.
Image stabilization
Image stabilizers balance the movements in photography. 
But as you know, macro shots need the shallow depth of field of a macro lens, so the slightest movement ruins the focus mode. Considering this fact, in-built image stabilization allows extreme close-up shooting while correcting the horizontal or vertical shift in the camera. You can also use a tripod, which can be the best option here if no in-built stabilizer exists. 
Manual or Auto Focus
Autofocus or manual focus is a concerning element in terms of purchase. 
Only a few macro lenses use manual focus; the majority have autofocus. If you're also considering using a macro lens as a portrait, check to see if it has autofocus. When a macro lens has a smooth manual focus, it lets you focus and make precise adjustments before taking shots of the subject. 
Compatibility
Before buying a macro lens, ensure the mounting systems are compatible with your camera body. 
Lens mount systems on modern digital cameras have been carefully thought out. Every manufacturer of cameras has a unique proprietary mount. Think about purchasing your camera lens from the same company. If you want to buy from a third-party company, choose the specific lens mount.              
Pro Tip: Plan your budget and then consider the above factors before buying a lens.                                                
Ideas for the Best Lens for Macro Photography
Choosing the right macro lens is tough because there are dozens of options available that can transform small objects into art. No matter where you're at in the macro photography stage or your budget, you can find your best ones. 
Below are some suggestions for macro lenses that are versatile and capable of producing compelling images.
Nikon AF-S DX Micro-NIKKOR 40mm f/2.8
The Nikon 40mm DX macro prime lens is a consumer-level lens for photo enthusiasts. It comes at an attractive price point, given the incredible build quality. The optical design maintains the focusing range, which captures sharp and detailed macro shots.
Even a super-integrated coating reduces ghosting and flare for color accuracy, even in harsh lighting conditions.  Some notable features, like a 1:1 (life-size) magnification ratio, a 0.53 ft minimum focusing distance, and a focus limiter switch, make this camera versatile in its usage.
Features
Decent Build Quality: The 40 mm DX lens has high-quality plastics in the outer barrel and a metal mount.
Silent Wave Motor: Lens flare and ghosting are significantly reduced, as is its ability to autofocus the lens silently.
Excellent Image Quality: The combination of sharpness and no distortion in the 40mm DX lens shows consistent image quality through most frames and some drop-off edges.
Specifications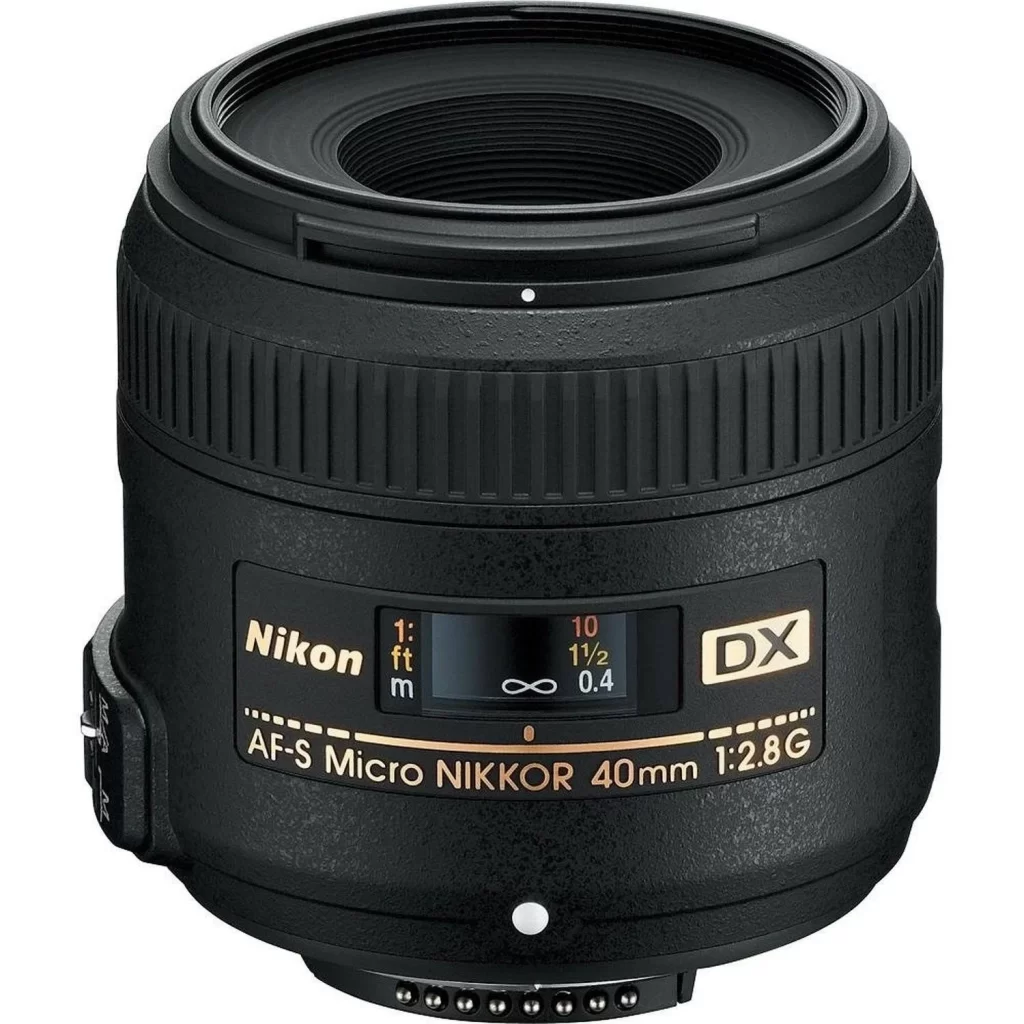 Mountings: Nikon F
Compatible Lens Formats: APS-C
Aperture: f/2.8G
Focal Length: 40mm
Diaphragm Blades: 7, Rounded
Constructions: 9 elements in 7 groups 
Magnification Ratio: 1:1
The angle of view: 38° 50'
Focus Mode: Autofocus
Dimension: 2.56X2.72 inches
Weight: 280g
Best Usage:
It is best for shooting detailed close-ups, copy photography, landscape photography (but only a small part of it), and portraits.
Canon RF 100mm f/2.8L Macro IS USM
The Canon RF 100 mm telephoto macro lens delivers outstanding build and image quality. The image quality is super sharp, but photography isn't just about sharp images but also about creativity with blurry photos and some technical effects. Its spherical aberration control drives your creativity into images.
Its focal length allows it to capture pleasant portraits and dramatic macro shots. Image stabilization is the most valuable feature in a macro lens, as it solves the shaking issues and assists you in handheld shots, even reducing the rotational movement.
Features
Excellent Image Stabilization: A high grade of up to 8 stops of image stabilization allows for controlled movements, even in lower lighting conditions.
Incredible build quality: Its professional-grade plastic body and metal mount are weather-resistant so that any splash or dust won't spot on it.
Spherical Aberration Dial: It offers control over corrective elements to give your picture an impressive amount of softness. It also works very well with bokeh.
Specifications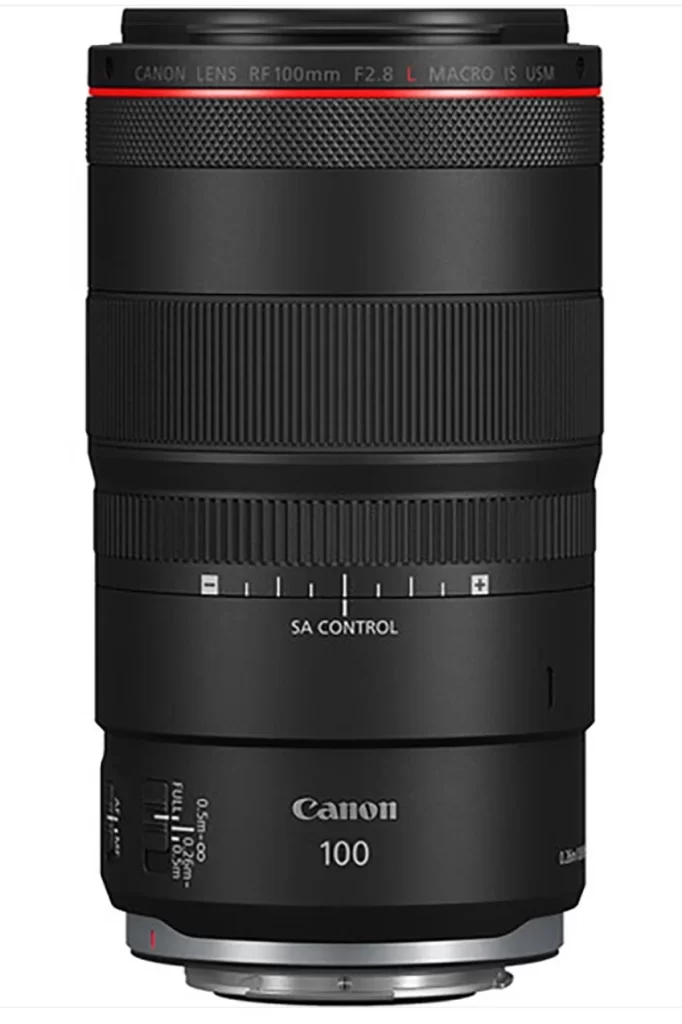 Mountings: Canon RF
Compatible Lens Formats: Full-Frame
Aperture: f/2.8
Focal Length: 100mm
Diaphragm Blades: 9, Rounded
Image Stabilization: up to 8 stops( combining with in-built and optical)
Constructions: 17 elements in 13 groups 
Magnification Ratio: 1.4:1 
The angle of view: 20°, 14°, 24°
Focus Mode: Autofocus
Dimension: 3.2X5.8 inches
Weight: 685g
Best Usage:
It is best for capturing portraits for commercial or lifestyle photography and getting incredible macro shots for wildlife photography.
Nikon Z MC 105mm f/2.8 VR S
Nikon's Z 105mm is the top-performing telephoto macro lens that takes your vision of photography to the next level. It lets you capture detailed shots from a safe distance. Its nano crystal coating and no coating minimize ghosting and flare effects in images. That allows you to shoot directly into harsh lighting sources. 
The Nikkon Z's optical stabilization offers roll correction and gives you confident handheld shooting. Its outstanding optics, lovely bokeh effects, and smooth image quality, result in remarkable macro shots.
Features
Versatile Focal Length: Its 105 mm focal length fills the frame with edge-to-edge sharpness, highlighting the clarity of the micro details in every genre of photography.
Multi-focus system: This system's three low dispersion elements reduce chromatic aberration and color fringing for improved image clarity and color accuracy.
Weather-resistant: Its fluorine coatings prevent dirt, water, and smudges from adhering to the surface.
Specifications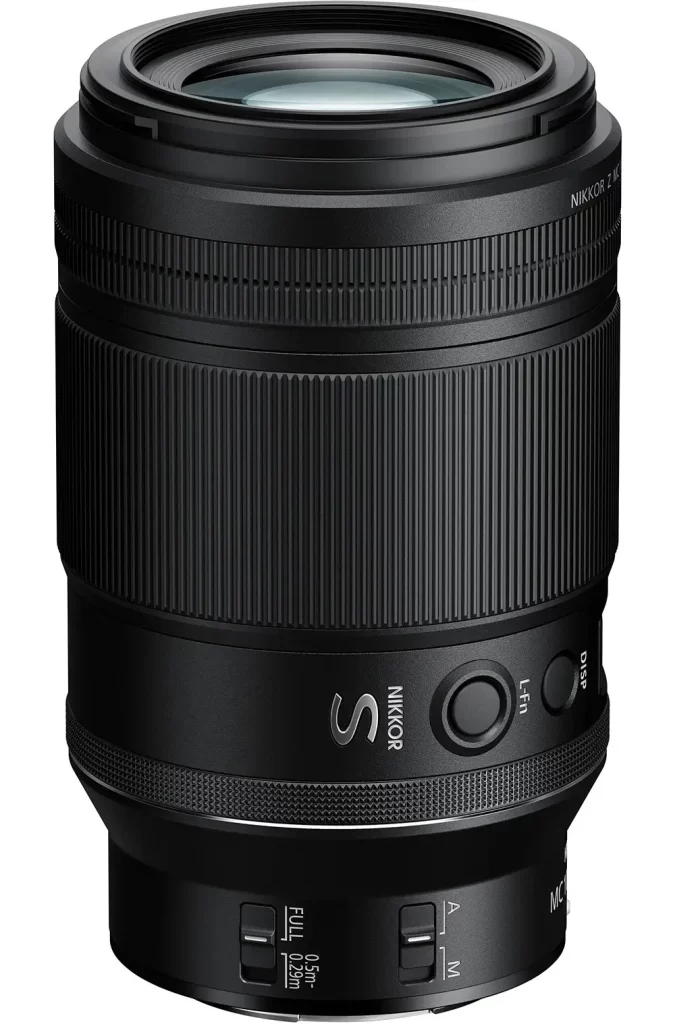 Mountings: Nikon Z
Compatible Lens Formats: Full-Frame 
Aperture: f/2.8
Focal Length: 105 mm
Diaphragm Blades: 9, Rounded
Image Stabilization: up to 4.5 stops 
Constructions: 16 elements in 11 groups
Magnification Ratio: 1:1
The angle of view: 23°10'
Focus Mode: Autofocus
Dimension: 3.3X5.5 inches
Weight: 630g
Best Usage:
It is best for photographing products, portraits, food, wildlife, nature, and wedding events.
Canon EF 100mm f/2.8L Macro IS USM
The Canon EF 100mm lens is the most versatile macro lens in the Canon 100mm lineup. The lens's impressive aperture produces incredibly sharp images. Its life-size magnification ratio and minimum focusing distance suit most working areas for taking close-up subjects.
Thanks to its ultra-low dispersion elements, you can reduce chromatic aberration and improve color accuracy. Canon EF 100mm lenses have an ultrasonic motor and an internal focusing design that deliver quiet, fast, and accurate performance.
Features
Good Build-Quality: It is well-built with a plastic barrel, a rubber-coated ring, and a metal mount. It feels pretty robust and weather-sealed.
Sharp image quality: Canon EF's f/2.8 aperture offers sharpness and contrast across the frame. 
Hybrid Image Stabilization: This system allows photographers to take handheld macro shots, even in low-light conditions.
Specifications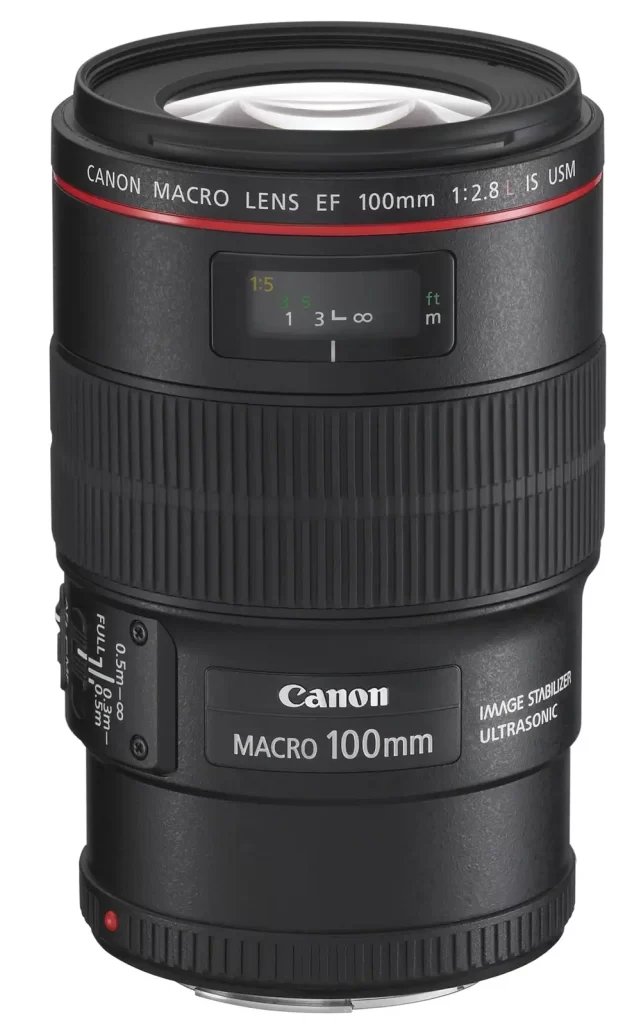 Mountings: Canon EF
Compatible Lens Formats: Full-frame
Aperture: f/2.8
Focal Length: 100 mm
Image Stabilization: up to 2 stops
Diaphragm Blades: 9, Rounded
Constructions: 15 elements in 12 groups
Magnification Ratio: 1:1
The angle of view: 24
Focus Mode: Autofocus
Dimension: 3.06X4.84 inches
Weight: 625g
Best Usage:
It is best for shooting products, close-ups, and creative portraits.
Sony FE 90mm f/2.8 Macro G OSS Lens
The Sony FE 90mm macro lens is a versatile tool. It is built with premium materials, appears relatively classic, and has some weather-sealing elements. This lens's most desirable feature is its true lens magnification ratio, which is great for capturing close-up shots. 
The dedicated focus ring lets you take macro shots precisely by switching manual focus between linear and non-linear gearing. Subject-isolating blur can be captured thanks to its f/2.8 aperture. It makes the macro subjects look great without any distractions. It has two image stabilization systems, IBIS and OSS, allowing greater lens versatility and improving its usability. 
Features
Highly polished optical glass: The lens's optical glass and advanced coatings with a UV filter feature ensure the image's quality and reduce unwanted internal reflections.
Autofocus: Its internal focusing design and direct drive SSM system support quick and accurate autofocus performance. 
Optical Image Stabilization: It reduces camera shake while shooting handheld and works with the camera's sensor to allow you to control camera blur.
Specifications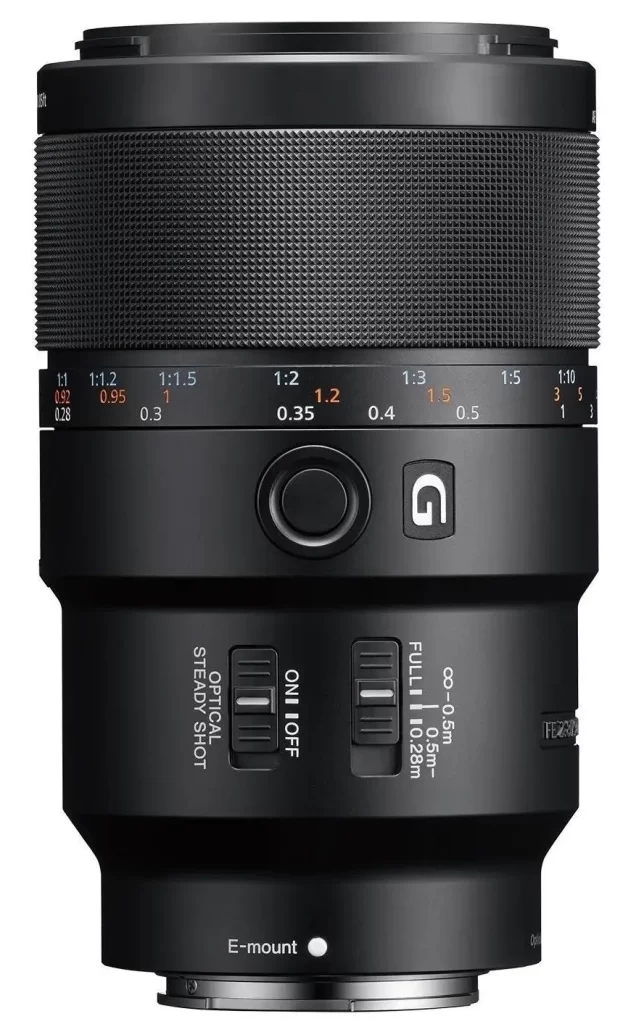 Mountings: Sony E
Compatible Lens Formats: Full-Frame
Aperture: f/2.8
Focal Length: 90mm
Diaphragm Blades: 9, Rounded
Image Stabilization: In-built image stabilization and OSS
Constructions: 15 elements in 11 groups
Magnification Ratio: 1:1
The angle of view: 27°
Focus Mode: Autofocus
Dimension: 3.11X5.14 inches
Weight: 602g
Best Usage:
It is best for portraits, events, and some parts of landscape photography.
Macro Lens Using Tips
You already know how to use a macro lens, right? Of course, it is similar to the usage of other lenses, but since it is made for taking detailed shots, you should be careful about using it. 
Let's move into some tips of the macro lens while using it! 
Choose the subject carefully 
Macro lens photography is all about getting close shots. So, choose a non-moving subject to begin your journey. For example, snap the raindrops that fell on the leaf, flower, or grass, giving the subject an enchanting feel.
After gaining more confidence, try photographing insects and other small birds and animals. Your ultimate achievement comes from your macro lens when you can capture small but fast-moving subjects like dragonflies and birds if you shoot them at a safe distance without scaring them off.
Plan your point of focus
Sharpness is the main thing that needs to be focused on in macro photography. So all you need to do is set your focus ring at a certain point and then move backward or forward until the images look sharp.
But first, plan the actual point of focus while taking tiny subjects into focus. This is because the macro lens minimum focus distance can change the entire effect by just a couple of millimeters.
Keep the camera steady 
A tripod will increase camera stability because not all macro lenses have image stabilization. While using it, you can use a remote trigger to activate your shutter, so you're not touching the camera directly, and the shaking issues will not happen anymore.
If you want to do handheld macro photography and your macro lens has built-in image stabilization or vibration reduction, you can take extremely close shots.
Pay attention to the DoF
If using a smaller aperture in the macro lens causes reduction and diffraction of the light, which greatly affects the sharpness of the image. On the other hand, too large an aperture results in less depth of field for a macro lens, with some parts blurred.
It isn't easy to figure out the right balance where you get the proper combination of sharpness and depth of field. So while taking the shots with your macro lens, make sure to adjust the in-focus of the subject to remain sharp without leaving any blur in certain parts.
Make the lighting better 
Lighting is one of the most challenging aspects of the photography journey. If you do not use balanced lighting setups, your shots will lack the feeling that you want to convey. In traditional photography, artificial light offers a backup when natural light gets too harsh or soft.
 However, macro photography is very different in terms of lighting and challenges. Macro shots are primarily used to capture nature, so natural light is ideal. Macro lenses often struggle to get enough light while photographing. Pick an intense flash and a diffuser to soften the light wisely when it comes to lighting to achieve great results. You can play around with the exposure settings to ensure there is enough light for taking balanced shots.
Try to use focus stacking
Focus stacking is a method of combining multiple sharp images to achieve a narrow depth of field. With this technique, you can combine scene images and create a final file.
Olympus was the original pioneer of macro lens focus stacking features, while Nikon and Canon offer the same. You can also obtain its final file through Lightroom or Photoshop editing. It is one of the important techniques to use in macro photography because it gives you an extremely ultra-sharp image.
FAQs
How can you tell if a lens is macro?
All you need to check is the magnification ratio, which can be around 1:1 or higher, like 3:1, 4:1, 5:1, or even 10:1. It means the subject will be at least lifelike or larger on the sensor. 
What can you do with a macro lens?
I can take sharp, detailed close-up shots of a small subject with a macro lens.
Can a macro lens be used as a regular lens?
Undoubtedly, macro lenses aren't just for close-up objects; they are well suited for traditional photography of subjects at average distances. 105 mm and 60 mm micro lenses have an excellent focal length for portraits.
What is the difference between a macro lens and a zoom lens?
There is a long list of differences. However, the magnification ratio is the core factor, which makes the macro lens sharper than a zoom lens. 
What is the best focal length for a macro lens?
You can get a wide range of focal lengths for different purposes; among them, 50mm, 100mm, and 180mm are popular.
When should I use a macro lens?
You can use a macro lens to capture small objects at very close distances.
What are the advantages and disadvantages of a macro lens?
The advantage of a macro lens is that it produces better bokeh and portrait effects; the disadvantage is that it is difficult to handle.
Final Words
We appreciate your patience in walking through to the end!
In short, macro photography influences, not just the subject's color, and texture but your craftsmanship in this genre. Wherever you can go, whether your backyard, local park, tourist destination, or mountains, your subjects are ready to be captured.
A macro lens is not just limited to capturing macro subjects but serves other purposes too. So, pick up the ideas from us, buy one, and roam around here and there to arrest the masterpiece in your lens.
Don't forget to share your thoughts in the comment section below!