Studio photography is one of the most sophisticated photography genres, with a great past, greater present, and the greatest future in photoshoots. It contains almost every type of photo shoot, from portrait to product photos. Perhaps you want to make a studio for photography but can't find how to start. 
Well. This article is designed with in-depth information about the photographic studio, which helps you make creative studio photoshoots while sharing knowledge of setting up a perfect studio. 
So, without much ado, let's dive right in! 
What Is Studio Photography?
Studio photography includes capturing pictures in a photographic studio. In this highly managed indoor atmosphere, photographers have complete control over all the photography elements, such as subjects, lighting, camera settings, and backdrops. Photographers in studios capture different types of photos, such as portraitures, product photoshoots, and fashion photoshoots. 
A photography studio basically begins with a blank space, just like an empty room. Photographers then include photographic elements, like backdrops, lighting equipment, furniture, and other props, according to their photoshoot types. 
How Popular Is Studio Photography?
At present, many photography genres have become popular worldwide, such as portrait photography, landscape photography, product photography, and others. But what about the popularity of studio photography?
Well. This type of photography is one of the most popular photoshoots with a glorious background, fame, and a valuable future. In the studio, photographers can use a variety of backdrops, lights, furniture, and other props that help to conduct the perfect photographs. 
One of the best advantages of photography in the studio is it protects photographers from the adversity of outdoor photoshoots, such as bad weather, poor lighting, unpredictable interruptions, and others. 
Moreover, studio photoshoot allows photographers to earn huge revenues. On average, they can earn $129,394 annually, and retail studios grossed $238,689.
Ultimately, photography in the studio provides all the amenities you need to create high-quality and professional photography and represent your brand persona. 
Things to keep in mind for setting up a studio for photography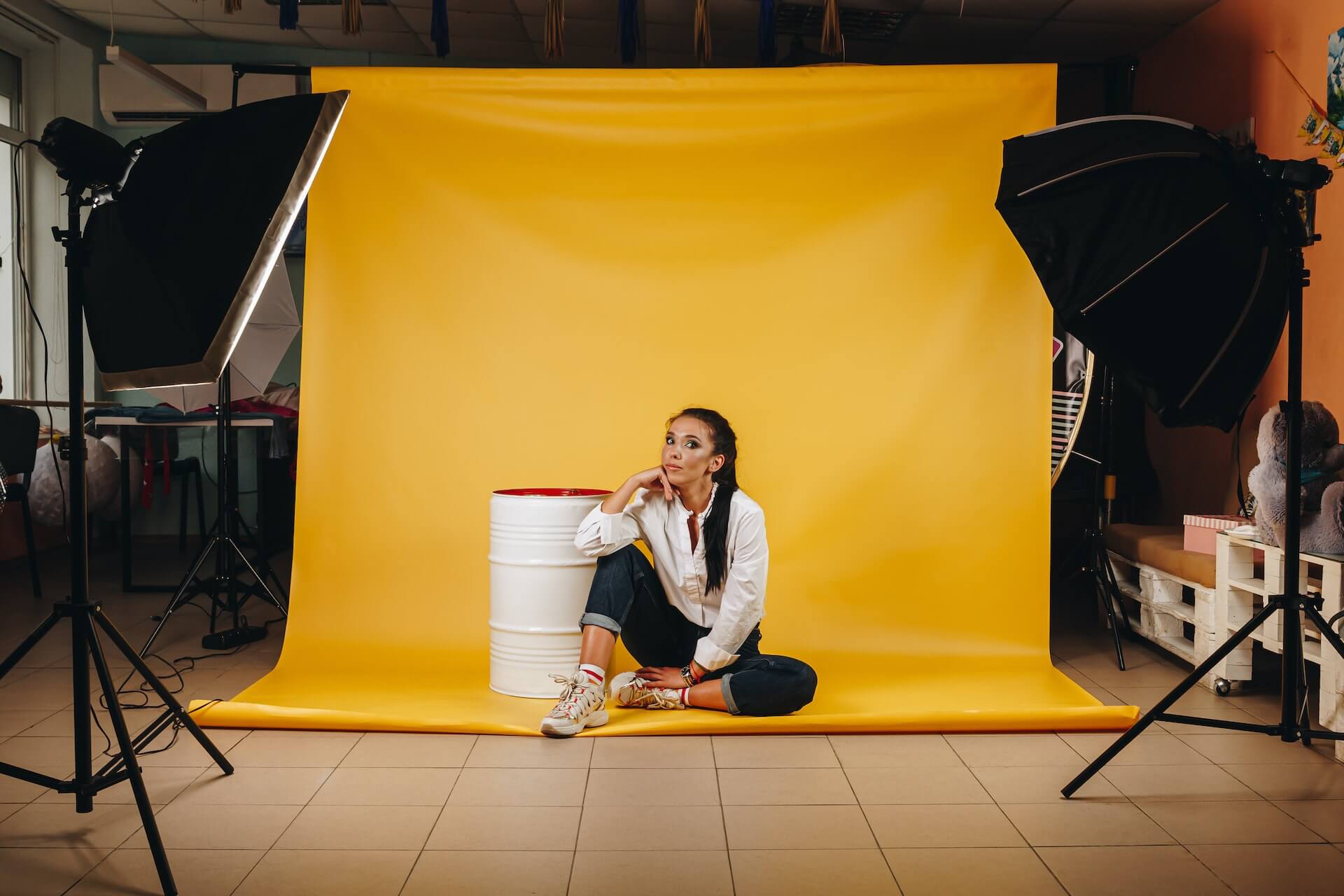 Owning a studio is a dream for most photographers who will design and arrange it according to their photoshoot types and desires. But setting up a studio for photography is not easy. Here are some things to consider before setting up a photographic studio. Let's check them! 
Choosing the Right Space
The right space is the root of the perfect studio setup as it defines the relevant atmosphere needed for the studio. Some people assume a photo studio is a large space with a cyclorama and equipment. But the truth is— 
A studio space depends on what type of photo you want to make. So, choose the perfect studio size according to your photoshoot genre. For instance, a 250-square-foot bedroom should be enough for taking headshots. 
Besides the space consideration, consider the number of windows in the studio room.
Lighting Equipment
Lighting equipment is essential for studio photoshoots. When it comes to setting up a studio for photography, you must consider a sort of lighting equipment based on your photoshoot types. Here are some brief ideas on different lighting elements.
LED Lights 
LED lights are the best option for transitioning from natural light to artificial light. They can also be used as regular light bulbs with dimmers. 
Speedlights 
Speedlights are perfect for a small photography studio. These lights are brighter as well as easier to carry due to their lightweight. You can attach them to your camera's hot shoe. Also, you can trigger these lights wirelessly in a studio setting.
Monolights 
Monolights are also considered the best option for making studio photos because they can be used as a combination of a high-powered speed light and an LED lamp. 
There are also numerous lighting elements for a perfect photographic studio, such as the Standard Reflector, Umbrella, Softbox, Stripbox, and more.
Backdrops and Props
When it comes to making a studio for photography, backdrops are essential. Also, you should use other important props. Here are some important tips for that. 
Studio Backdrops 
You will get many backdrops for your studio photoshoots, such as Canvas, Muslin, Seamless Paper, Fantasy Cloth, Vinyl, Chroma Key, Velvet, Velour, and many more. You should choose the right backdrop for your studio according to the subject. 
Other Props 
Apart from backdrops, you also need props for the studio photoshoots, like Light Stands, C-stands, V-Flats, furniture, and other studio props. 
Camera and Lenses
Undoubtedly, cameras and lenses are the main sources of photoshoots. Select the perfect camera and lens according to your photography niches to make engaging studio photographs. Here are some things you must consider before choosing a camera and lens. 
Select a camera with the most pixels and consider the larger sensor, as they perform better than smaller ones. 
Select the right lens depending on your subject variation, such as a zoom lens for small products and a prime lens or microlens for others.  
Lighting Techniques
Apart from having a variety of lighting equipment, you also need to utilize different lighting techniques for your studio photoshoots. You will get three types of lighting techniques that are used for photography: key light, fill light, and backlight. Here are some tips for that. 
The key light is the main light source that illuminates the subject widely. In studio photoshoots, you must use the most powerful key light to focus on the subject accurately. 
Fill light is used to remove shadows cast by the subject. You should use fill light in your studio photoshoot to highlight the subject efficiently. 
The backlight brings depth to the subject by better defining the outline. 
Posing and Composition
Posing is a direction for the subject to change its position to increase visual beauty, flatter, and imply emotion. On the contrary, composition is a set of rules used in different art forms to make the subject in the frame more appealing.
You must know about perfect posing and composition to make perfect studio photographs. Here are some tips for that. 
Learn key photography skills in posing individuals, couples, groups, products, or still objects. 
Know the fundamentals of photography composition and utilize them in real-life studio photoshoots. 
Creative Studio Photography Ideas
Studio photography differs from outdoor photoshoots, but it contains all the main photography genres you photographers make in the outdoor atmosphere. Even in some cases, studio photoshoot surpasses outdoor photo sessions. 
Here I provided some creative ideas on studio photoshoots that will help you create successful studio photoshoots. So, let's take a look!
Portrait Photography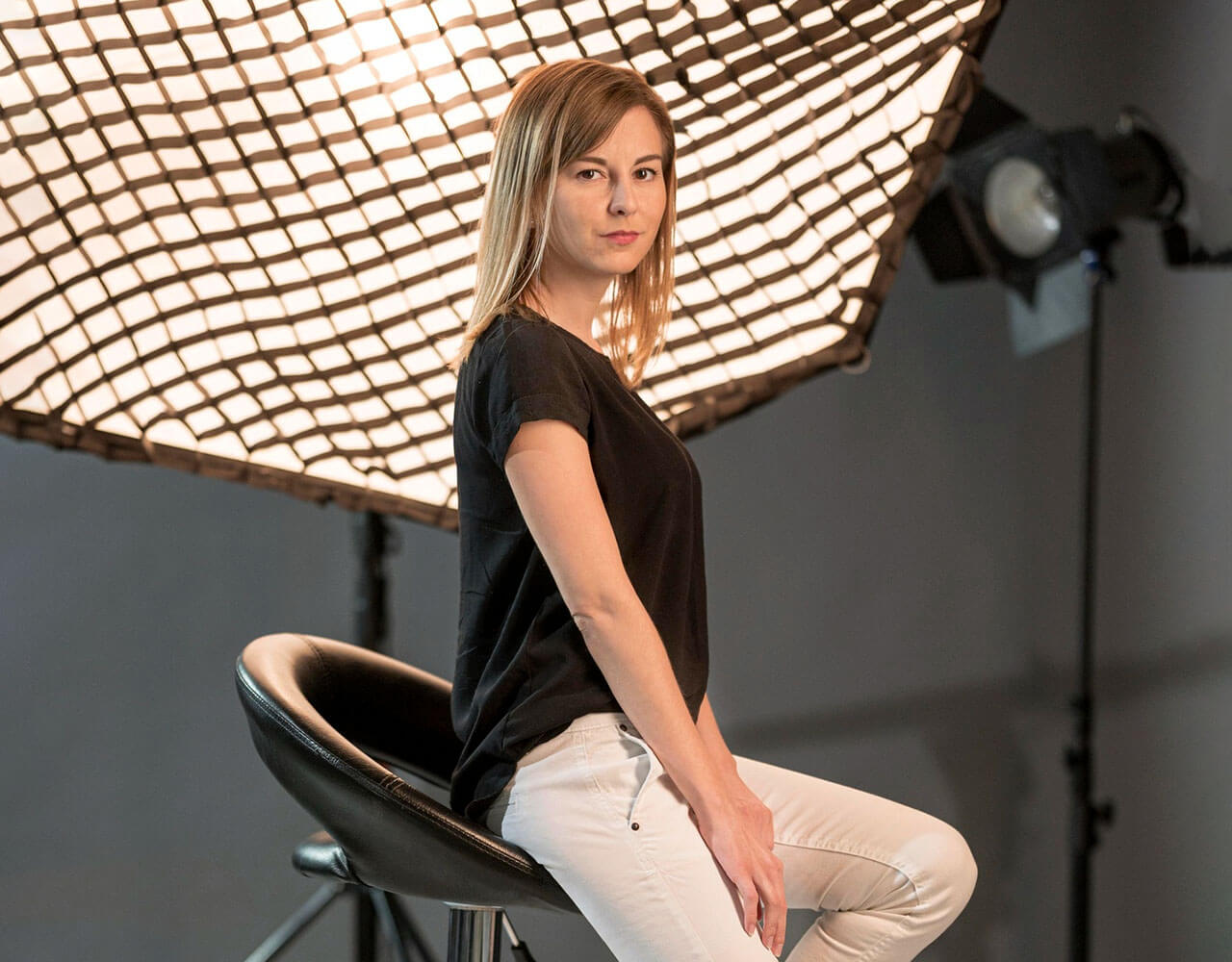 Portrait photography is one of the most popular genres in studio photoshoots. You can capture a wide range of portraitures in a studio, from individual portraits to group and family photography. Moreover, the studio is also used for taking business portrait photos. 
Here are some ideas to exploit to make studio portrait photography—
Capture full-length portrait shots with an ideal composition.
Experiment with reflection using a mirror to make mysterious looks. 
Take portrait series with various colors of light.
Use natural frames to make smart portrait photoshoots.
Shoot through the prisms or crystal balls to get a spectacular reflection.
Fashion Photography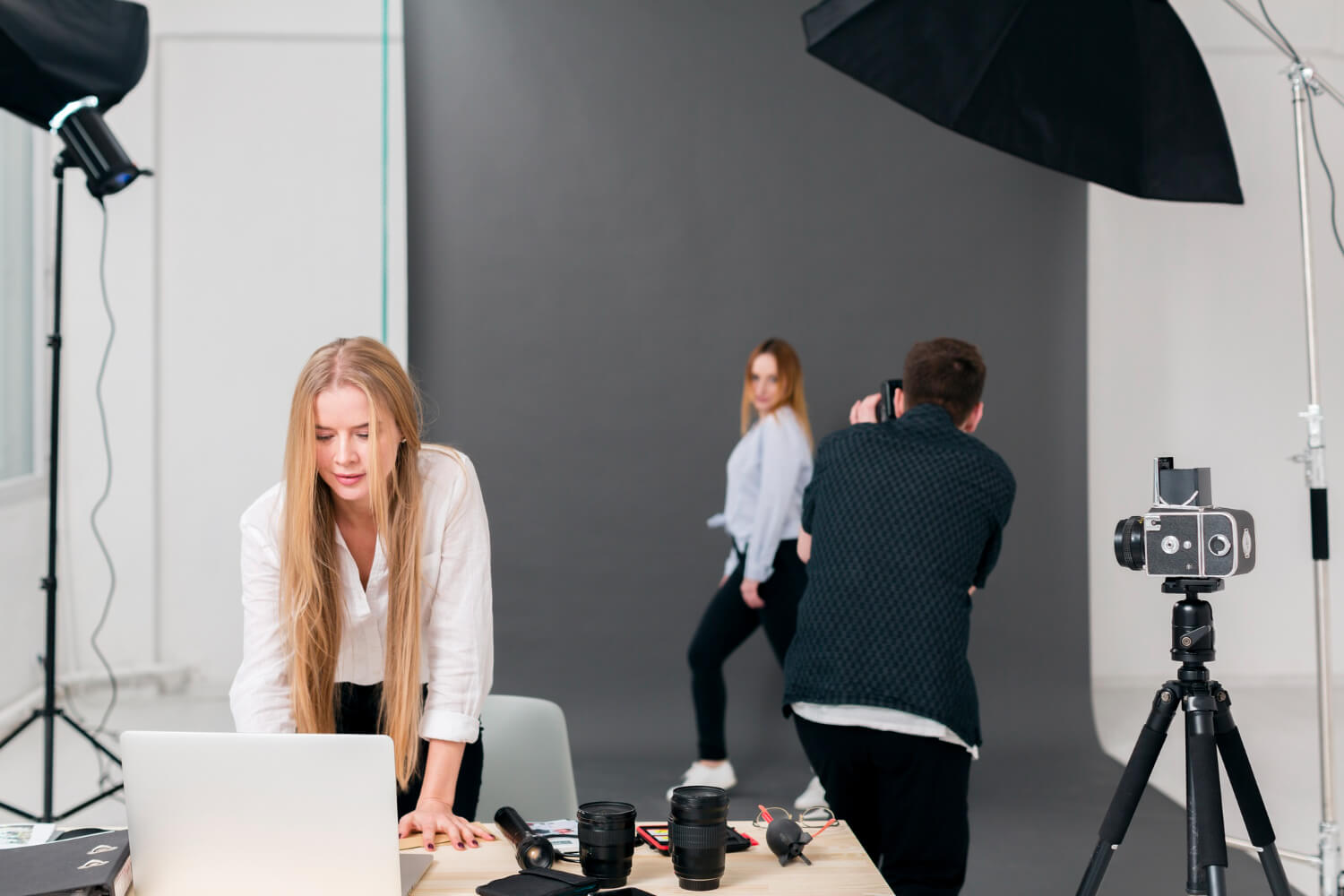 Fashion photography simultaneously depicts the beauty of products and models where art meets commerce. Photographers prefer the studio for fashion portraits. Here are some ideas to make studio fashion photography. 
Capture close-up shots by focusing on one feature of a model's face.
Take simple fashion photos in daylight, avoiding mixing light. 
Pick the right camera and use studio lights to portray real beauty.
Play with eye contact and shoot portraits with color gels. 
Product Photography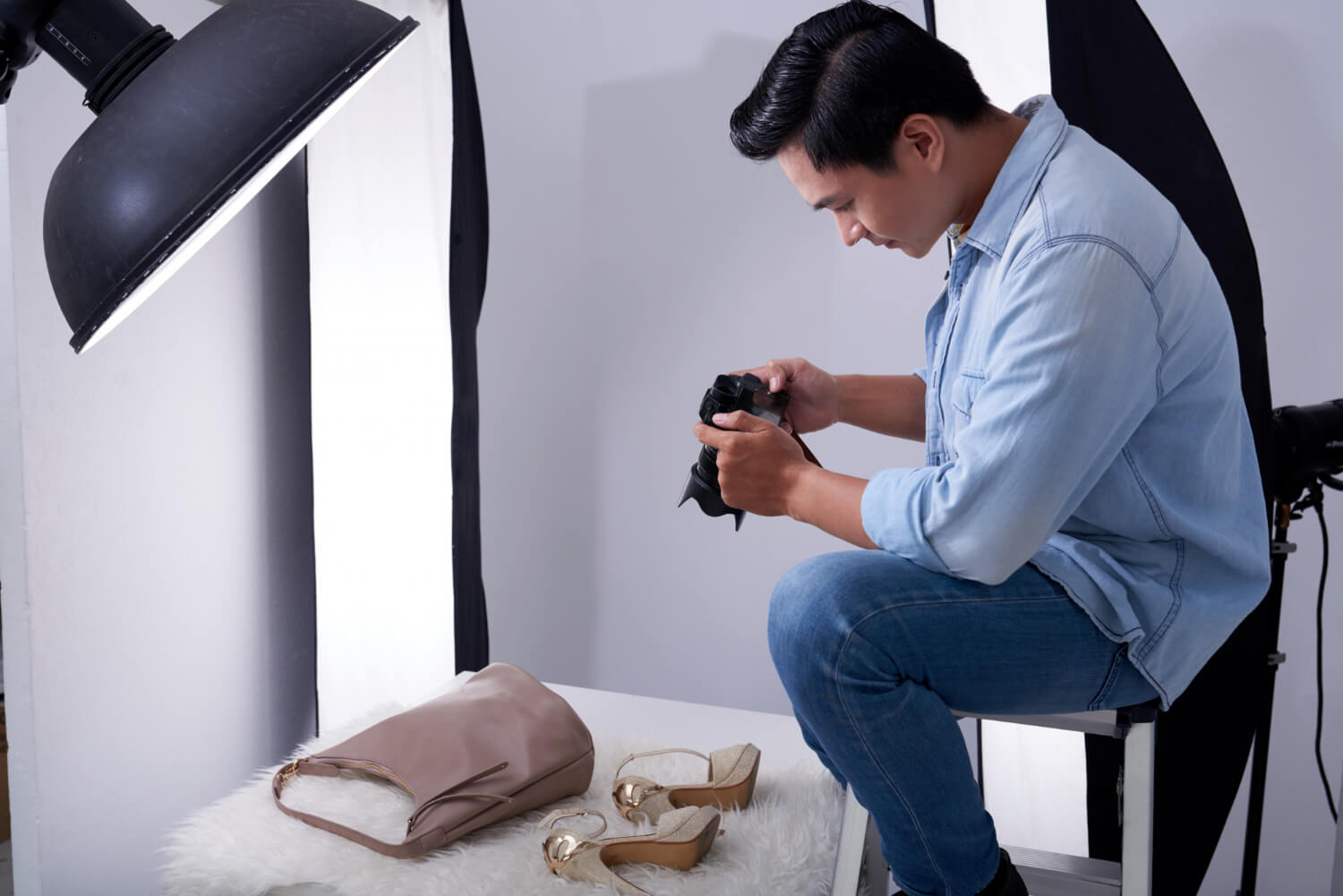 Studio is the best place to do product photography as it helps photographers to focus on the product properly using perfect light and combination. If you want to create engaging product photography in the studio, get the ideas given below. 
First, set up the table tent and build your sweep.
Use softbox or umbrella lighting techniques.
Place the product perfectly and set up the reflector card.
Take photos from different angles and retouch your pictures. 
Food Photography Studio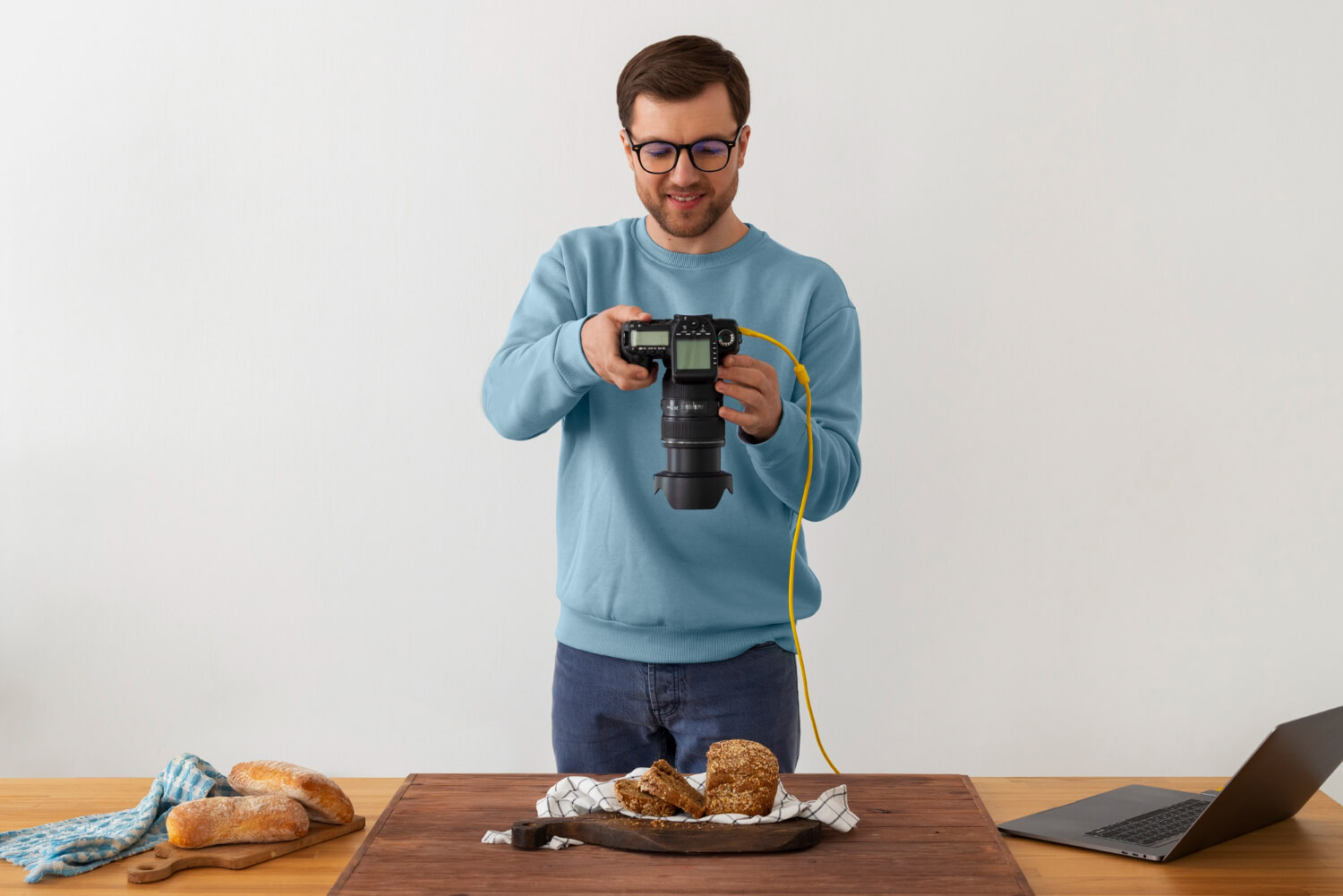 Food photography has become a popular trend among people, even those who are not professional photographers. You can capture food anywhere, but making studio food photography will add more value to your food pictures. 
Here are some tips and ideas to make food photography in the studio. 
Set up a suitable table to arrange your delicious food.
Place the perfect light source near your food table. 
Use a tripod and set up your camera at a desired angle. 
Make a perfect backdrop and create an engaging photo frame. 
Take multiple types of food photos you want to make. 
Experiment with dark or macro food photography. 
Black and White Studio Photography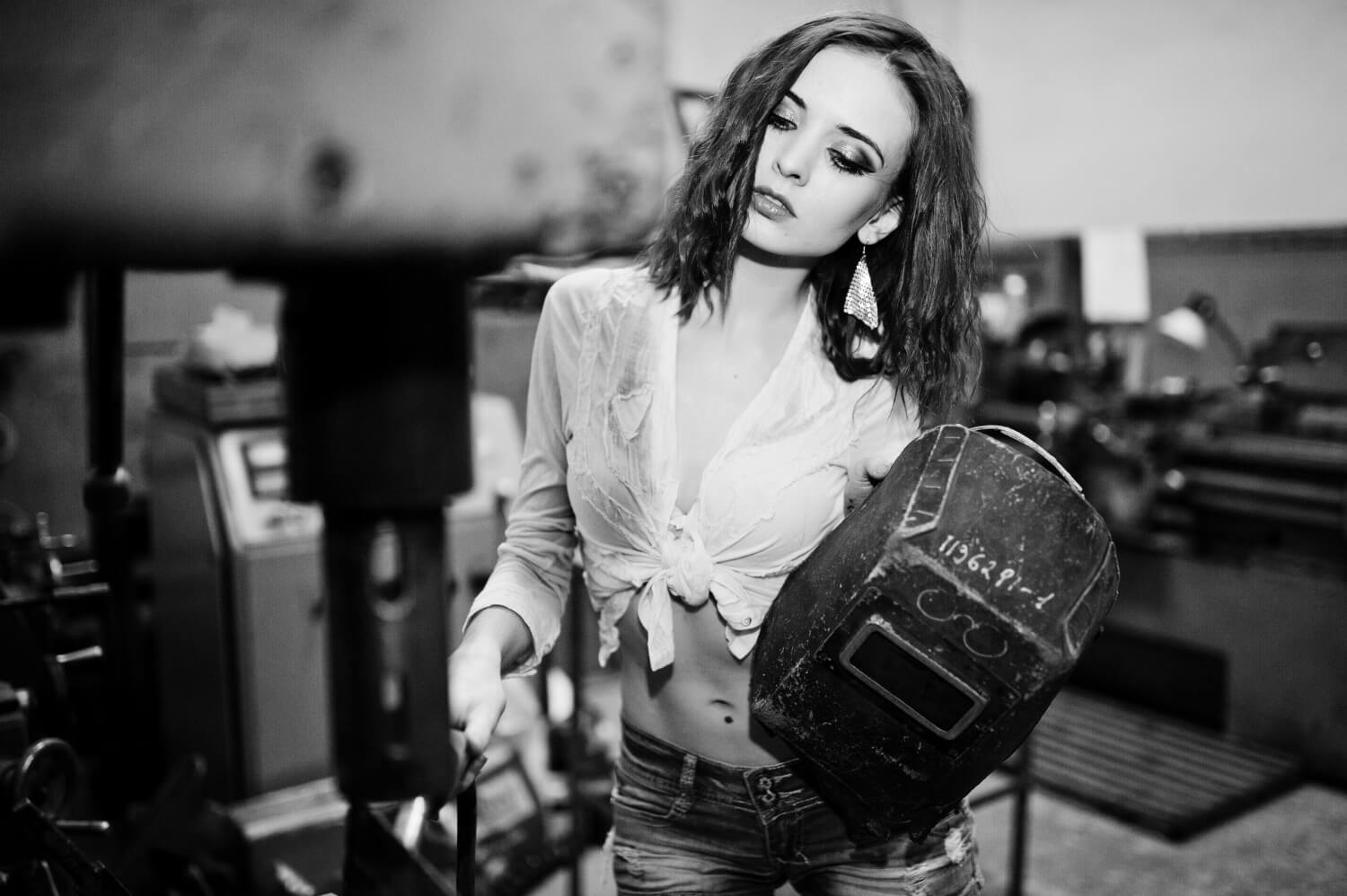 Black and white photography portrays the subjects in neutral shades but includes no other colors. This photography removes any distractions of color and helps viewers focus on subjects and textures. You can take black and white photos in the studio. Here are some ideas for that. 
Use contrast in your black and white photos
Shoot in RAW and look at the Camera Options 
Experiment with exposure to make engaging black and white shots.  
Look for Patterns and experiment with filters. 
Expressing emotions through black and white photography.
Macro Photography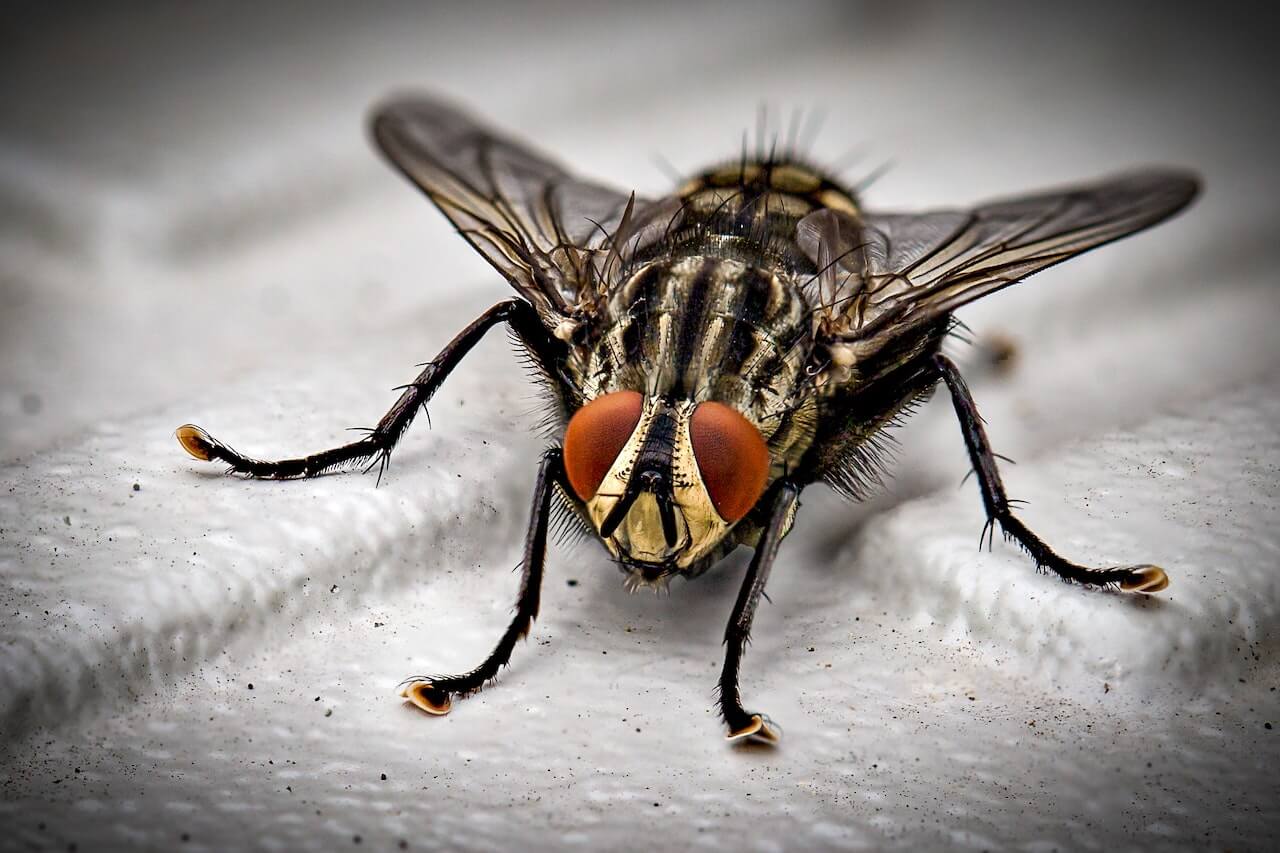 Macro photography highlights a subject larger than it is in real look. Photographers use the studio for macro photography with a variety of subjects, such as products and foods. Here are some ideas to make macro photography in the studio. 
Use flash and manual focus on the subject and take plenty of shots. 
Make various macro product photoshoots, like jewelry and watch.
Take macro shots of delicious food to highlight its taste and visuality.
Creative Lighting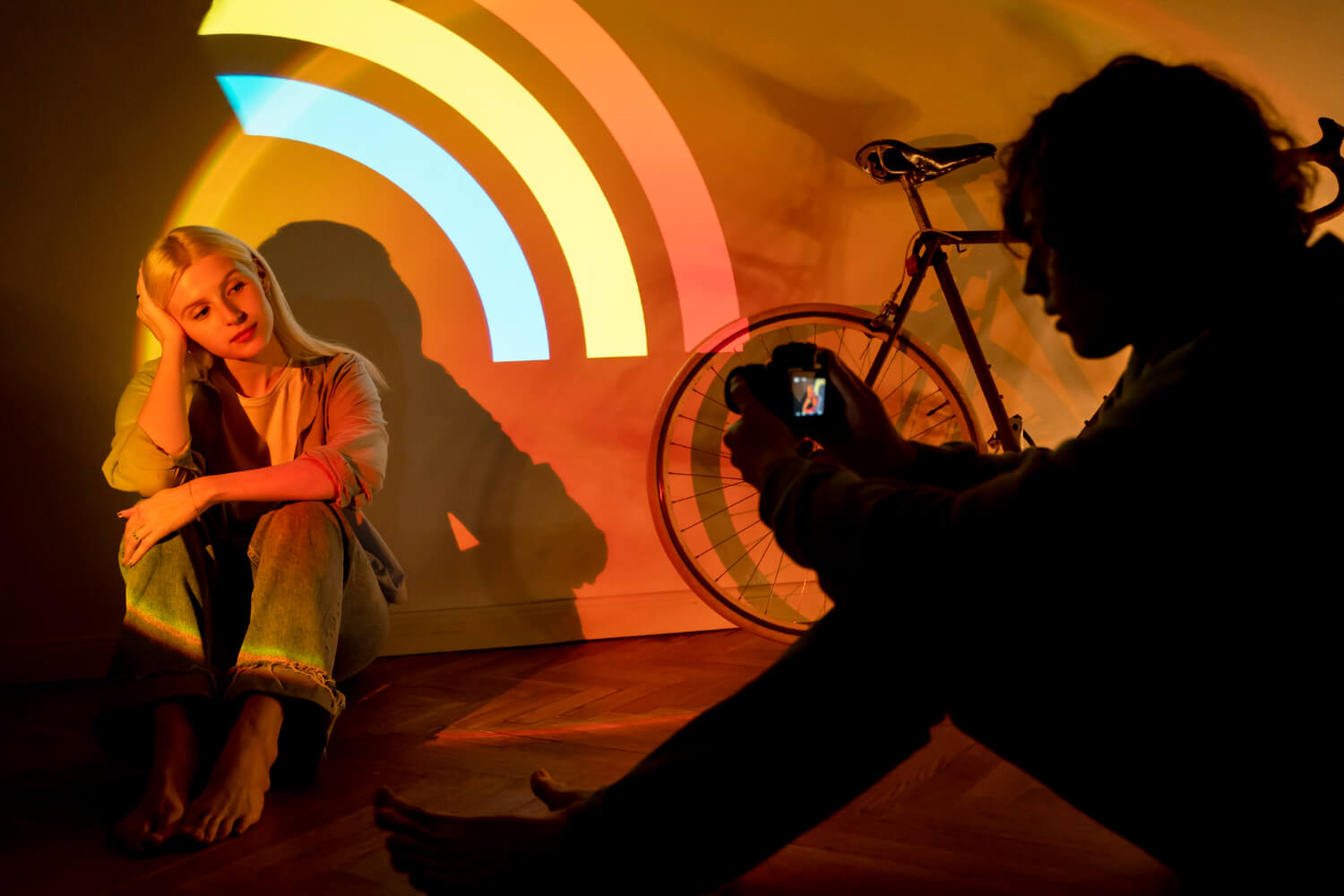 Lighting is the soul of photography, and without perfect lighting, your pictures will lose their attention, especially in studio photoshoots. Therefore, you must use creative lighting to make your studio photos engaging. Here are some useful ideas for making unique studio lighting. 
Use grids and barn doors to make a narrow beam of light on the face.
Get creative blur effects in the camera with simple studio lighting and expensive props!
Use fabric and a single studio strobe to make high-key lighting that wraps around your subject using.
Bring a positive result using a main light, hair light, and reflector.
Make dark, steamy, and dramatic lighting with a 3-light setup.
Use a telezoom reflector to create a spot-light effect in the studio.
Fantasy Photography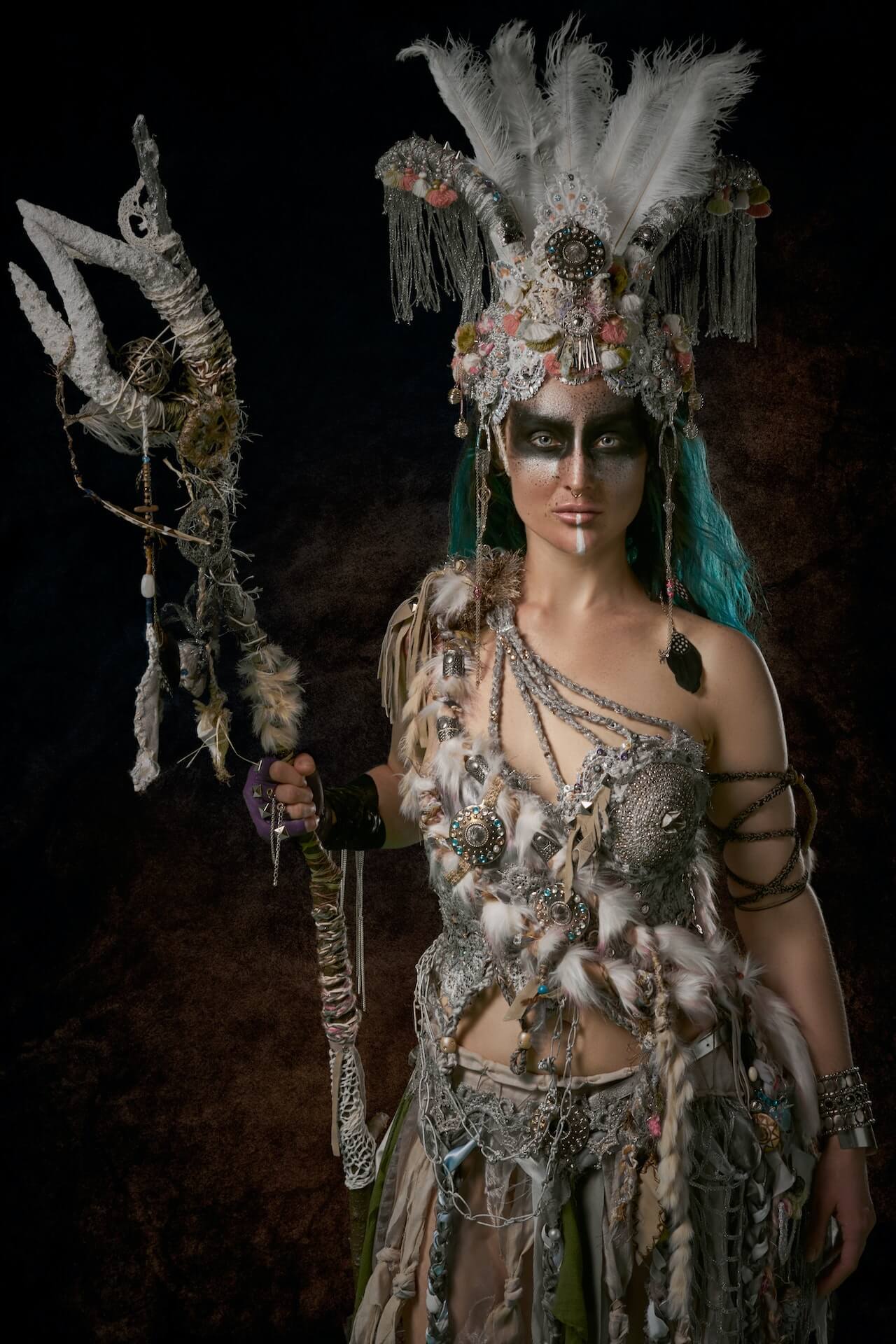 Fantasy photography is a type of surreal photography that adds fantastical elements or surreal touches to the photo frame. It brings the viewers from the normal world to unreal or fictional scenes. Here are tips to make studio fantasy photography. 
Create a plan, theme, and story to make a suitable direction for your model to interact with the composition. 
Choose the perfect fantasy outfit and makeup for your model.
Create fantasy light using proper lighting techniques and props. 
Use proper camera settings, depth-of-lens, and camera gear. 
Capture shots from different angles and retouch photos after the shoot. 
Still Life Photography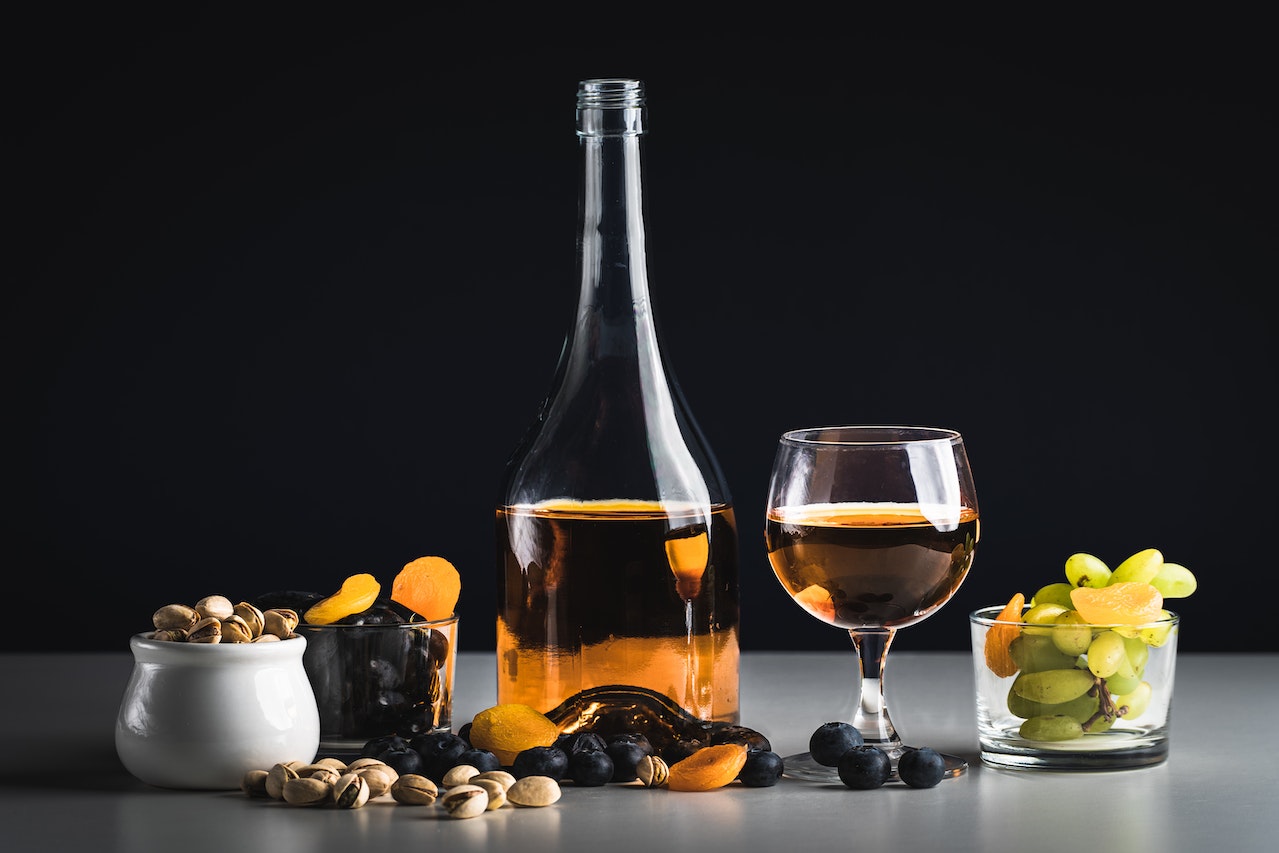 Still life photography portrays inanimate objects such as flowers, books, fruits, bottles, crafts, etc. The studio is one of the most suitable places to make still life photoshoots. Here are some tips to make studio still-life photos.  
Make esthetic still life photography by highlighting the visual beauty of an object. 
Create still life photos of products such as jewelry, smartphones, or electric devices. 
Make still life food photography in your studio, including fruits and delicious dishes. 
Dance Photography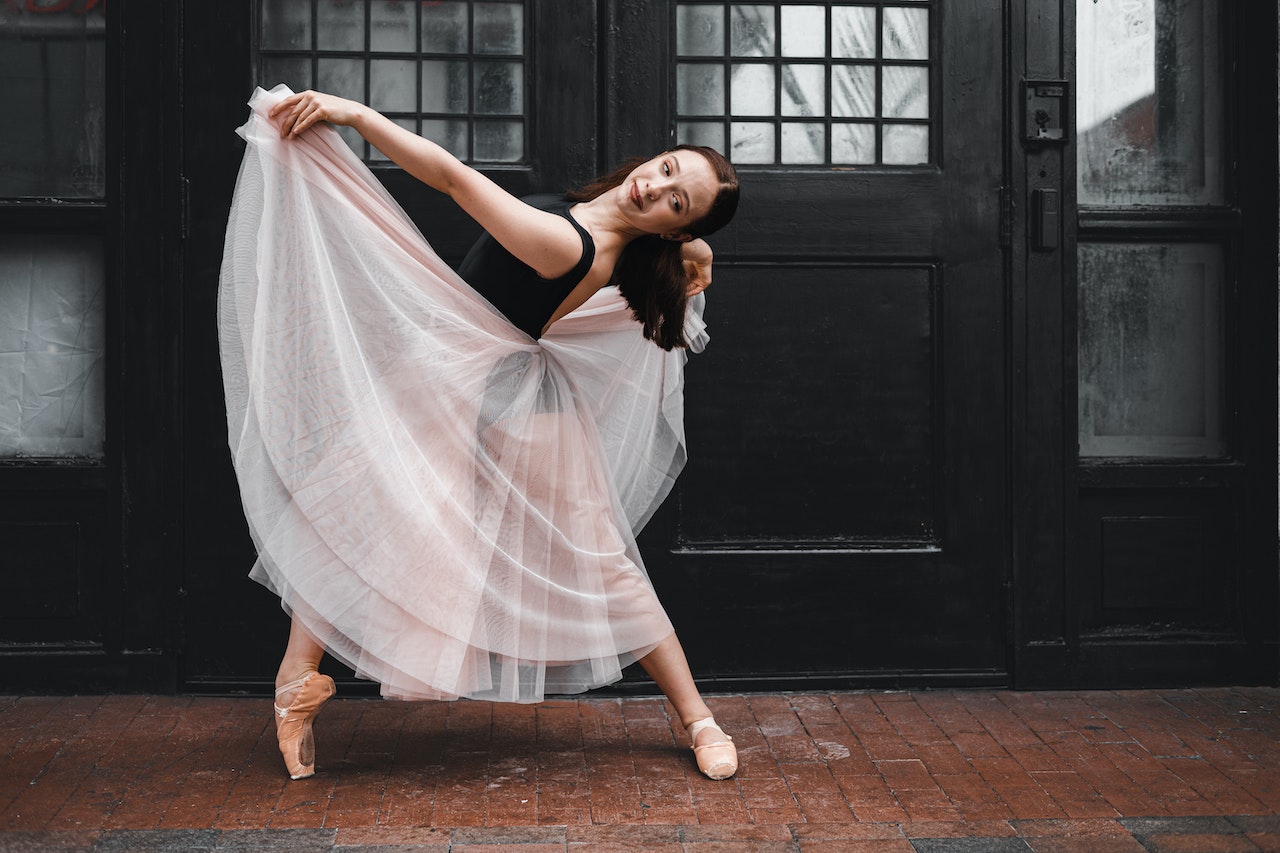 Dance photography captures the feeling of motion. Studio is the best place to create aesthetic dance photos because it helps photographers use proper lighting and the dancers utilize their full skills. Here are some effective tips for studio dance photography.
Give attention to the music for dance photography.
Watch the patterns in the dance and focus on the dancers' faces and bodies.
Select the best lenses like Telephoto and wide-angle lenses.
Take photos from multiple positions, shapes, and angles. 
Freeze the motion with flash and highlight motion with long exposures.
Utilize creative portrait techniques for dance portraits.
Make aesthetic and artistic dance photos in black and white. 
Boudoir Photography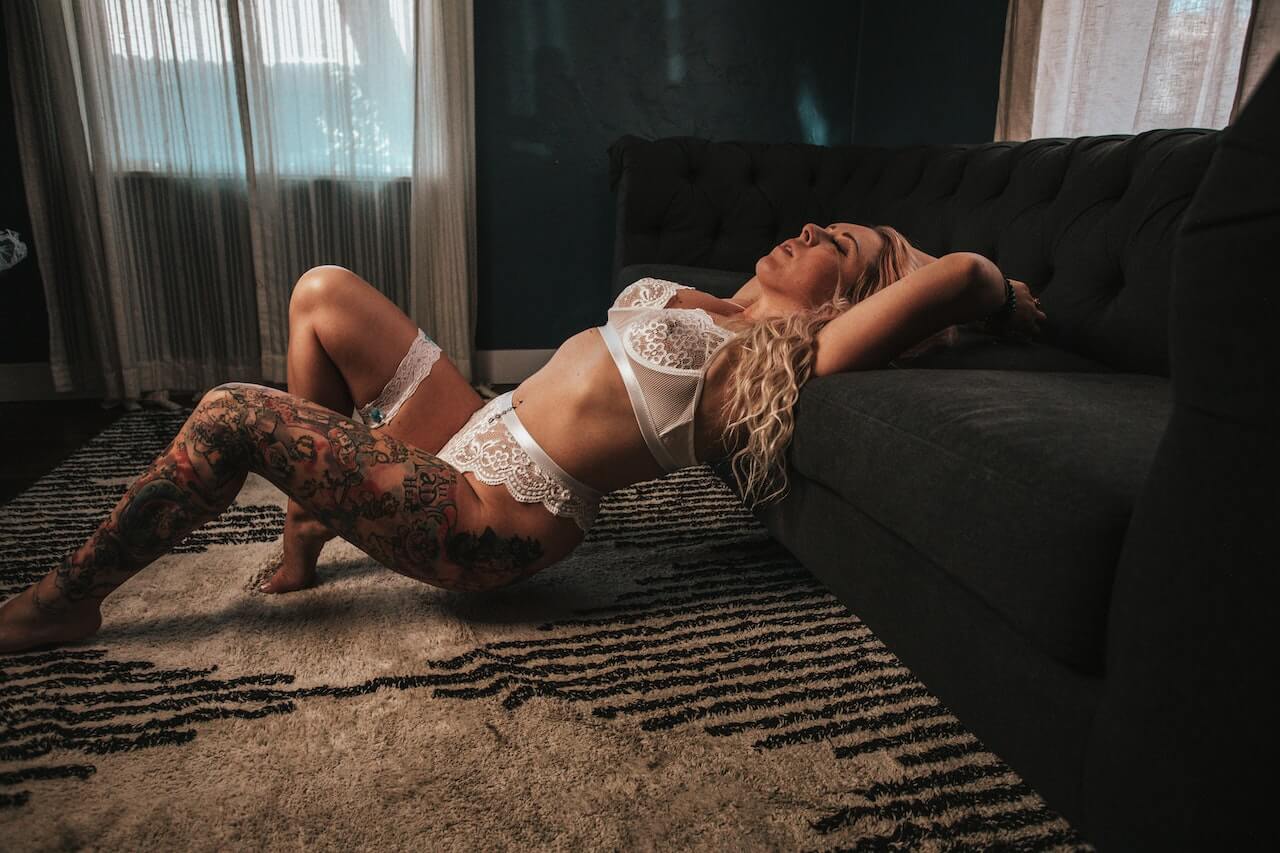 Boudoir photography is a photoshoot genre that is loveable to women who desire to capture their visual beauty and fairness. Studio is the best place for making boudoir photoshoots as it gives a woman a comfortable space to highlight her body expression and inner feelings. Here are some special tips for creating studio boudoir photos.
Implement multiple focal lengths and play with lighting and colors. 
Highlight the body from different angles and shapes. 
Use perfect outfits and relative props and elements. 
Try milk bath boudoir photography with an erotic sense. 
Glamour Photography
Glamour photography is a portrait photo session that includes perfect makeup, outfit choice, fine-tuned poses, and more. It is a bit more sensual that focuses on the person's beauty in the photos. You can capture glamour photos in the studio. Here are some tips for studio glamour photography. 
Define the goals of the image, then pick the right lighting, posing, and props. 
Choose the perfect outfits that highlight curves rather than hiding them. Don't select a too-loose or too-snug dress. 
Use hard light with deep shadows or soft light with a gradual transition to the shadows. 
Utilize perfect poses, such as paying attention to the placement of hands, shoulders, and chin.
Body Painting Photography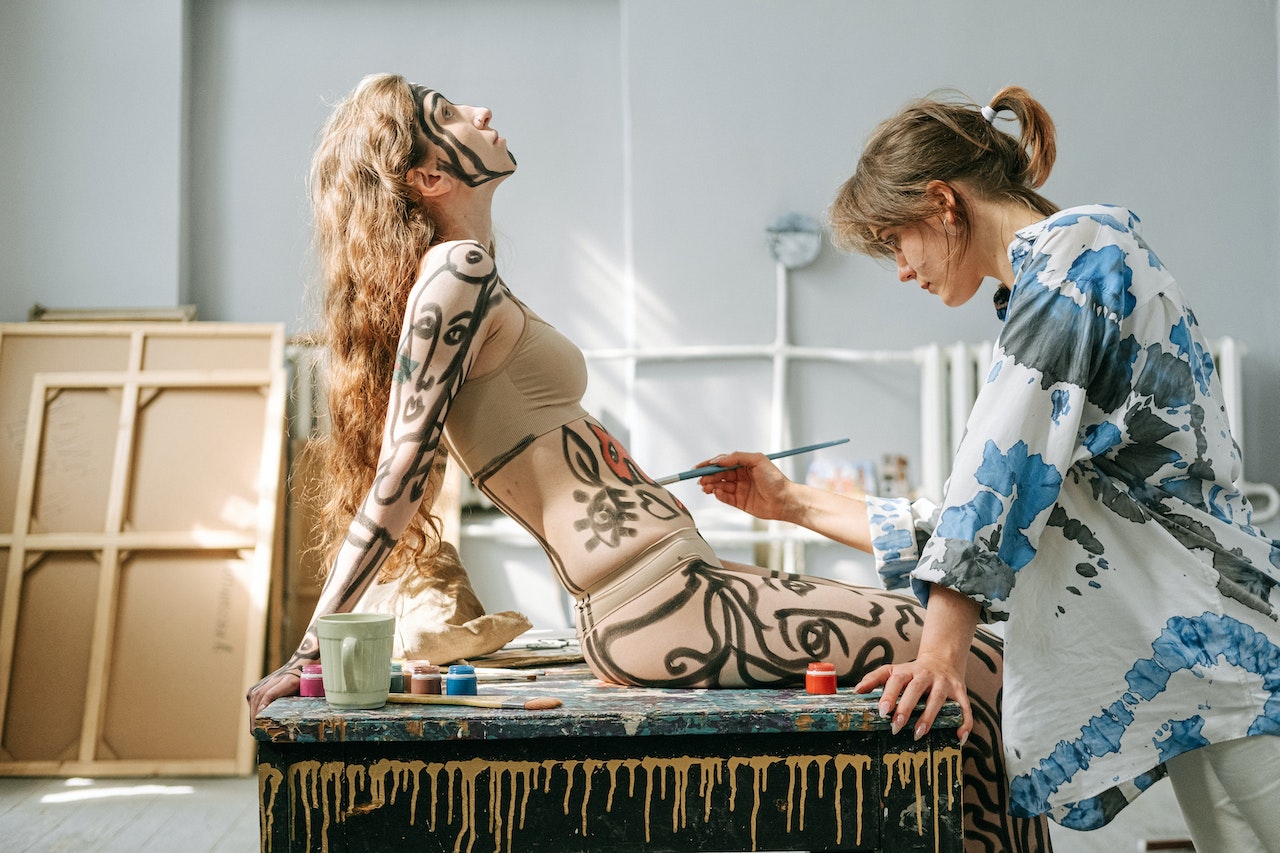 Body painting photography captures a person with paintings on the body, such as tattoos and others. There are lots of studio body painting photoshoots that you can try. Studio body painting photos can be more artistic with perfect light combinations. 
Here are some ideas on studio body painting photography. 
Create illusion, UV painting, or fine art body painting photoshoots. 
Use black text with white background to make perfect contrast. 
Try Camouflage body painting or Paintloon body painting photography.
Composite Photography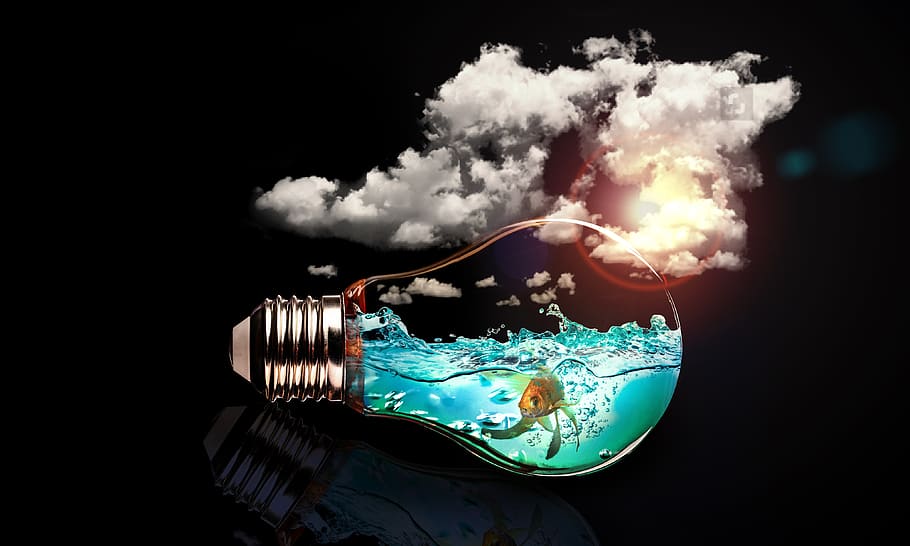 Composite photography in the studio refers to combining multiple images to create a new photo. It's a complicated photo shoot, but it will be less tough if you try it in the studio. Here are some tips for it. 
Add and subtract essential elements for composite creation. 
Eliminate elements and props that distract. 
Play with color and plan relevant outfits and equipment. 
DIY Photography Studio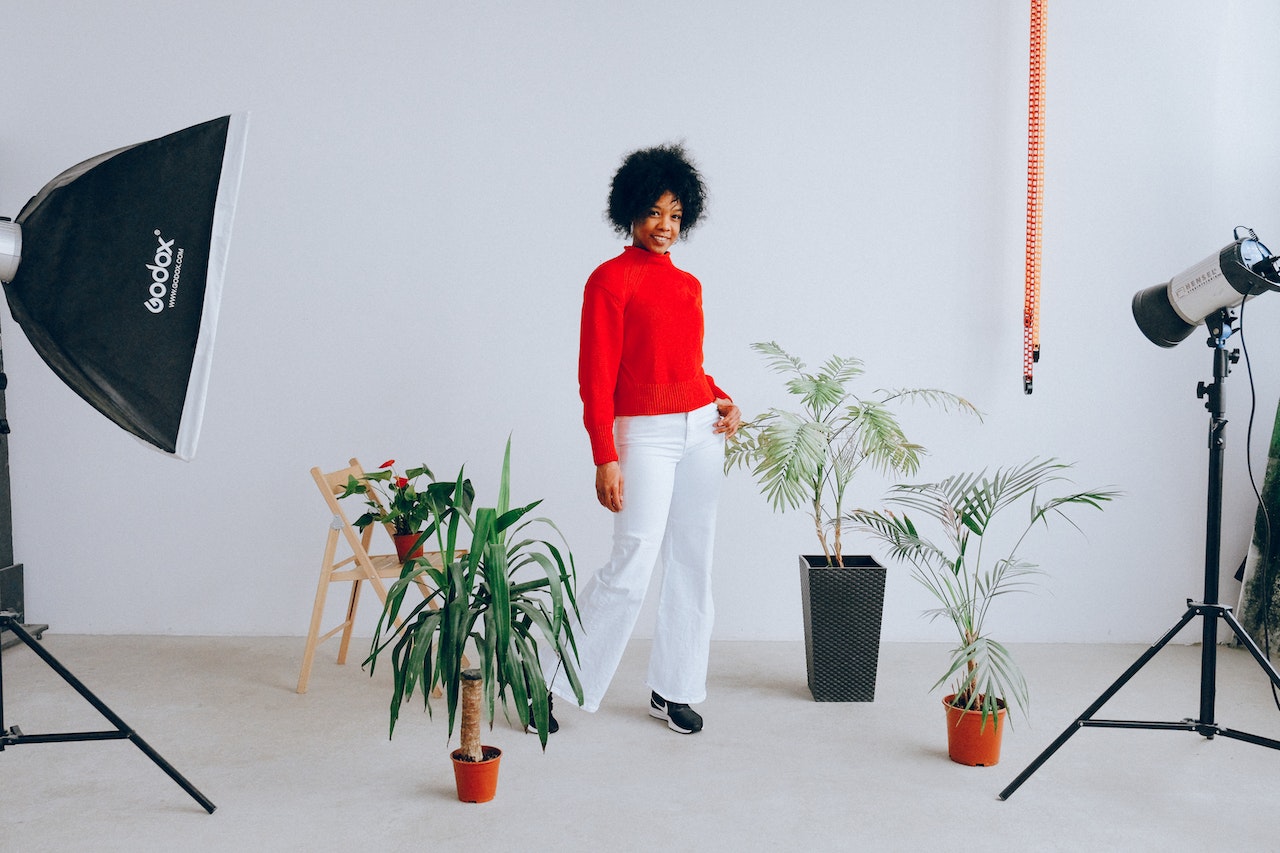 DIY photography studio contains different DIY designs, such as backdrops, lighting kits, and other props. Here are some tips for making perfect DIY photoshoots in the studio. 
Use essential DIY studio elements like a tripod, remote, extension cord, and clamps.
Try pantyhose to make a soft focus filter, and use reflective paper or glass for product photoshoots.
Try Tinsel or metallic streamers to frame headshots. 
Tips for Successful Studio Photography
In the above, you learned in-depth about creative photography ideas and some essential things to set up a photographic studio. Get some brief tips and techniques to make your studio photographs successful.
Set a Goal
To become a successful studio photographer, you must first set a goal. For example, you have to figure out what type of photoshoots you want to make, such as studio portraits or product photography. It will help you arrange the perfect studio for your photography profession. 
Choose the Right Location for Studio 
A good location is important for making a perfect studio. You should choose a place that helps get both natural and artificial light. Also, arrange the studio room with relevant atmospheres, such as the right backdrop and props.
Different lighting and backgrounds
Arrange different types of backgrounds and lighting systems according to different photoshoots. It will give your studio more flexibility and perfection. 
Also, there are some essential factors to recognize to make successful studio photoshoots, such as using perfect lighting modifiers, picking the right camera and camera settings, making a good connection with the subjects, and more.
FAQs
How to open a photography studio?
To start a photography studio, here are some things to implement— 
– Make a photography business plan.
– Assess the startup costs and secure them. 
– Get professional experience.
– Finally, arrange the studio.
How to set up a photography studio?
To set up a photography studio accurately, you must set up backdrops, sustainable lighting equipment, interior design, and other photographic elements.
What do you need for studio photography?
To start studio photography, you must have some essential elements, such as a camera and lens, tripods, light boxes, reflectors, backdrops, softboxes, etc.
How do you take good studio photos?
To take perfect studio photos, you need to consider some facts, such as choosing the right lens, getting the right light, using a remote trigger, connecting with the subject, using single-point focus, and more.
What are the best camera settings for studio photography?
To create the best camera settings for a photo studio, start with an ISO value of 100 and a shutter speed of 1/125.
Final Thoughts on Studio Photography
Studio photoshoot is a popular photography genre among photographers. Every photographer dreams of having his own photographic studio. This article provided relevant information on the studio for photography. I hope now you can easily do creative photography in the studio. So. go forth and make your goal!