Smoke bomb photography has become a hot trend among people. It brings a heavenly look to the image. Photographers often use smoke bombs for photography like portraits, landscapes, and more. 
You probably desire to make some excellent smoke bomb photographs but can't find the exact idea. You are in the right place then. 
We designed this article with the smoke bomb photoshoot definition, ideas, and stunning tips and techniques that make you a pro in this photography field. So, read the content and make your goal. 
What is Smoke Bomb Photography?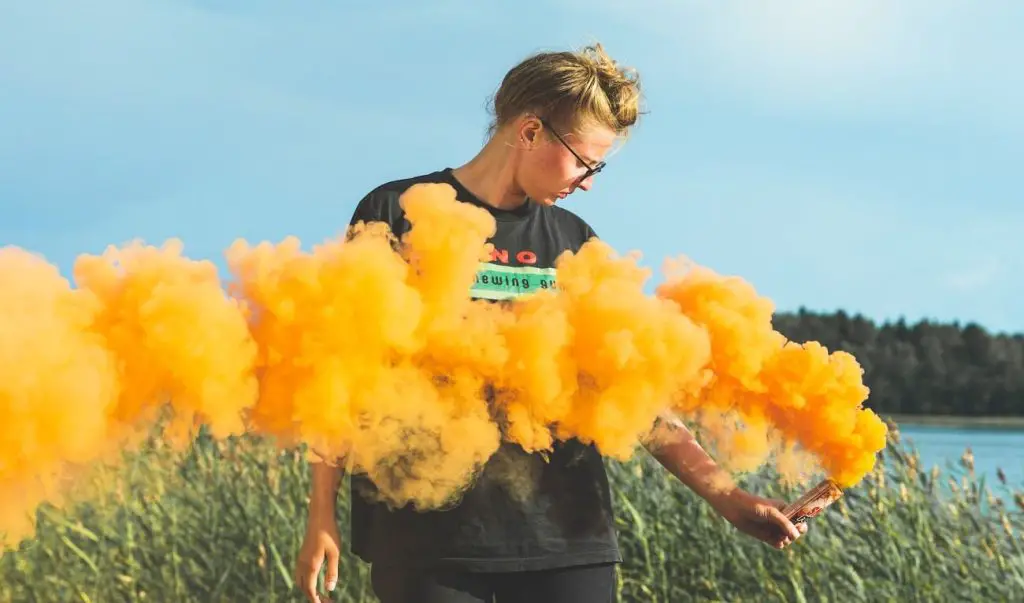 Smoke bomb photography is a photographic genre where photographers use smoke to create a fantastic cloud effect in various photos such as portraits, landscapes, abstracts, or still life. This technique breathes life into the images and creates an unforgettable atmosphere that amazes the viewers. 
Smoke bomb photos have become increasingly popular among people who frequently use smoke bomb techniques for portraits, weddings, and street photos. It helps to create some vibrant pictures using the smoke as background, foreground, or both. 
In this photography, you can use different colored smoke bombs that create a vintage look to your image. Imagine a scene where colorful smoke is blowing, and your model emerges from it as smoke covering half of their face or full of it, making an aesthetic appearance. 
How to Shoot Smoke Bomb Photography?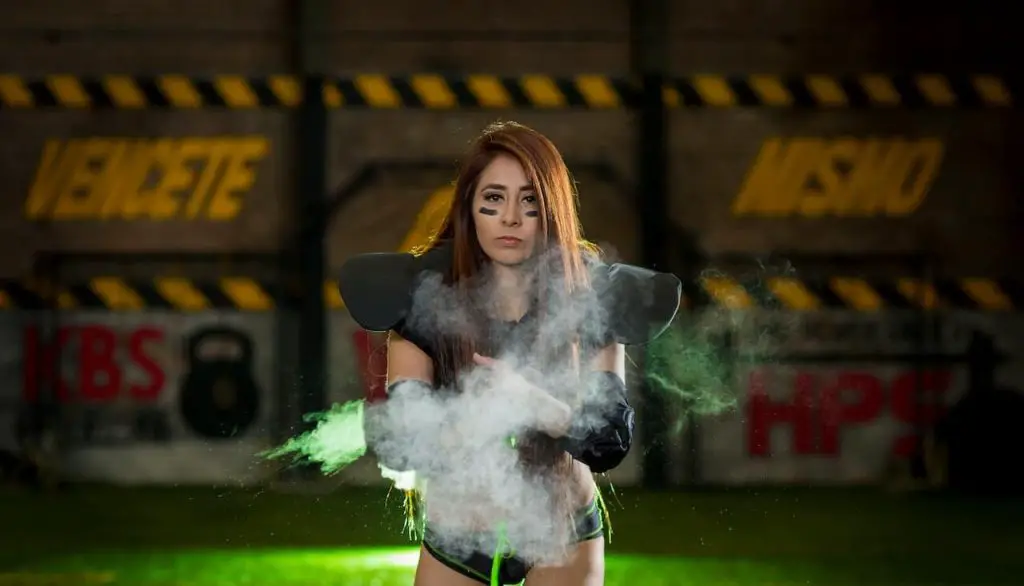 Smoke bomb photography is so exceptional that you must maintain extra care and apply different equipment and photographic techniques. I designed a guideline that helps you shoot fantastic smoke bomb photos. 
What do you Need for Smoke Bomb Photography? 
Shooting smoke bomb photos is different from other photography genres, and that's because it requires several props and equipment to make a safe and fantastic photoshoot. Here are some necessary elements that you need for a smoke bomb snapshot. 
One or more smoke bombs
Lighting gear
Camera or smartphone
Tripod
Lamp
Incense sticks and a match or lighter
A metal container or bucket
Reflector
First aid kit 
Fire extinguisher 
How to Choose the Right Smoke Bombs for Photoshoot?
You can find several smoke bombs in the market. But choosing the right smoke bombs will depend on your budget, expertise, and the effect you will create. Here are some factors to select the best smoke bombs for your photoshoot. 
Higher Density: Higher density of smoke helps you control the visual effect of your image. It can be helpful if you want to create a foggy effect or dense opaque coverage. 
Longer Burn Time: Try to choose some smoke bombs that last longer, like more than one minute. It helps you make a good adjustment and create several shots. 
Easy to Activate: Use smoke bombs that are easy and safe to activate. For this purpose, ring or wire pull will be the best option because they are more straightforward to use. Otherwise, you have to use a lighter or match. 
Cool-Burning Grenade: Try cool-burning grenades because they are safest to use as they contain lower temperatures and no external flame. Moreover, this cold-burning grenade lasts approximately 90 seconds, both small and large. 
Wire Pull Grenades: There are two types of smoke bombs. One needs ignition with a lighter, and the other ignites itself with a pull of wire. So, choose the pull wire grenades because they are more convenient. 
How Do You Take Good Pictures of Smoke?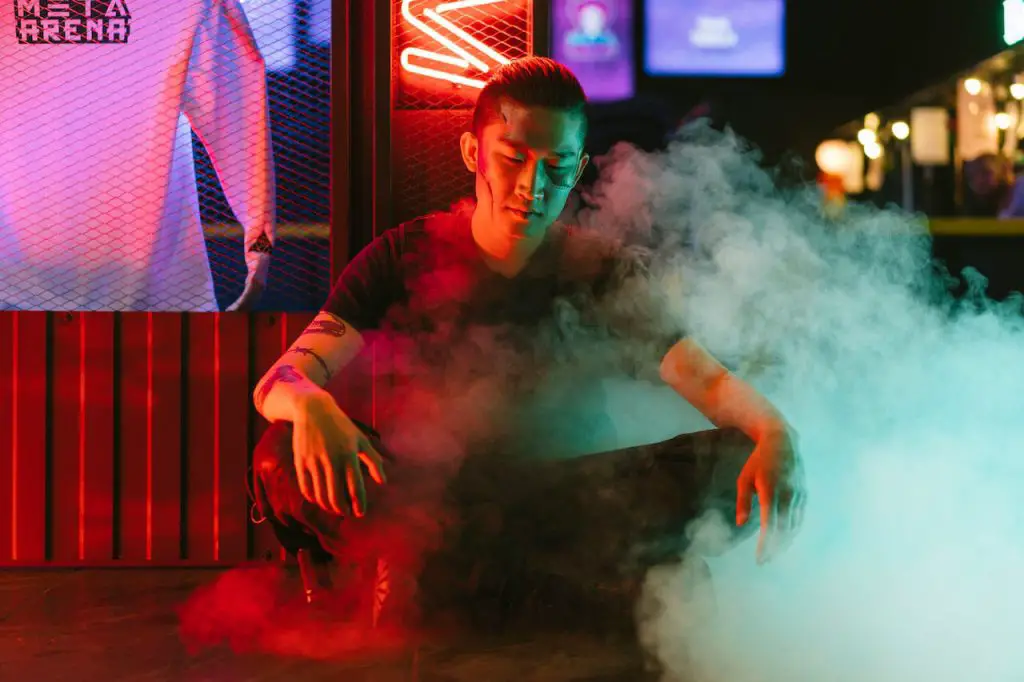 Smoke photography creates a thriving look to the image, but it's not a piece of cake. To take hilarious pictures of smoky scenes, you have to maintain some factors that I am mentioning for you. 
Firstly, collect the right smoke bombs and arrange the essential elements such as the camera, tripod, lamp, etc. 
Fix your camera in the correct position and set your exposure perfectly. 
Light the incense or smoke bombs
Start a photoshoot focusing on the desired object. 
Creative Smoke Bomb Photography Ideas for Smoke Bomb Photoshoot
Smoke photo shooting is not easy as it looks so innovative and aesthetic. A photographer has to utilize his inner creativity apart from taking complete preparation. Also, he has to be conscious of some necessary facts when making a session because it can cause terrible health risks if he makes a mistake. 
Here are the best smoke bomb photography ideas that help you make an incredible smoke photoshoot. 
Show Smoky Face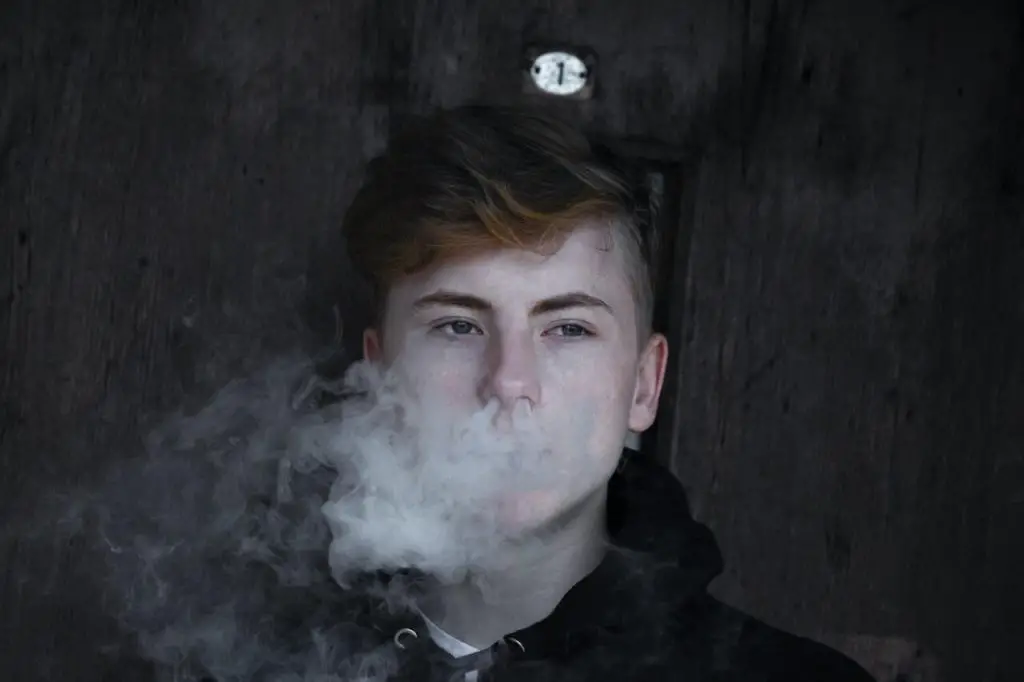 Showing a smoky face is one of the most popular ideas of smoke bomb photography that creates a thriving attitude to the model's face. You can create different types of smoky face photos by arranging the smoke in various shapes and angles, such as:
Make a full-face smoky photo with a thin or thick smoke.
Create half-face smoke covering the upper or lower face. 
Make a scene blowing smoke on the model's face from the background.
Show smoke sleeving the model's face from the foreground.
Create a scene blowing smoke from the model's hand.
Show Half of The Model Face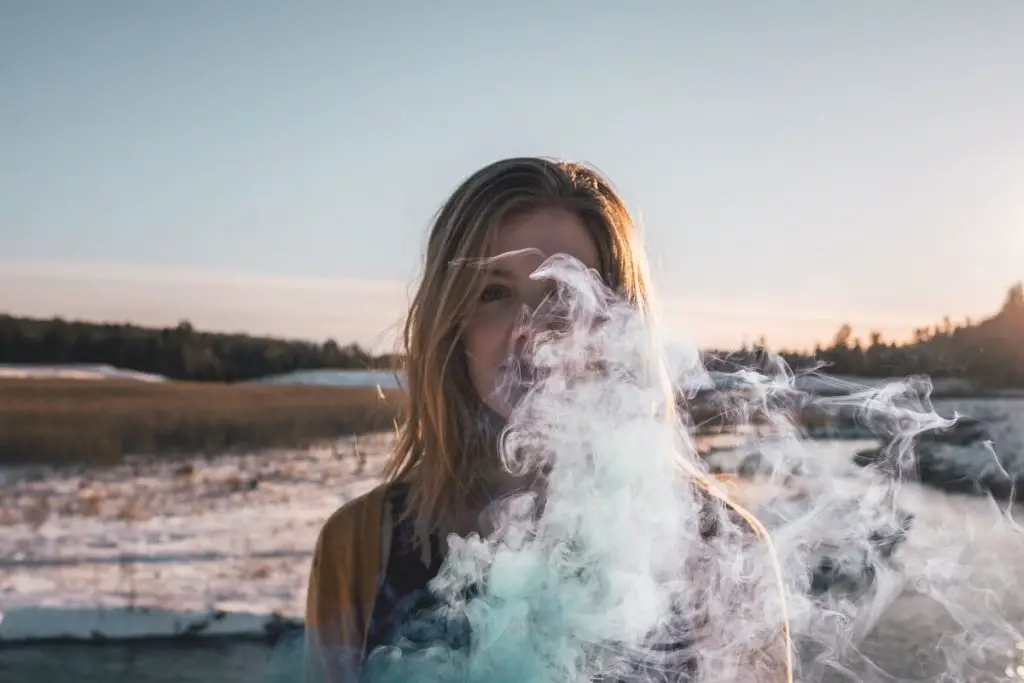 When making photography for smoke bombs, many people love showing half of their face because it creates mysterious looks that give a heavenly feel to the viewers. But it's something tricky for beginners. Here are some tips you can follow to show half of the face in a thrilling look. 
Use cold-burning wire pull grenades because they help hold the smoke for a long time and provide less temperature. For that reason, you can easily control the smoke as you wish and show half of the model's face. 
Start the smoke flares slowly so you can utilize the whole smoke by making different shapes, such as sleeving half of the face from the background, foreground, or both-sided smoke.
Choose Vibrant Colors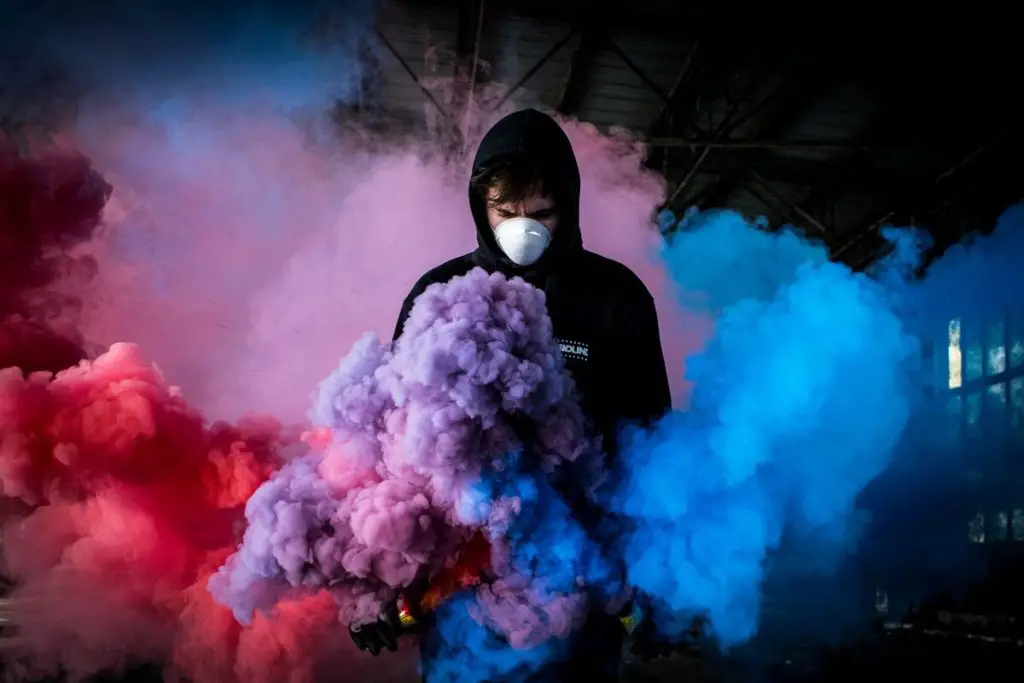 Using vibrant colors gives enthusiasm to your smoke photography. By mixing and matching two or three colored smoke bombs you can dramatically change the mood of your images. But to make that successful, there are some facts you should consider. 
First, think about the atmosphere you want to create. 
Consider the background colors and model's outfits. 
Use two or three different colored smoke bombs for photography. 
Try Out Portraits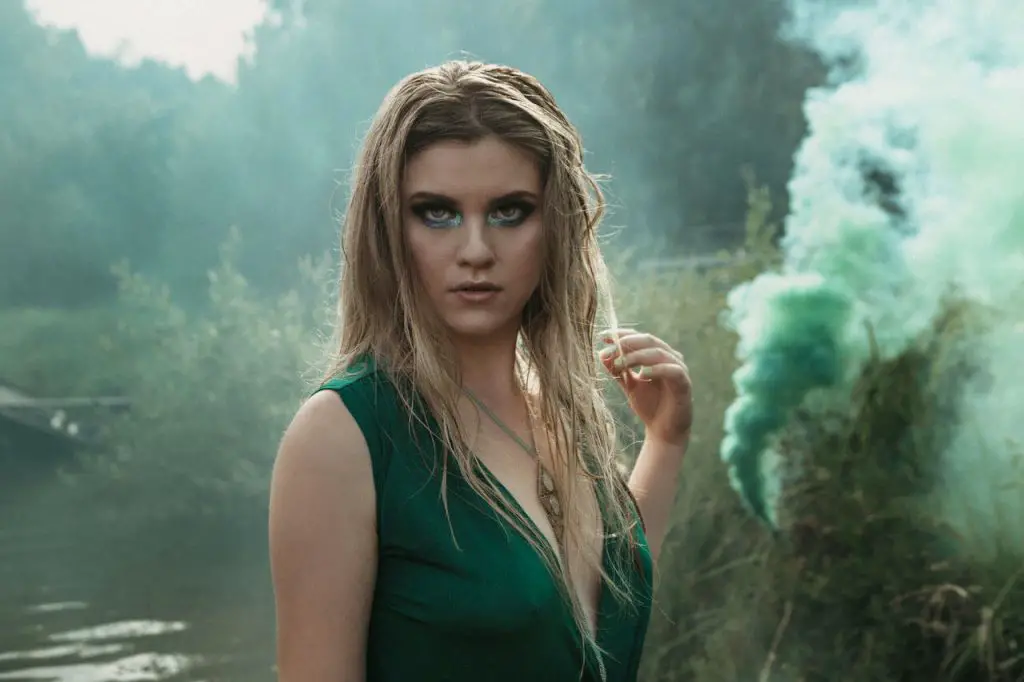 When looking at the colored smoke photographs on Pinterest or other social media, you can see most of them are portraits. It indicates that portrait smoke photographs are the most popular compared to other photos. You can make different types of smoke  portraits, such as:
Add multiple colors of smoke bombs to create an astonishing atmosphere. 
Blow the smoke from behind to create a colorful background. 
Create a vivid scene where the colored smoke blows from the model's hand. 
Make a smoky scene on the street from where a model is emerging. 
Experiment With Cinematic Look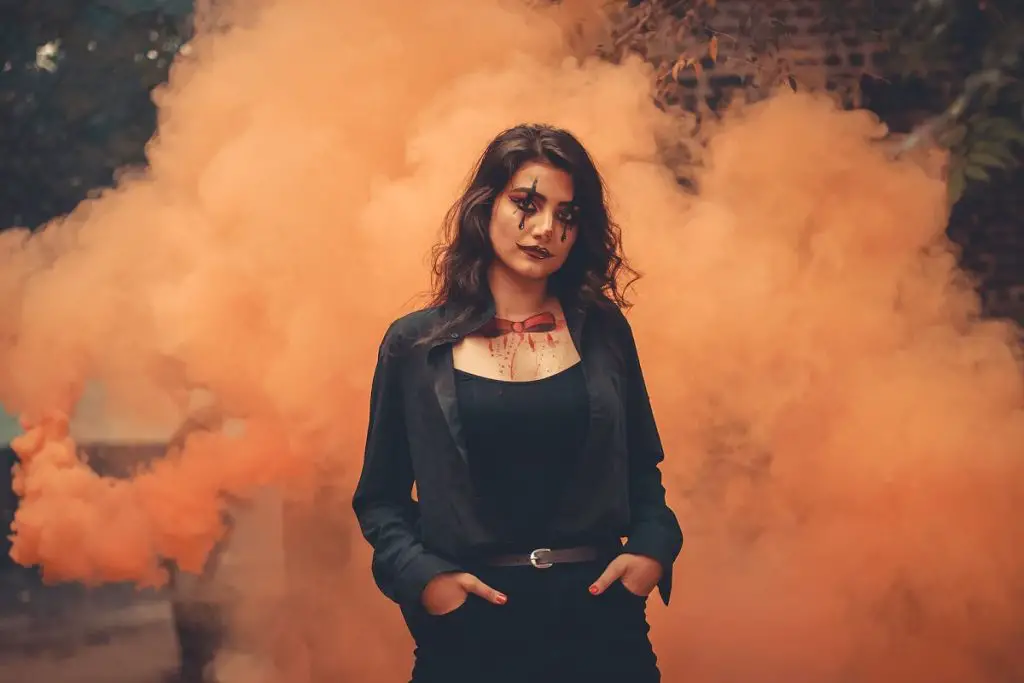 A cinematic look in photography creates a still or moving frame of a scene. It's the best storytelling technique to create depth and feeling with images. By experimenting with a cinematic look, you can also make your smoke photoshoot the most attractive and eye-pleasing. Here are some ideas that you can follow. 
Capture shots with a prime lens.
Focus on your model.
Create smoke from various sides.
Take the image from different angles.
Tell a story with a deep feeling. 
Get creative with colorful smoke. 
Use The Smoke As Background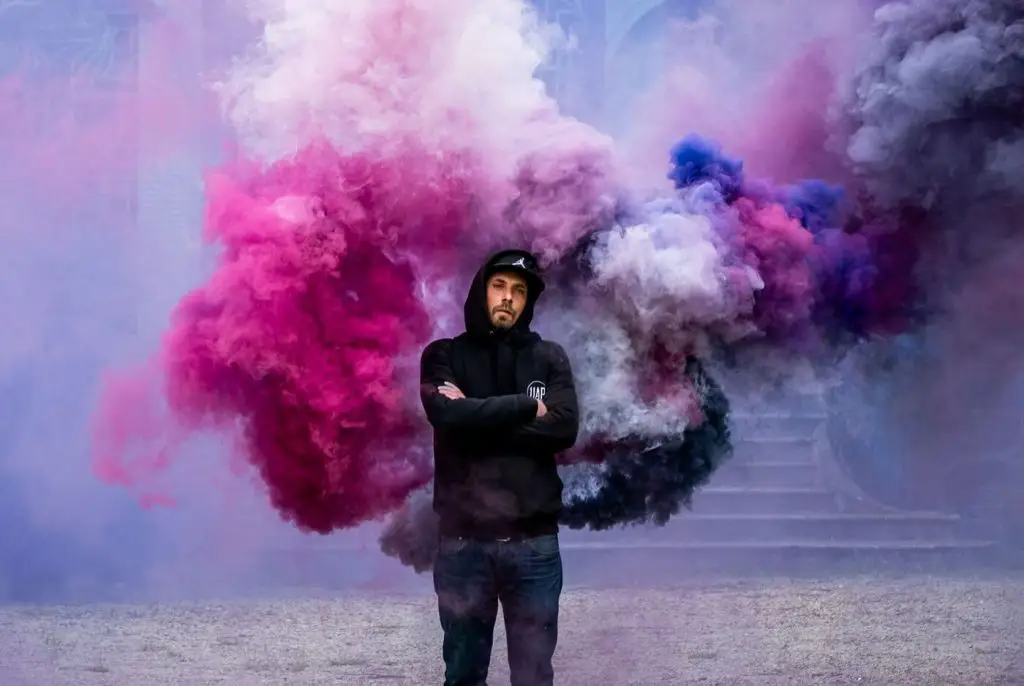 When taking photos with smoke bombs, you can use the smoke as background, foreground, or both. But the most effective and creative idea is to use the smoke as background. You can make a smoky background in different ways, such as:
Try single or multiple colored smokes.
Make a full smoky background with deep smoke. 
Half-smoke background with single or multiple colors. 
The Smoke Cloud Effect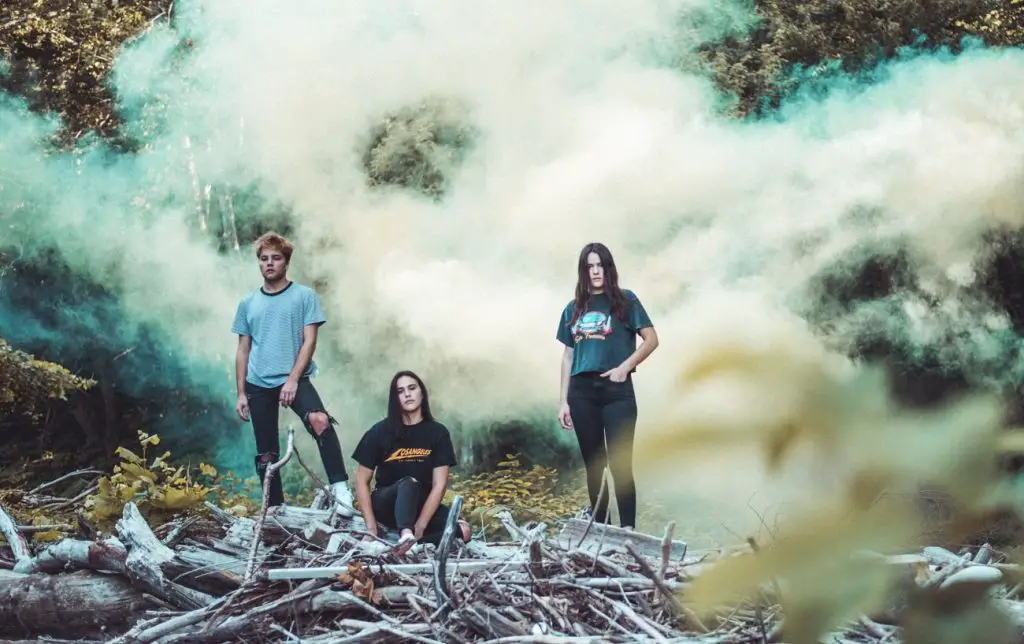 You can create a smoke cloud effect on your smoke photoshoot if the smoke bomb emits high density. It helps to create an amazing foggy or cloudy atmosphere. You can make a cloud effect in various ways. 
Use the smoke as background with intense blowing. 
Use different colored smoke bombs to make a strong cloud effect. 
Create vivid smoke cloud effects both on the back and front.
Smoke Coming Out Of Objects
Smoke coming out of the objects creates such an astonishing scene that most professional photographers try it for their smoke bomb photoshoot. You can also try this when making photos with smoke bombs. Here are some pro tips for you.
Put the smoke bombs in the model's hand if you use a cool-burning grenade.
If you use smoke sticks, put them in an object that the model can hold. 
If you capture inanimate objects, you can set them in the hero subject. 
Do the Shoot at Photography Golden Hour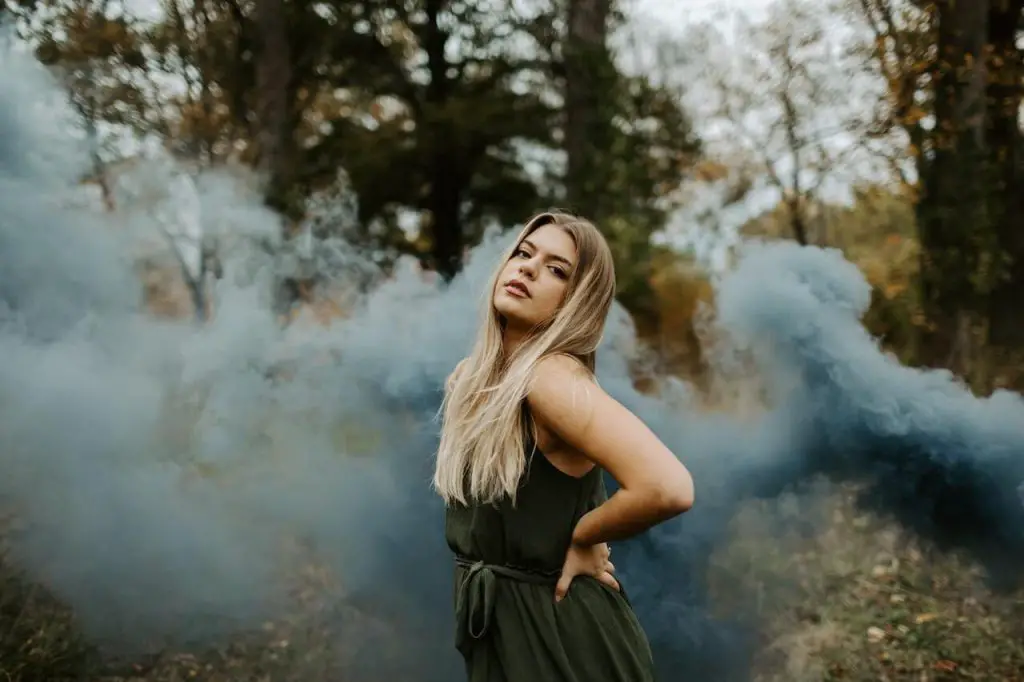 When making a smoke bomb photo session, think about the golden hour of photography. Because it provides perfect utilization of natural light which is the most important for photography with smoke bombs. The photography golden hour is— 
The last hour before sunset
The first hour after sunrise
Try to take shots near these two moments because the temperature is usually low in these moments. It's helpful for making a safe and soft smoke bomb photography. 
Use Props and Be Creative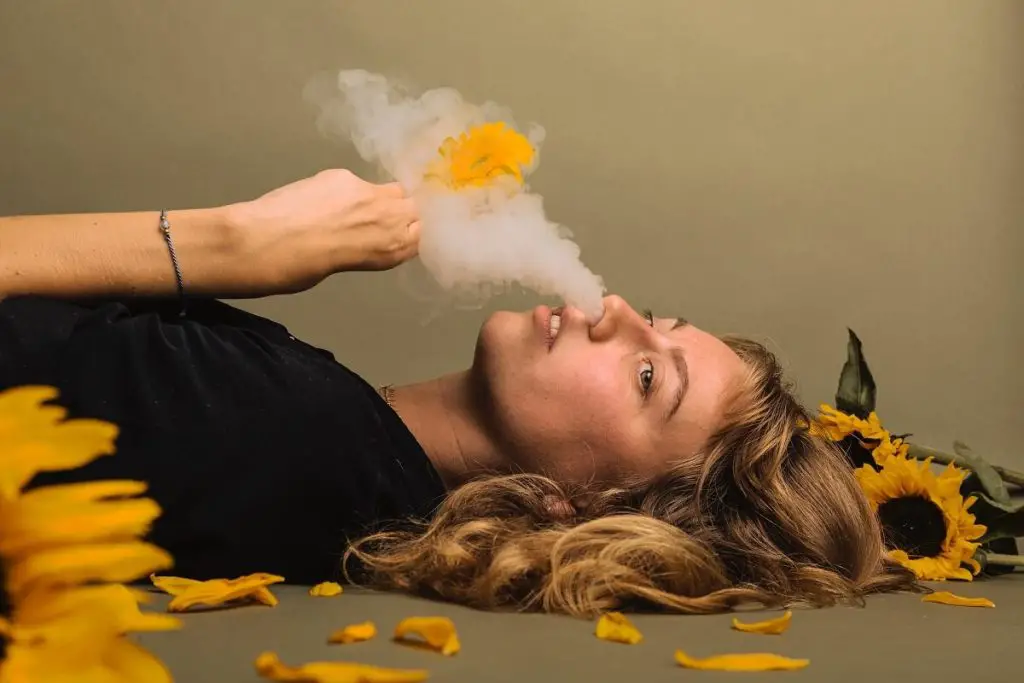 The smoke bomb photo shoot is a unique photography idea that requires numerous props and creative techniques. That's why you have to think out of the box and use beneficial props. 
First, create a proper plan for the photography session. 
Think about the necessary props such as smoke bombs, Lighting gear, a Camera or smartphone, Tripod, Lamp, Incense sticks and a match or lighter, a metal container or bucket, Reflector, etc. 
After that, make the perfect arrangement of every prop and take shots from unique angles and shapes.
Lighting Makes These Images Even More Fun!
Lighting is the most critical factor in highlighting the smoke and the model's face when making smoke bomb photo shots. In this context, you can use both artificial and natural light. 
To utilize ambient lighting, you can capture shots at the magic hours. 
For artificial lighting, you can arrange the light matching with the atmosphere. 
Also, you can use reflectors for both natural and artificial lighting. 
Try Out Different Shutter Speeds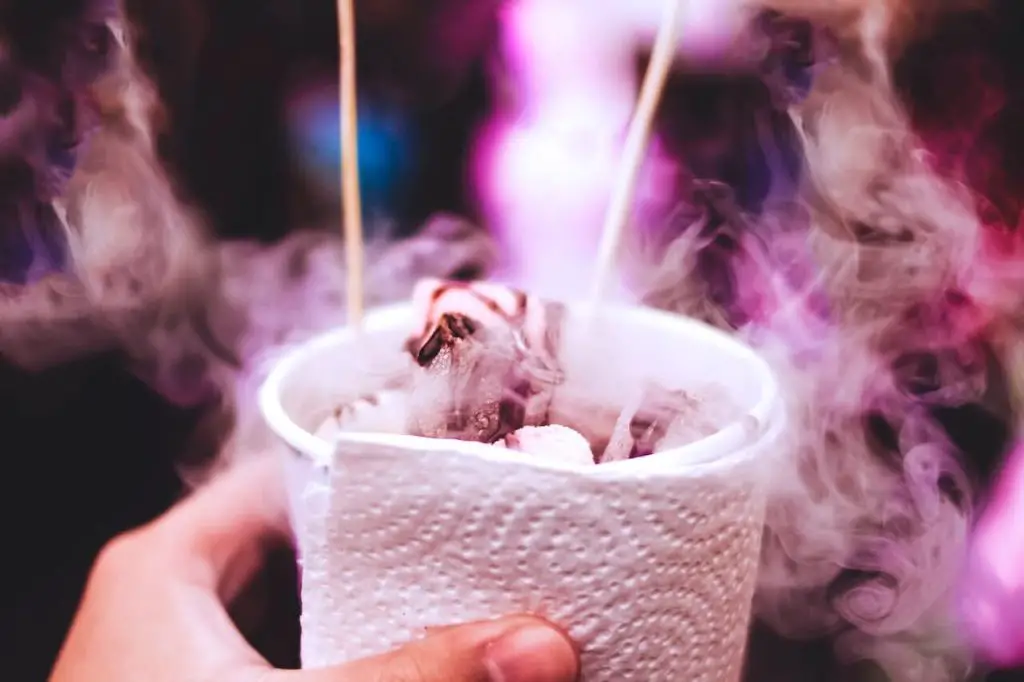 For beginners, photography of smoke bombs can be a little tough for its artistic mood. Because you have to get a good sense of how quickly the smoke blows and how fast you have to capture it. For this purpose, you can use different shutter speeds to make a good session. 
You can increase your shutter speed to freeze the smoke motion.
Fasten the shutter speeds to capture the details of the smoke. 
Use slower shutter speeds to provide the smoke with a smoother look.
Have Fun and Experiment!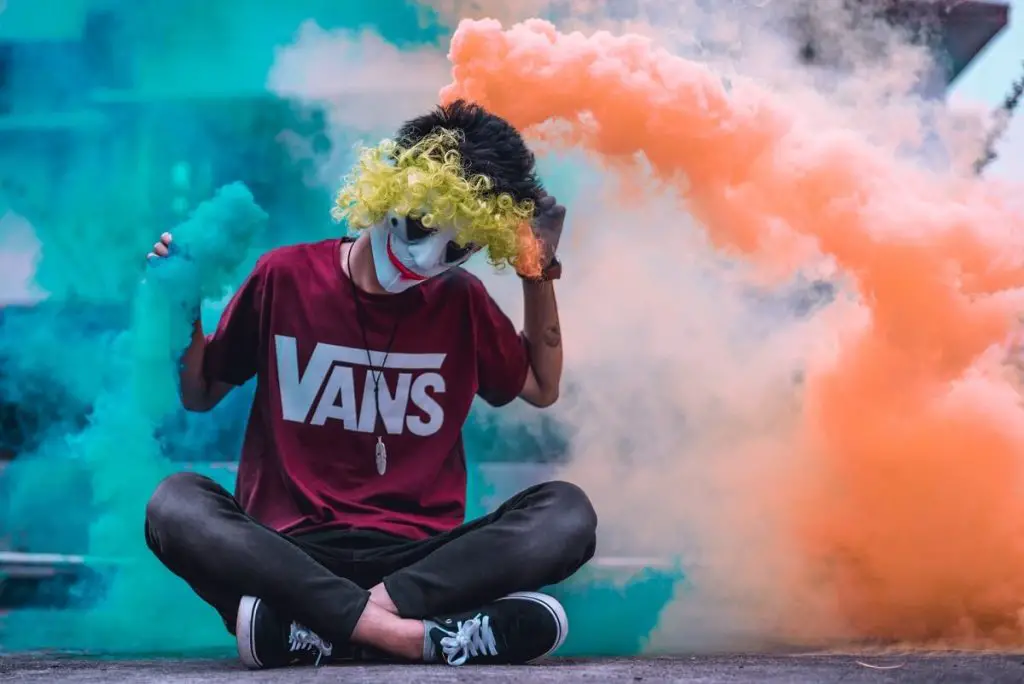 Smoke bomb photography creates such heavenly moments that make both the photographers and the models happy. So, before going to the final session, have some fun to make a good understanding between you and the model. For this purpose, you can—
Experiment with a pre-photo session. 
Share some funny stories or jokes.
Take some soft drinks or juice.
Important Tips For Smoke Bomb Photography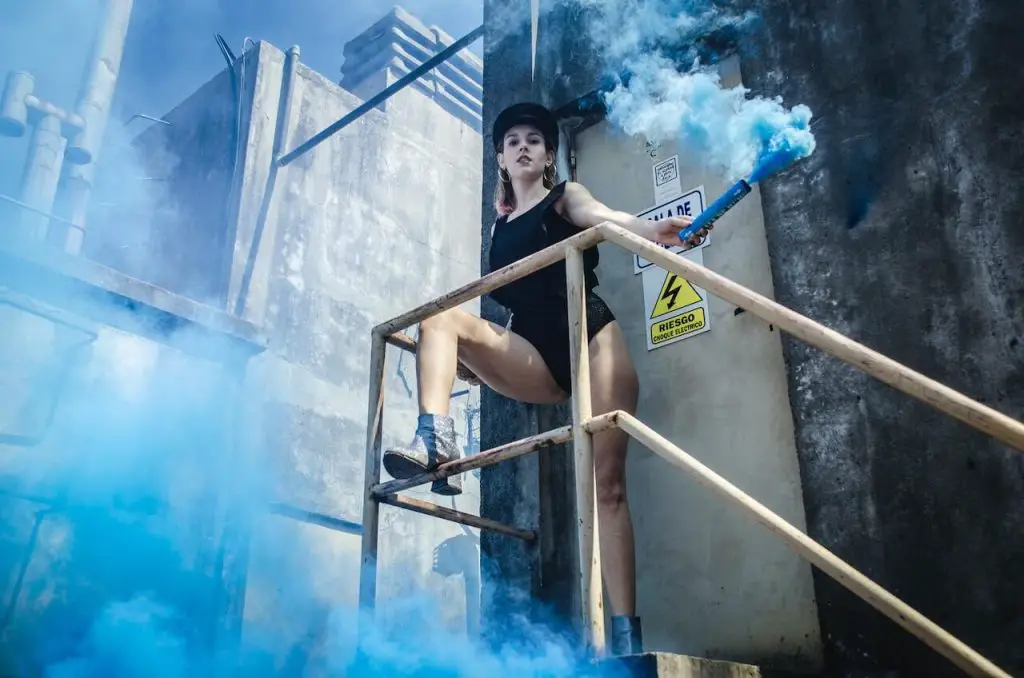 You already knew about the creative ideas for smoke bomb photography. Now it's time to make the best smoke bomb photos utilizing some special tips. So, get the tips and make stunning smoke photography. 
Use the Right Smoke Bomb Grenade
Smoke bombs contain many variances, such as different colors, brands, burn time, and density. But it would be best if you used the proper grenade matching the weather, background, and outfits. 
Use cool burning grenades because they are the safest and easiest to activate. Enola Gaye, Peacock Smoke, and Sutter bombs are top-rated brands that make the best smoke bomb grenades.
Choose The Right Location
Selecting the right location is necessary for a smoke bomb photoshoot because of several risks and hazards surrounding the smoke bombs. Try to use smoke bombs in a paved place, avoiding dry kindling such as grass and trees. Stay far away from the dry natural location where fire spreads quickly.
Select Perfect color smoke for photography
Before buying colored smoke bombs, ensure what atmosphere you want to create. Consider the color of the background and the model's outfits. After that, select the correct colored smoke bombs that make a perfect color match to your photo frame. Moreover, you can use two or three colored bombs for a great mix-up. 
Stay Up To Date With Wind / Weather Forecast
Wind can be the worst enemy of smoke photography. Try the photo shoot in a light breeze that accommodates smoke with slow blowing. Because a stronger wind may blow the smoke so quickly that you cannot get a chance to capture great shots. Therefore, try to be in a sheltered area away from heavy wind. 
Combination With Model and Smoke Bombs
Before buying the smoke bombs, create a statement on your model, such as his/her skin color, hair color, and what colored outfits he/she will dress in during the photo session. After that, choose the suitable colored smoke and make a good combination with the model and smoke bombs.
Prepare everything before activating the smoke flares
Don't activate the smoke flares before completing your session arrangement. First, prepare your model, camera, background, lighting, and other props. After that, start the smoke flares. It provides you more time to take several shots from a single smoke bomb. 
Use Good Lighting
Good lighting is vital to making colored smoke bomb photographs. Because lighting can adequately highlight the smoke color and the model's skin tone. It's also essential to use a fast shutter speed. You can utilize sunlight at noon or any other hard light created with flash. 
Avoid Public Places
Please avoid the public place to maintain proper safety. Though smoke canisters are safe for use around people, they can cause some throat or eye irritation to many people. Also, there is a risk of staining people's outfits. So, try to keep away from public places.
Move the Smoke Flares Slowly
Don't run the smoke flares fast; try to move it slowly. Perhaps you can hold the smoke for a long time and utilize it properly when making a session. First, have the smoke grenade behind you and create a smoky background. Then bring it to the front. It can result in a denser-looking smoke and make the photos look extraordinary.
Bring some extra smoke bombs
Don't risk wasting your fantastic smoky photo session, and bring some extra smoke bombs that you can utilize while the smoke gets short. Because strong winds or rain can blow your smoke, or your model can destroy it if he/she has no experience of using smoke bombs. 
Experiment with different subjects
If you are a beginner photographer, you can experiment with various subjects. Though portrait photographs are the most popular smoke bomb photography, you can try them for still life, landscape, abstract, and conceptual photography. It helps you apply your inner genius.
Know the smoke grenade photography Law
When going to do smoke photography, first, know the smoke grenade law in your country, such as if the government allows it to be used, especially in a public place. If permitted, learn details of what you can and can't do. 
Moreover, check out the deadline for the smoke bombs because expired smoke bombs can create hazards and even harm people's lives. 
Think About Safety first
To make a colored smoke bomb photography first, think about safety. Because a careless mind can destroy your photography session or even create a terrible situation. So, you should consider some important facts before making a smoke bomb photoshoot. 
Hold the smoke bomb from the bottom
 Don't pull the ring towards your face or body.
After use, put the bomb in a metal bucket. 
Avoid making a session in a dry place or near flammable objects. 
Bring water, and pour it on the bombs after use. 
FAQs
What is the most usable color smoke bomb for photography?

There are various usable color smoke bombs for photography such as— 

– Red smoke bombs for photography
– Yellow smoke bomb photography
– Blue smoke bomb photography
– Orange smoke bombs for photography
– White smoke bombs for photography
– Black smoke bomb for photography
– Pumpkin smoke bomb

What are the most popular smoke bomb photos on the internet?

There are different smoke bomb photos that are the most popular on the internet such as—

– Aesthetic smoke bomb photography
– Girl smoke bomb photography
– Smoke flare photography
– Color smoke photography
– Forest smoke bomb photography
– Car smoke bomb photography
– DIY smoke bomb photography
– Halloween smoke bomb photography

What are the best smoke bombs for photography?

There are several smoke bombs for photography but the Enola Gaye WP40 Smoke Grenade serves long-lasting and safest smoke for photography.

Do smoke bombs stain clothes?

Yes, smoke photography can stain cloth. So, if you want to preserve your dress, keep a distance from it. 

Where to buy smoke bombs for photography?

You can get smoke bombs at your nearby shop. Also, you can get it on an ecommerce platform.

Is it illegal to use a smoke bomb?

No, smoke bombs are legal to use but there are some places you can't use them such as government land or any place that prohibits fireworks. 
Conclusion
Smoke bomb photography is the most popular and unique way to create aesthetic views of your photos. This article gave you vast ideas and tips for a creative smoke bomb photoshoot. I hope, you got proper guidance from this content. So, now it's time to go forth and conquer.