You want to create aesthetic photographs and have preferences for stylizing and colorizing your images. In that case, you want to try out some special editing essentials while understanding the camera, exposure, and composing part and run through some of the editing options.
Proper editing contributes a lot to your image, removes your photo's blemishes or unwanted parts, color correction, shadow creation, and background work, and makes photographs more attractive in the eyes of the viewers.
On that note, here are some basic things to edit photos you might be curious to know.
What Does Basic Photo Editing Mean?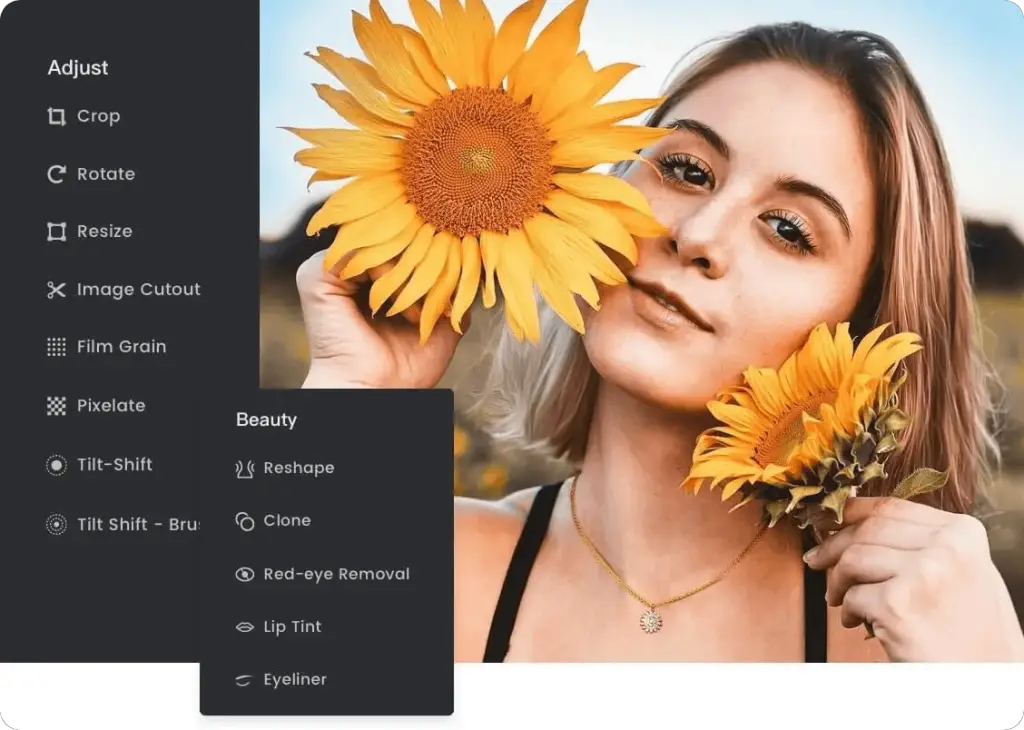 Basic photo editing refers to editing or modifying traditional photographic images while using various photo editing techniques, software or tools. Image editing is done by creating the best possible overall look while maintaining the quality of the photo. 
The basic editing techniques are presented in every advanced or simple editing program. Also, basic photo editing tools can enhance the overall look of your photographs while making photos more powerful and share-worthy. On the other hand, advanced tools offer more sophisticated and professional work than the basic version of photo editing.
Why Do Photographers Edit Photos?
There are plenty of options for editing photos. The most obvious answer is that photographers and professionals edit images to enhance image appearance. Moreover, the photographs may need more subtle changes in order to edit the photos.
There are some reasons for photographers to edit photos-
Professional photographers shoot pictures in a raw format that is almost similar to a negative film. So, they need to edit the photos in order to get a fresh and easily-handled copy.
The contrast and color of the photos need to be changed or adjusted to improve the overall color of the photos.
The images require sharpening and making the images crisp.
Hues need to be edited to help the correct color of color casts and skin tone.
White balance ensures warm or cold photo editing and affects the overall feel of the pictures.
In a word, photographers edit photos to bring out the best in photos, improving the quality, adding personal style, and making images look great and fabulous.
How Do Photographers Edit Photos?
Photo editing might seem a bit daunting task. This is also called a post-processing task in photography. Photographers edit photos to provide images with a prestigious and appropriate look. There are plenty of apps and industry-standard software to edit photos. 
Undoubtedly, Adobe Photoshop and Adobe Lightroom are two of the most commonly used software. This software can do very subtle editing work and fix the area or issues in any photos. 
Straighten and crop images
Removing unwanted elements
Correcting white balance
Changing exposure
Adjusting contrast and colors
Sharpen images and adjust saturation
This function helps to improve and enhance the quality of the photographs. So, photographers tend to use these functions and software to improve the final edition of the photos.  
How to Get Editing Ideas?
As a photographer, you get the whole idea, but editing requires quite a fair amount of time-consuming work. After every shot, a photographer plan and execute the ideas of how photos need to look. 
Often, it becomes simple while using photo editing basics, and other times it may look more complicated. Editing requires following the rules of context and artistic formula. Over-edited images may look perfect in a technical sense, but they require context and have very few settings.
Follow the rules of context and artistic formula
Focus on the basic part rather than advanced
Sharpen your basic part, and later work on advanced editing 
Basic Photo Editing Tools and Techniques Every Photographer Knows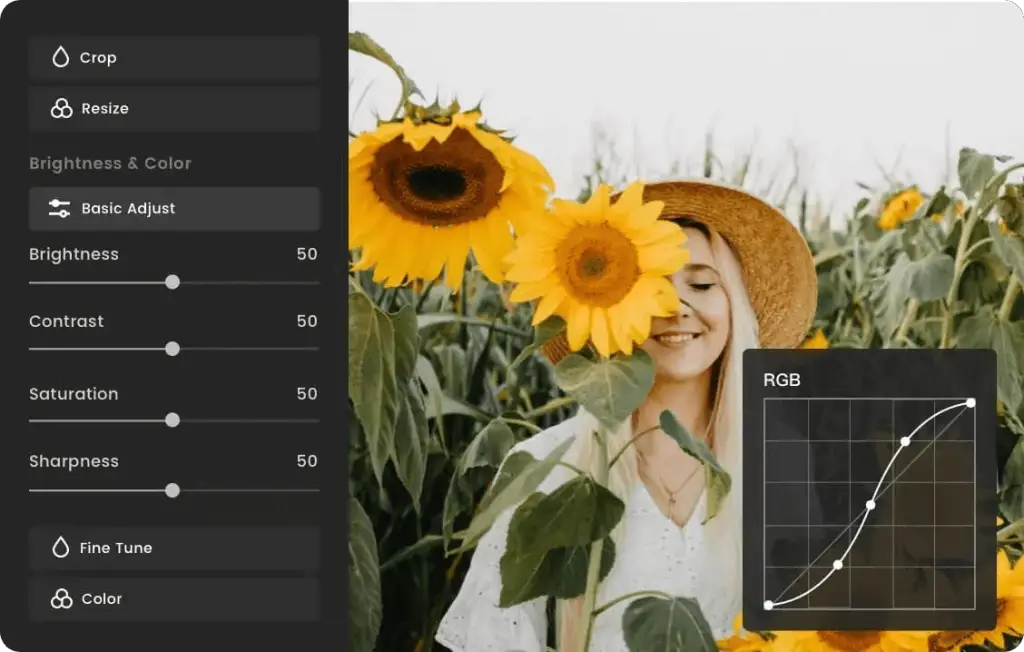 Most advanced and professional photographers use advanced software such as Adobe Lightroom that helps organize and edit photos. Adobe Photoshop and Adobe Lightroom can be used to achieve the high-quality effect and image output. 
Some of the tools in Adobe have advanced working capabilities, while other tools allow you to do the photo editing basics. Basic photo editing tools allow you to change part of the image, while advanced image editing allows you to change overall photo adjustments. 
Find out some basic photo editing techniques in the following:
Crop and Resize Photos
If you want to remove the edges of your photos, cropping lets, you do that. Cropping modifies the composition while changing the image's overall balance and removing the edges. In a word, cropping allows you to remove a bad part of the photo. 
Straighten
Straightening images involve any distorted or twisted image that requires cropping off parts. It makes the level of the images or helps to straighten the images. Photo editors include a straightening tool to straighten the lines of the image. 
Adjust Color Balance
Color balancing is one of the vital parts of image editing. When your images get over brightness or have too much color, you need to adjust the color balance to make the images look perfect. Adjust the color balance with saturation and vibrancy controls. 
Brightness
Brightness is a simple option for image editing. This simple option allows you to change the lighting and helps to understand the contents of the images. Modifying brightness allows you to change all pixels equally. Brightness mode is the simple function available in any image editing tool. 
White Balance
You may find warm and cool color casts in your image. In order to reduce over-applied color casts, white balancing makes it more convenient when you want to reduce colors. White balance helps you to get an adaptive color cast in your image. 
Color Vibrancy
Vibrancy allows you to increase the color intensity in neutral color tones and overall maintenance of the intense colors in brighter colors. This way, your images show a balanced colored image and make your images appropriate.
Noise Reduction
Noise reduction makes your images smooth while removing any noise in a photo. Noise reduction occurs due to very high ISO settings. Several apps include noise reduction features to smooth out any kind of noise in a photo. Moreover, noise is generally unwanted and not grainy.
Saturation
Saturation is the colour information of a photo. Saturation brings out the muted colors in your photo without affecting the colors that are already saturated. Saturation is a bit similar to vibrance. If you want to bring out colors in your photo, saturation helps to heighten it.
Adjust Contrast
Contrast is the variety of dark to light tones. When the contrast increases, all the tones in the image stand out as very dark or light. No elements could stand out in the frame when the contrast is low. So, you need to maintain the medium contrast settings. 
Adjust Exposure
This is the process of making the photo more bright or dark as you want. When you increase the brightness of the photo, it could increase the noise. So, to relieve you from this, the correct exposure setting is the option you should choose. 
Sharpening
Sharpening is the method where the light area combines with the dark area, and it makes the photo sharp and contrasted. Sharpening is the increasing method of contrast where light and dark helps to achieve an attractive look in your photo. 
Clarity
Clarity helps to adjust the middle tones of your photo. The vital point of clarity is to help to increase the texture and brings a bit of grittiness to the image. On the other hand, decreasing clarity helps to give your photos a dreamy quality.
Cloning and Healing
If your images have any spots, you can easily remove them through the 'cloning stamp' or 'spot healing' tool or the spot-removing tool. This function lets you change the view and highlight the location of the photo. So, edit your images to get spot-free images. 
Shadows
This setting helps to add contrast, composition, and dimension and maintains your photo's balance. If you capture the monochrome photo, the shadow setting can raise interest in your photo as it helps to maintain the contrast in your photos.
Lens Corrections
Lens correction is the setting where distortion gets corrected. If lens distortion occurs, the lens correction setting helps to minimize it. Each and every lens is different, and post-processing software like Lightroom provides a valid selection of precise settings for the lens automatically. 
HSL
HSL enables you to fine-tune a particular color's saturation, luminance, or hue. HSL brings out any specific color with brighter color, such as if you want the red color to bloom in your photo; use the HSL option to make the photo saturated and bright.
Filters and Presets
Some of the major filters, like radial, and graduated filter, helps to shape your images, such as circular shape or straight line. On the other hand, also there are different presets to work on your photo editing. Presets transform your images to suitable styles with the click of a few buttons.
Read Also: What Are Presets? Everything You Need to Know About Photo Presets
Advanced Photo Editors Follow These Photo Editing Things
Are you up for image editing?
But you need to introduce yourself to the advanced photo editor works now. Advanced photo editors follow some of the special editings in their photos. Professionals follow these advanced settings from retouching to de-wrinkle or giving some finishing touches to the photos.
Find out their editing methods in the following.
Clean Up the Image
If images have dark spots or unwanted areas in the photo, professionals use the advanced cleaning method to clean up the image. Cleaning up includes several tools and filters to use the cleanup function more appropriately, such as clone stamp or healing brush tool. 
Use the Healing Brush to Retouch
When images have dark spots, slight imperfections, scratches, and wrinkles healing brush tool take care of it to repair. The healing brush tool allows you to edit the imperfections, spots, and scratches and make them disappear in the background.
Use the Selective Color Tool
Use different functions for your photos' white balancing, contrast, saturation, shadows, sharpening, or highlighting. Choose the color selectively and make the necessary changes according to the original capture.
Desaturate the Detract
Over-saturating colors are one of the beginner's mistakes. Always use the natural color and increase the saturation where required, but also keep in mind that apply desaturation where your photo needs it. For example, if your photo includes a lot of green colors, use the desaturate function to mute this color a bit to balance the green comprising scene.
De-Wrinkle
Professionals use the smudge tool in Photoshop to remove wrinkles in the photo. Just zoom in on the image you are working on and hold the right mouse button on the wrinkle area to replace the unwanted wrinkled area.
Ensure Perfect Subject
The perfect subject is the major point for photographs. A professional photographer ensures the perfect subject as well as the perfect surrounding area; if there's any imperfection in the subject, a professional edit out the imperfection and revives the photo.
Add Some Finishing Touches
After all the editing is done, a pro photographer finds out if there's still any imperfection. They work on the finishing touch if the image still needs to be edited. Sometimes they need to do the editing all over again as the editing may require more perfection. 
Work in Layers
Professionals work in layers because layers enable you to add components or elements to the image and work on different layers one by one. For each layer, you can adjust and white balance the image, reposition layer content and special effects, and change the colors, blending options, and more.
What Do Photographers Use to Edit Photos? Key Features
Photographers take the perfect photos, but there are still some inaccuracies exist that need to sort out. Most of us are comfortable using the free basic photo editor, but professionals use the advanced photo editor to edit and provide the finishing touch to the photos.
Here are some of the photo editing essentials that professionals have used for years. Check out.
Adobe Lightroom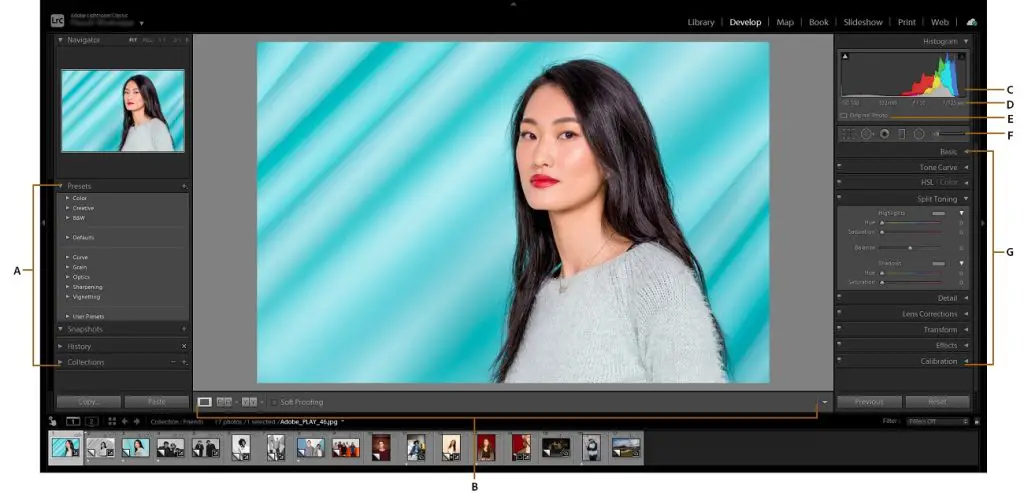 Lightroom is a photo editing software by Adobe, and this is one of the popular choices by many professionals and beginner editors. While Photoshop includes so many advanced editing features, Lightroom features user-friendly and easy-to-use features for beginners as well. 
Lightroom offers a quick, fast and easy large batch file editing feature if you want to edit large sums of files. Also, this is a huge time-saver.
Key Features
Lightroom includes a number of presets
Adjustment of the graduated and radial filter
Transferrable adjustment settings
Raw File support
Skylum Luminar AI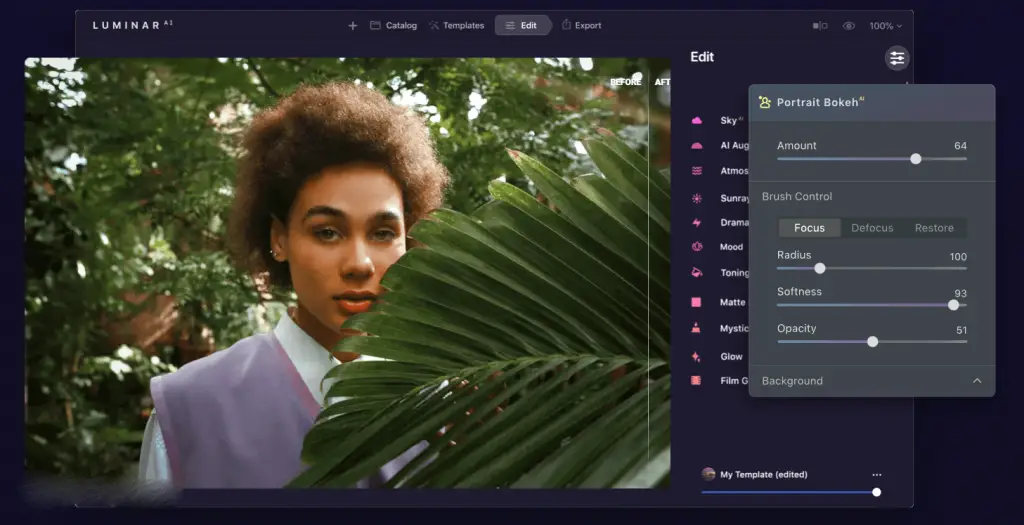 When talking about Skylum Luminar, the first feature that comes to mind is its Artificial intelligence. Skylum Luminar is one of the popular photo editors in the market with the latest AI technology that enhances your chance to edit photos with evolutionary impact. 
Their cutting-edge AI feature analyzes the whole photo while adjusting color, contrast, and exposure automatically. If you are unsatisfied with the automated results, you can manually change the settings. This software is available for Windows and Mac, and the trial version is available to try.
Key Features
Customize your workspace
Rearrange and change the workspace
Cloning and stamp tool to remove unwanted areas
Integration with Adobe Photoshop and Lightroom
Adobe Photoshop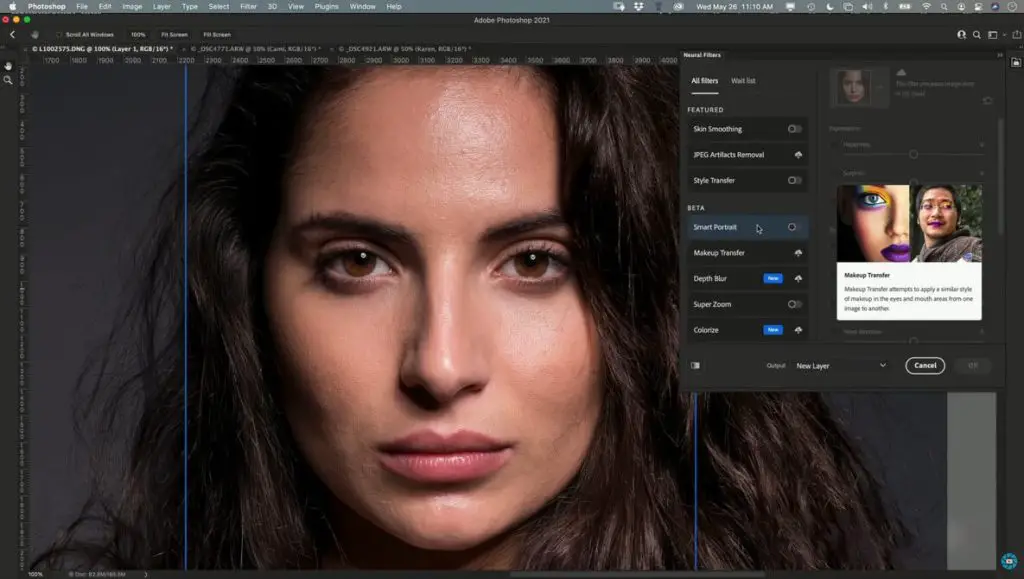 Adobe Photoshop is the one and only editing software that both basic photo editors and advanced editors have widely used. If you have basic photo editing skills, don't worry, Photoshop holds all the entry-level functions to advanced functionality. 
Although Photoshop is quite daunting editing software for beginners, this is one of the most versatile programs to edit photos. Photoshop is available for both Windows and Mac; a mobile app for iOS and Android versions is available.
Key Features
Work in layers without making any changes to the original images
Work with different brushes and each of them with its unique purpose
Lots of filters with special effects that enhance your photos with just a few clicks
Lots of file formats to support   
GIMP
GIMP, or GNU Image Manipulation Program, is an open-source photo editor and is popular among many freelancers and professional photographers. The interface might be a bit harder for beginners, but the free price tag makes it popular. 
GIMP has a huge community and developers who contribute to this photo editing software, and this sets the software apart from other competitors. Also, this editing software has more resources that are available such as tutorials, extensions, and plugins.
Key Features
Create your own scripts and plugins through the programming interface
Easy to create custom icons while using the designs
Work in layers without making any changes to the original images
Color management and reproduction across digital and printed media
DxO PhotoLab 4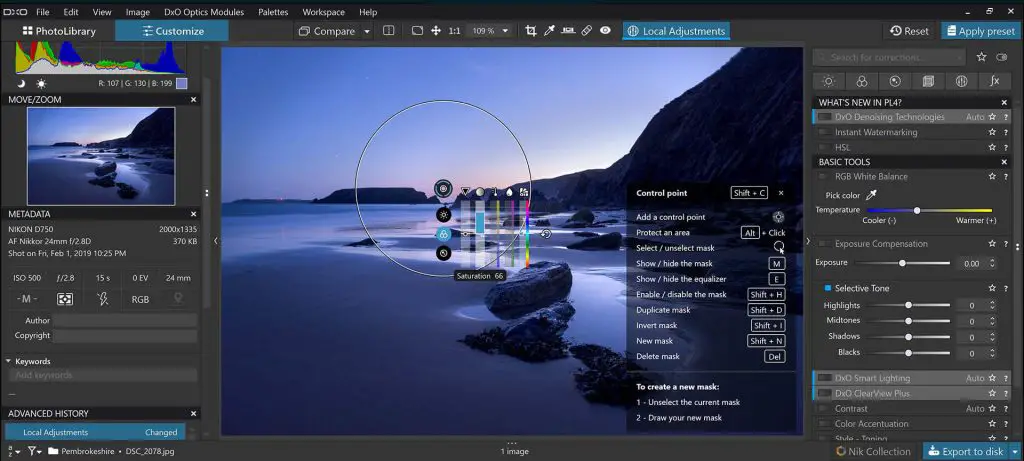 DxO Photolab 4 is a powerful photo editor and is popular for its RAW image processing. This editing software is a great choice for everyone who wants to get the best output from their photos. This software includes some versatile functionality that makes it beginner and experienced-friendly.
This photo editing app includes U-point functionality that makes it more user-friendly. This app allows you to make selective adjustments to your photos without any requirements for complex masks or selections. Also, use DxO's camera and lens correction profiles to automatically fix optical issues like distortion.
Key Features
Soften the edges and create a dreamy and ethereal look for photos
Make suitable changes to the specific area of your photos
Easily remove any unwanted colors from your photos
Download optical modules for your specific camera model
ON1 Photo RAW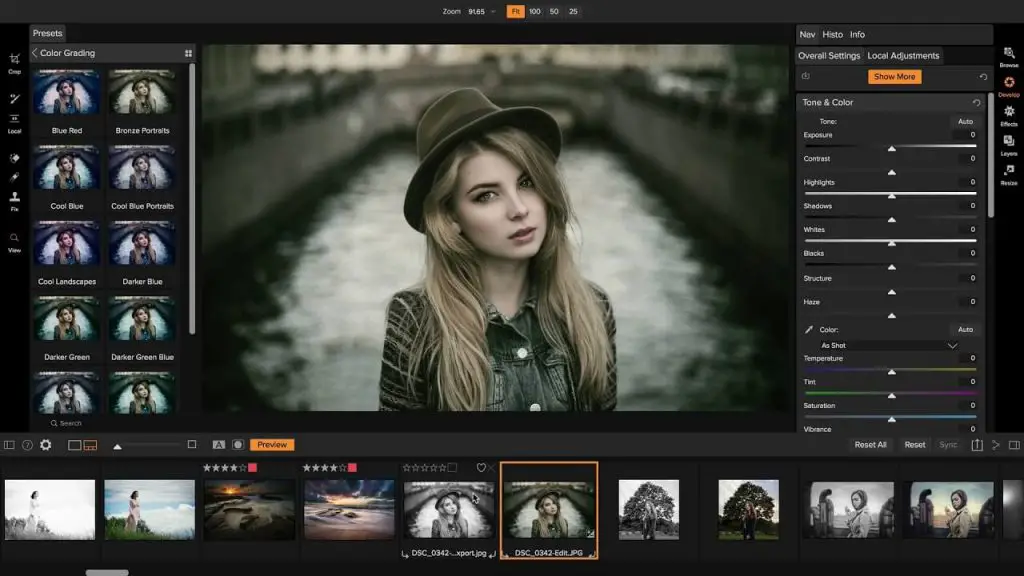 ON1 Photo RAW is a popular raw image editing software with a fully-featured editor it offers different adjustments. This software is an impressive piece of photo editor, and its editing ability is powerful with the proper photo organization ability.
The most prominent feature of this photo editing software is the RAW processing ability that enables you to enhance your files within a moment.
 Key Features
AI photo editing and enhancement
Raw processing with perfect tone, color & clarity
Photo masking and layers with filters and adjustments
One-click presets with various photo enhancements
Corel PaintShop Pro
Corel Paintshop Pro is an advanced photo editor that can provide pro-level editing and graphic design tools. Corel Paintshop Pro is a versatile professional editing tool that helps you make the best shot. With essential tools, adjustment, and correction tools, this photo editing software is the ultimate solution for all photo editing enthusiasts.
The major features of Corel Paintshop are the Artificial intelligence and machine learning technology that helps to create something truly amazing and original.
Key Features
AI photo editing and enhancement
Create graphics and designs
Add creative effects and filters
Snap to object automated editing process
RAW, HDR, and 360˚ camera support
Serif Affinity Photo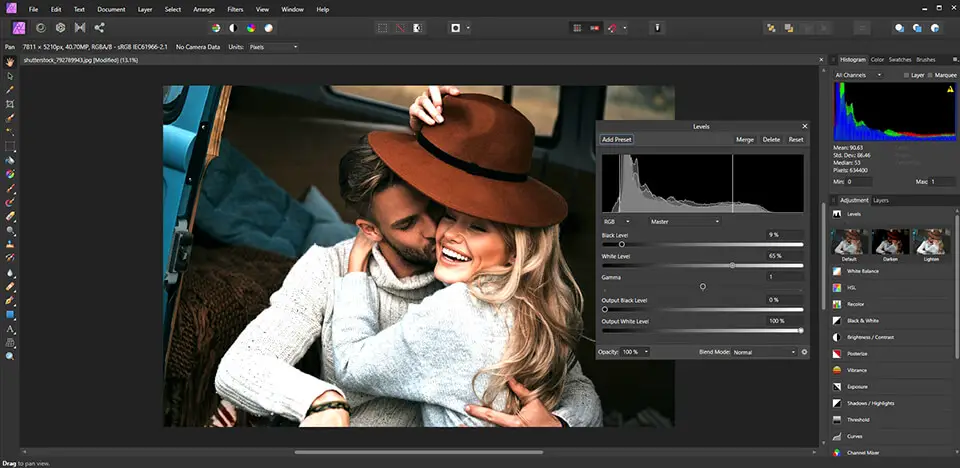 Serif Affinity Photo is the ultimate choice for photo editors. A UK-based software company that develops Serif also develops graphics design software called Affinity Designer. This app was the first-ranked Apple app of the year in 2019 and a great alternative to Photoshop.
Affinity also offers seamless photo compatibility that features RAW editing, panorama stitching, and advanced layer support with HDR merges. This editing software also supports PSD file support that belongs to Photoshop. 
Key Features
Create high dynamic range HDR images in this photo editing suit 
Flawless retouching with dodge, burn, clone, patch, and blemish remover
Powerful brush engine and create your own customized brush as well
Large library of effects, live filters, and effects in the photo editing suit
ACDSee Photo Studio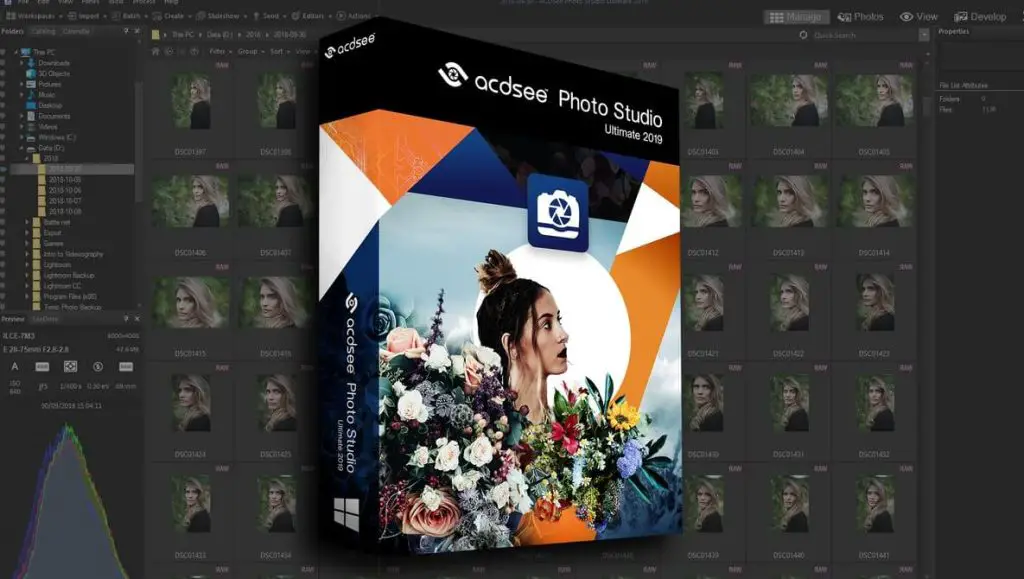 ACDSee photo studio is the ultimate file manager, RAW photo editor, and layered editor. This is one of the best photo editor apps and an all-in-one solution for anyone who wants to save, organize files and edit a lot of photos.
With all the functionalities of photo editors, ACDSee photo studio includes the AI face edit that makes the editing more convenient. Simplified and non-destructive RAW photo editing is one of the key features of ACDSee photo studio.
Key Features
Easy portrait retouching
Simplified photo merging
Unrivaled digital asset management
Non-destructive RAW photo editing
Fast and easy upload from phone to photo studio
Basic Photo Editing Tips to Follow as a Photographer
You can start photo editing once you get the hang of how the process works and what works best. Here are a few tips for editing before you get started. The editing covers some key steps to follow.
Use presets and filters to start editing
Crop and clean up the image
Adjust white balance and exposure
Adjust contrast, vibrancy, and saturation
You can use B&W to highlight contrasts
Preserve the original quality of the photo
Sharpen your images and finalize
FAQs
Is photo editing important?
Photo editing helps you get the best image possible and close to your expectation. Professional and enthusiastic photographers use their personal style to edit photos, and this helps them emphasize their branding.
Is RAW or JPEG better for photo editing?
RAW files provide high-quality files when you want to edit than JPEG files. RAW files contain a wider dynamic range and color spectrum that is better than JPEGs. 
What do photographers use to edit photos?
Advanced photographers use advanced tools to edit photographs, such as Adobe Photoshop, Lightroom, Skylum Luminar AI, or ON1 Photo RAW. 
What are the best photo editing laptops?
A machine with a fast processor and large RAM capacity provides the best editing environment while using a laptop; some of them are MacBook Pro M1, Razer Blade 17, Lenovo ThinkPad X1 Carbon Gen 9, and more. 
What are the best websites to edit photos?
Other than software-based photo editing, there are website-based online photo editors such as GIMP, Fotor, Pixlr, Canva, BeFunky, and more. 
How to make your photos look professional?
Make editing more prominent with photo editing basics and basic photo editing techniques. Make sure you use the white balance and exposure to balance colors. Use noise reduction, sharpening, contrast, and saturation in photo editing and editing in RAW files. 
Do photographers use free online photo editing tools?
There is a good alternative to software-based photo editing tools that photographers have used. Here are some of the online photo editors. 
– BeFunky (photo effects, creating photo collages, and graphic designing have never been so easier)
– Pixlr (Edit photos with stunning designs, design tools, and an advanced photo editor)
– Snappa (Fast and easy-to-use software with Youtube banner-making, thumbnails, and design templates) 
– VistaCreate (Professional designs, powerful features, and 50K+ ready-made designs)
Perfection
You may not want to ask 'what are basics of photo editing' anymore. Our basics of photo editing with a description show you the exact topic you want to know. Basic photo editing means entry-level editing work, but you must remember that there is advanced work required for high-level editing.