The relationship between a mom and son is always strong and continues to the world's last day. A mom and son look loveable and heavenly whenever and wherever they meet. 
Mom and son photos are considered among the world's best pictures that inspire every photographer. You probably crave the best mom-and-son photoshoot making but can't find certitude ideas.
No worry! I portrayed this content with the best mom and son photoshoot ideas that help you become a pro in this field. So, let's start.
What Is Mom and Son Photography?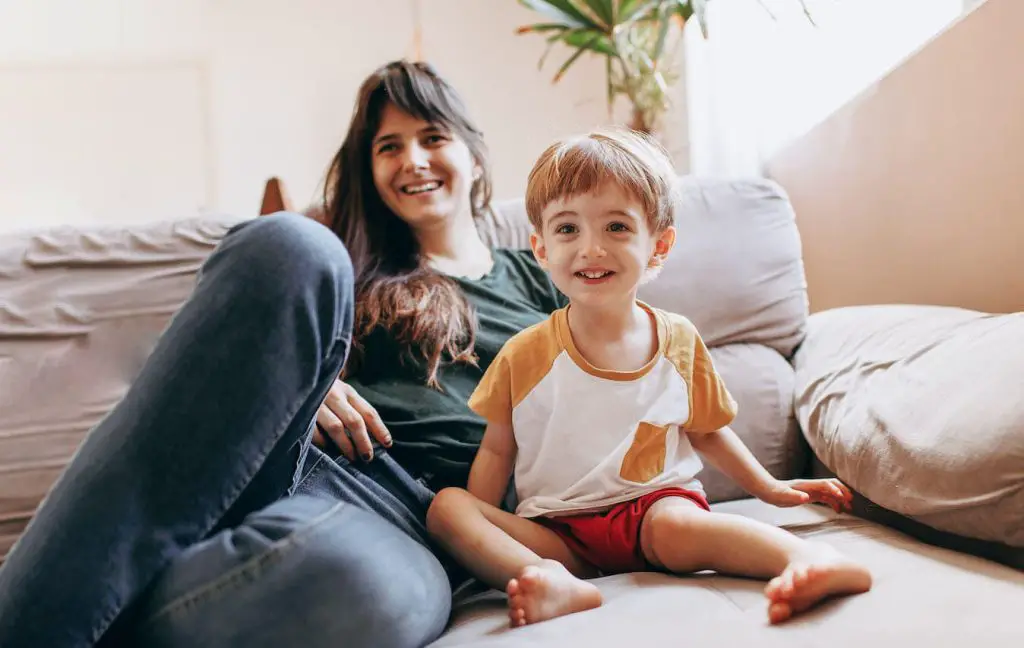 Mom and son photography refers to a photo that precisely depicts mom and son in a single photo frame. It can be any photo, like a mom with her newborn son or a young son with her old mom. 
You can make both ordinary and extraordinary mom and son photoshoots such as newborn photography, birthday and wedding photography, or even daily life photos.
How to Take Mom and Son Pictures?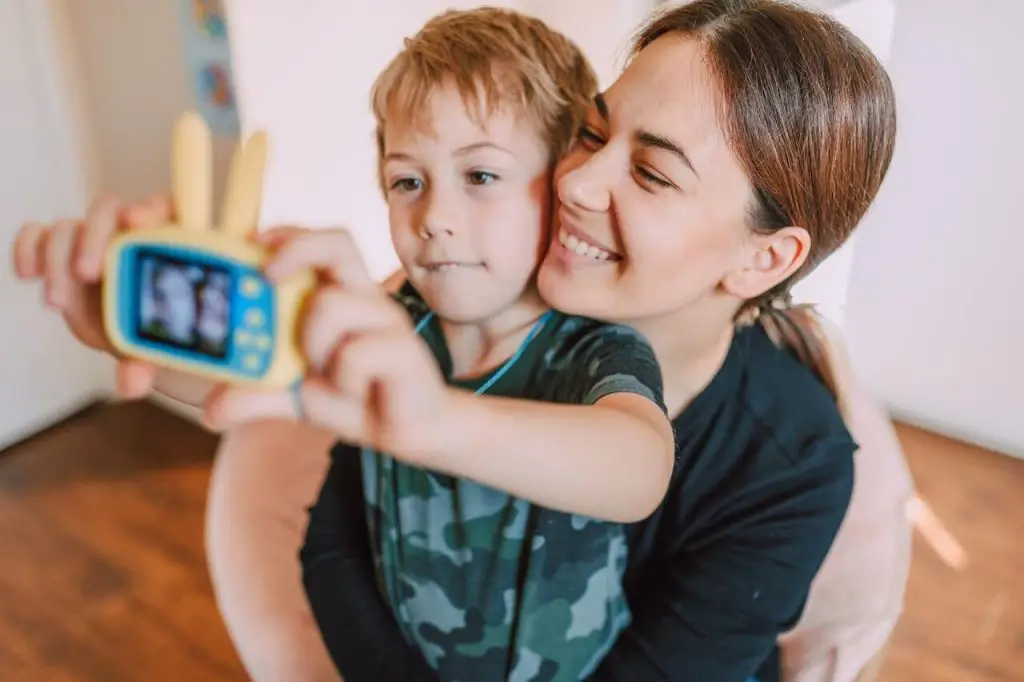 Mom and son photography is pretty different from other photography that troubles beginners. That means apart from having good photography ideas and skills; you should focus on some ideas to make successful mother and son photos.
First, Do proper planning for the whole photo session. 
Use perfect camera settings and lenses.
Experiment with different angles and shapes.
Use natural or artificial colors depending on the atmosphere.
For indoor photography, try to make a sound studio. 
Help your clients get perfect positions with valuable guidelines. 
Use a tripod to make your camera safe from the shaking hand. 
Best Mother and Son Photoshoot Ideas to Try
Photographing mom and son is fun and attractive at any age. But to create some awesome pictures, you must apply numerous tips and techniques. 
Here I provided some unique mom and son photoshoot ideas that you can try for any type, from newborn photoshoots to young and old-aged photography.  
Mother Holding Her Newborn Baby Son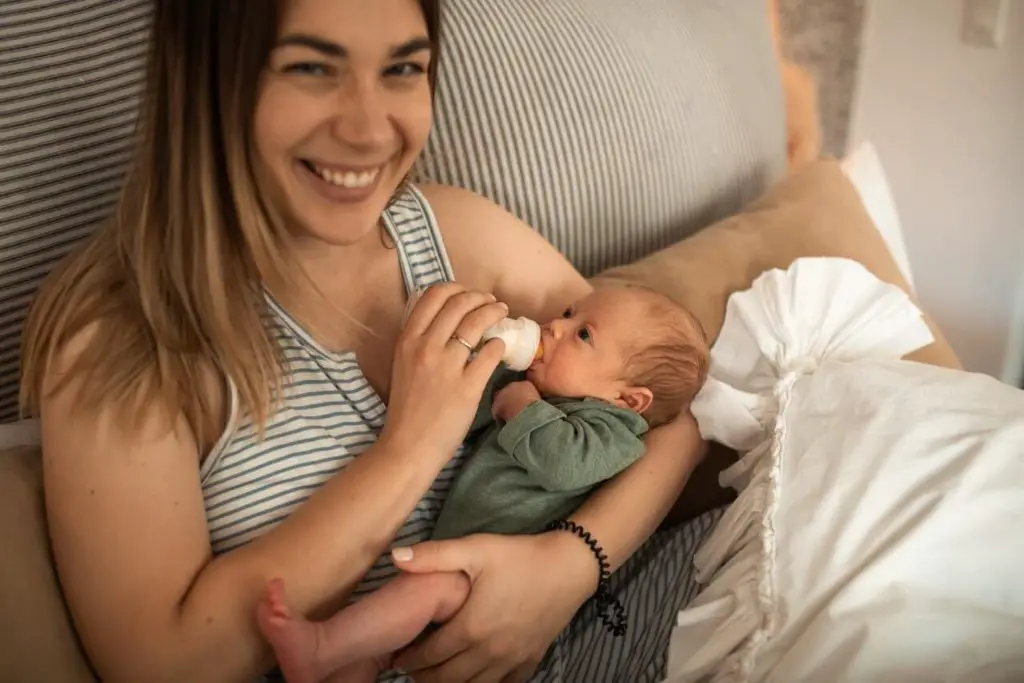 The child's birth is a beautiful moment that takes a dreamland in every mother's memory. After giving birth, a mother dreams of taking photos with her infant. Imagine a scene where a mother is holding her newborn baby son, her eyes get shiny, and her smiling face gets drizzling and delightful with heavenly joy. 
You can follow some tips to apply this type of mom-son photoshoot idea:
Take photos on a delivery bed when a mom first saw her son and held him on her lap. 
Capture mom and son when they release from the hospital and the mom having the baby. 
Photoshoot mom and son at home when she is cradling her newborn son and kissing him. 
Mum Bathing a Newborn in the Sink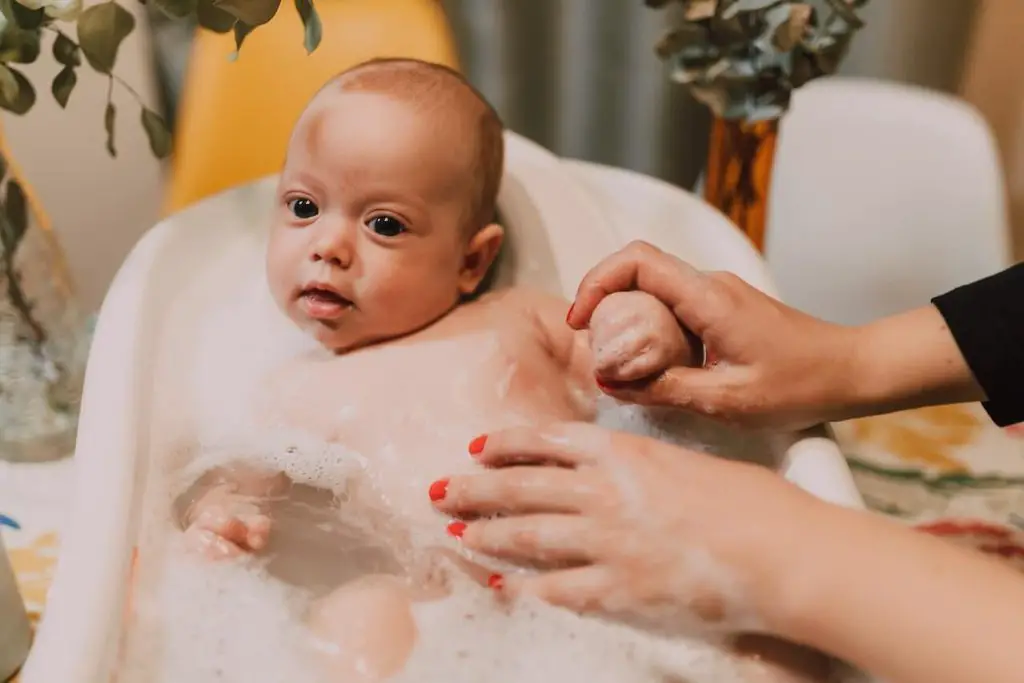 One of the most famous mothers and sons photoshoot ideas is that a mum is bathing her newborn in the sink. It features a momentous scene that thrills hearts to the last day of life. Here are some suggestions you can follow to create a vivid scene in this pose. 
Make a scene where a baby is sitting in the sink, and mum is washing him with shampoo or body wash. 
Capture a shot in which the baby boy plays with water when it falls from the tab, and the mother holds him carefully. 
You can use a kitchen sink or washroom basin to make these mom-son photos. Mind that the sink is clean and free from germs and sickness. 
Mother and Toddler Story Time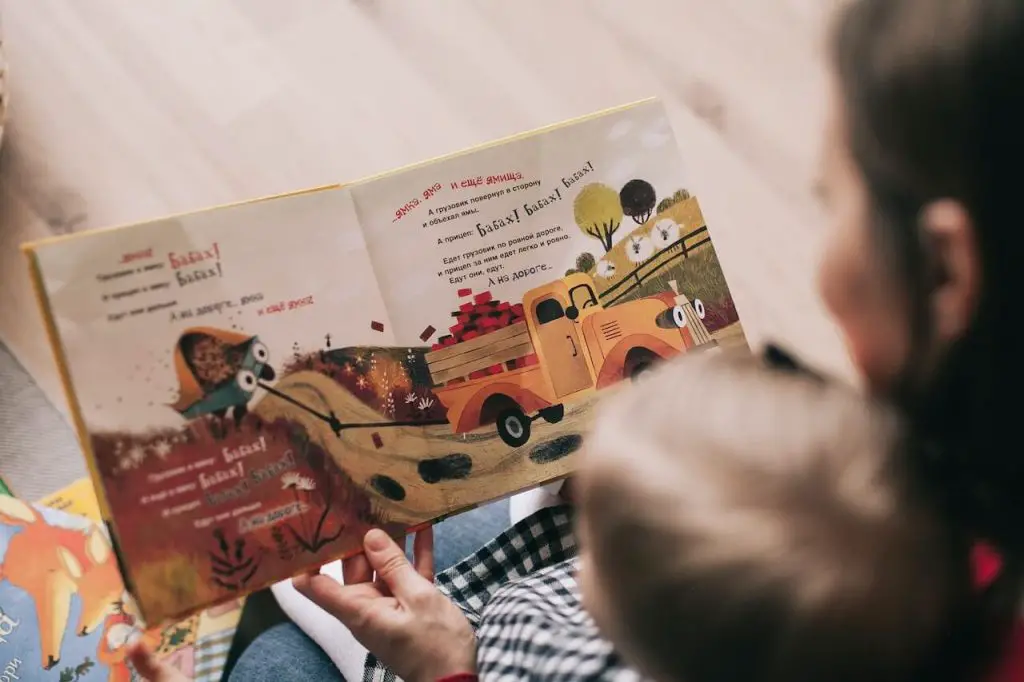 Mother and toddler story time can be a fantastic option to make some eye-catching photos. This photoshoot catches the best loveable moments of mother and son. Here are some tips to make great pictures of mother and toddler storytime. 
Capture shots when mom and son are gossiping in the afternoon or evening moment. 
Take pictures in the morning when mom gets her toddler son read a book. 
Snap photos when mother teaches her son primary writing practices. 
Mum Getting Her Son Ready for School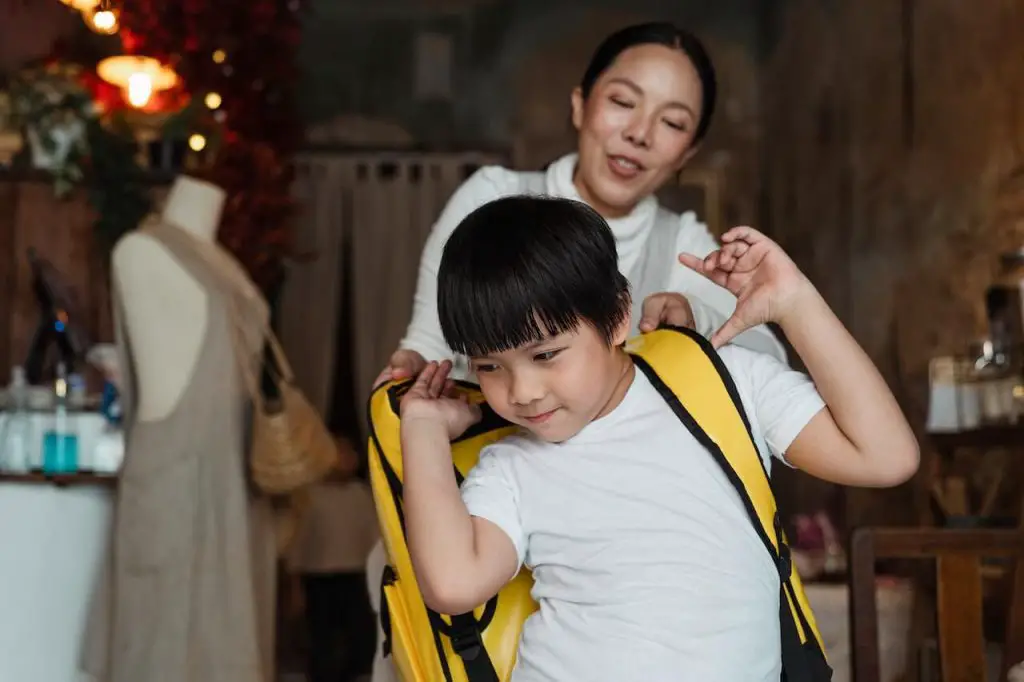 The prettiest photoshoot moment of the mom and son comes to light when a mum gets her son ready for school, especially on the first school day of the son. Every morning, a mom and son get closer when a mom prepares her son for school and makes fun of him. 
Here are some tips for capturing adorable moments that can make excellent mom and son photos: 
Create a scene in which mommy prepares her son by fixing his hair or outfits.
Make a photoshoot when mum is helping her son to get the backpack. 
You can capture a natural shot when the mom puts the lunch box in the son's bag. 
Mother and Son Birthday Photoshoot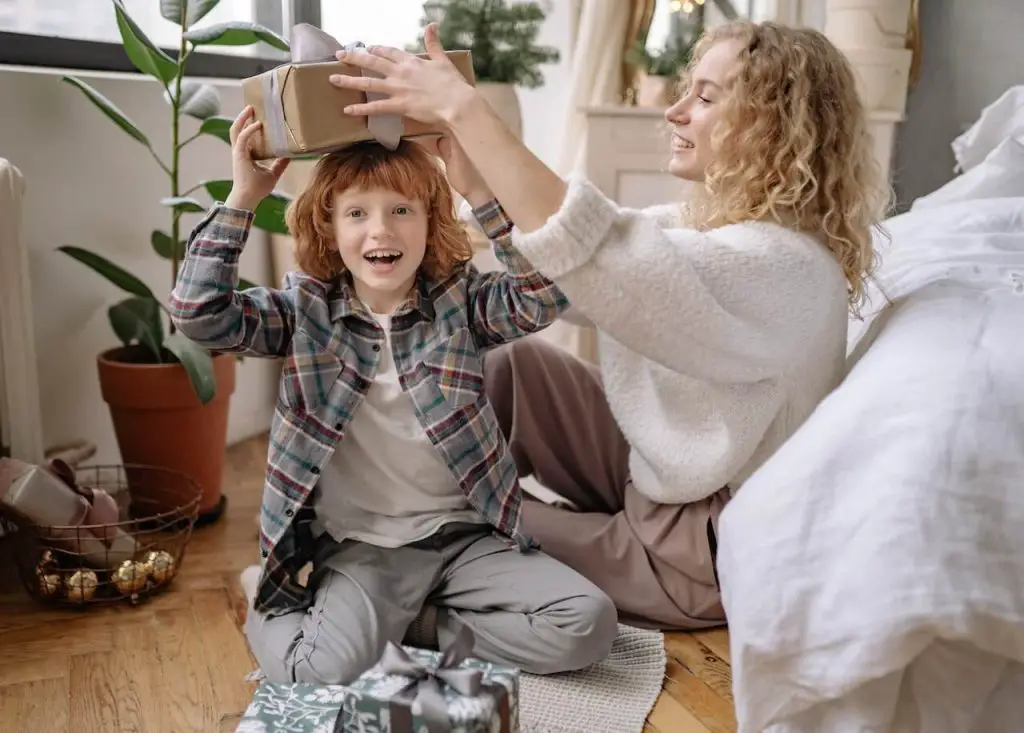 The baby's birthday is always special for the mom, especially the first birthday. Every mother dreams of capturing memories with her son on that momentous day. Here are some birthday photoshoot ideas for mother and son that you can try. 
Create a scene where mom and son are both cutting the birthday cake.
Capture shots when mom and son are feeding each other birthday cake.
Take photos in some particular poses after completing the cake-cutting ceremony. 
Mum Giving Her Son a Piggyback Ride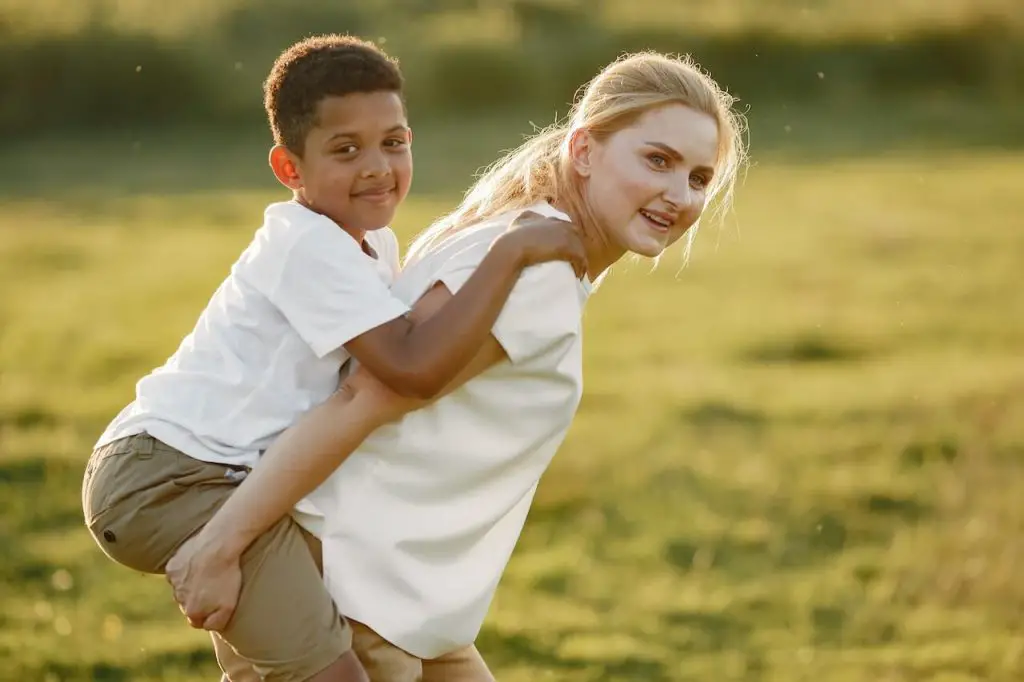 A piggyback ride is so famous that every parent tries it for their babies. This pose often makes the baby laugh and joy that you can perfectly capture the mom and son photos. Here are some ideas to make the best mom-son piggyback riding photoshoots. 
Capture shots when a mom gives her son a piggyback ride on the field or seabeach. 
Also, you can take some fantastic mom-son photos when a mom rides her son on the back in the swimming pool. 
Mother and Son Enjoying a Shared Activity Together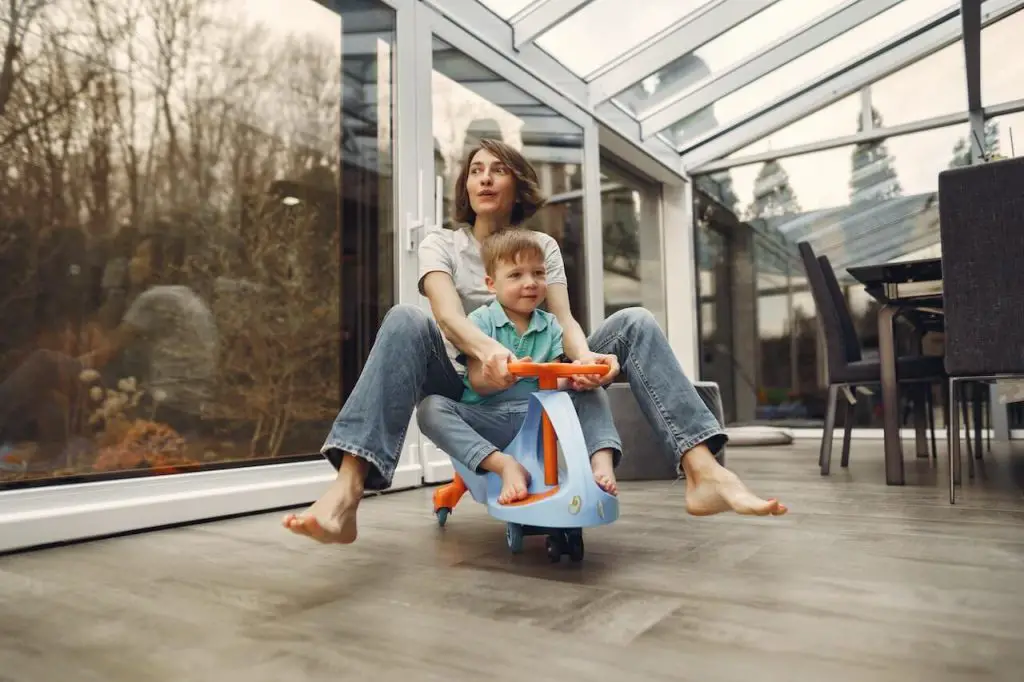 You can try a photoshoot when mother and son are enjoying a shared activity together because it's common for every baby to participate in numerous lively banter with his mom, such as home cleaning, cooking, or garden making. 
You can make some natural but phenomenal photos of mom and son applying this idea. 
Create a scene in the kitchen where mother and son are baking cakes or bread for supper. 
You can capture shots when the mother is doing the laundry, and the son is helping her. 
Also, you can try photoshoots for any household work, such as cloth washing, garden cleaning, and more. 
Son Walking to/with His Mum – Great for Any Age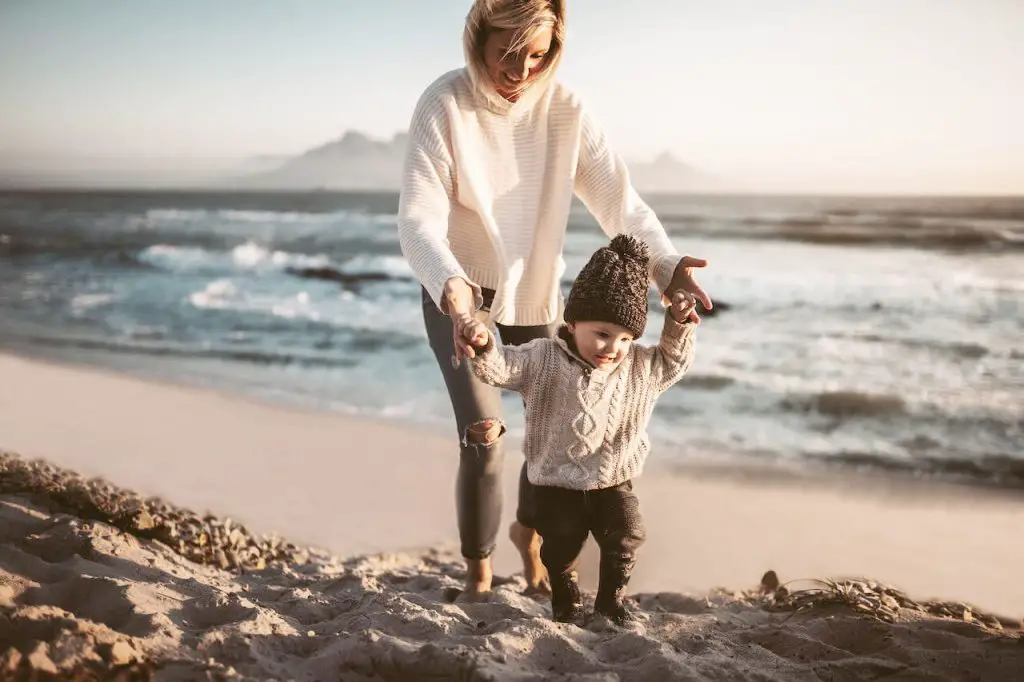 A scene that portrays a son walking to his mom is great for any age. It features deep connectivity between them. You can apply numerous poses to this photography idea.
Make a scene where a toddler walks toward his mom, aiming to jump into her mother's lap.
Also, you can capture shots when a teenage/adult son is back home and walking to his mom.
Another pretty photo you can capture is a son walking with her mom holding her hand.
Dance with Mommy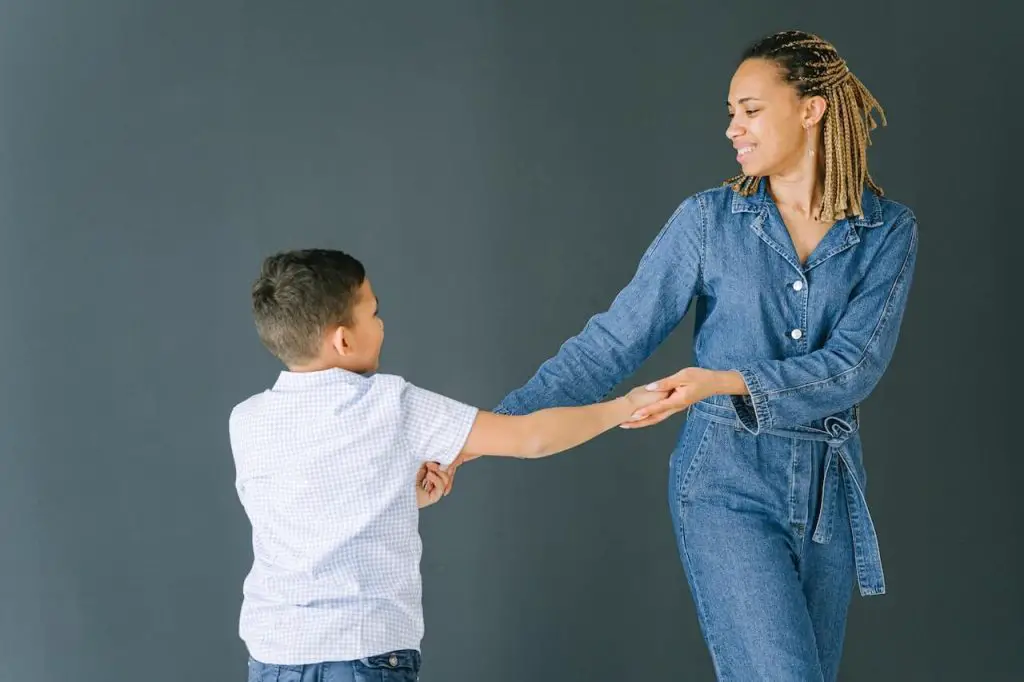 Dancing with mommy is one of the most loveable mother and son photoshoot ideas. A son of any age can dance or move with his mother, which helps you make pictures like a scene from a movie and illustrate a strong bond between mom and son. 
Here are some mom-and-son dancing photography tips that you can try. 
Take photos when a toddler-son is dancing with his mom with loveable music or song.
A grown-up son is doing a great dance with his mom at a party or ceremony like a birthday or wedding ceremony. 
Mom and Son Play Together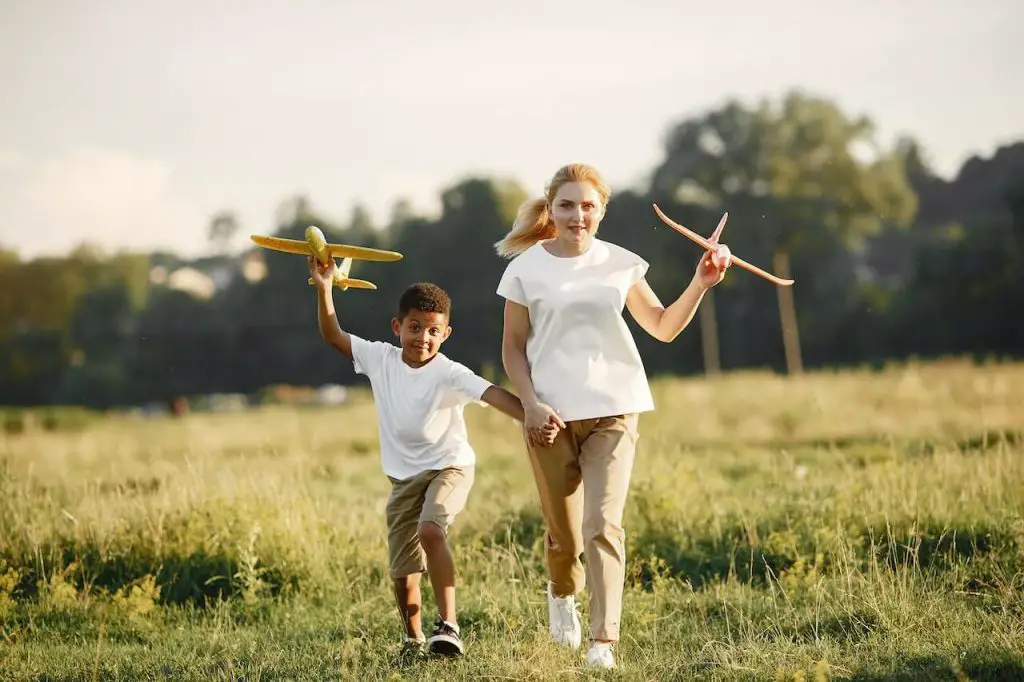 A moment that features mom and son playing together is always fantastic. It shows the shared passion of a mother and her son and indicates a deep relationship. Here are some cute mom and son photoshoot ideas when playing together. 
Make a scene where a mom and son are playing sports like basketball and on the same team. 
Capture a shot when mom and son are playing with paper crafts or doing art. 
You can also take photos of when mom makes her son learn new things like bicycle riding, Puzzle solving, and more. 
Son Takes Photos of Mom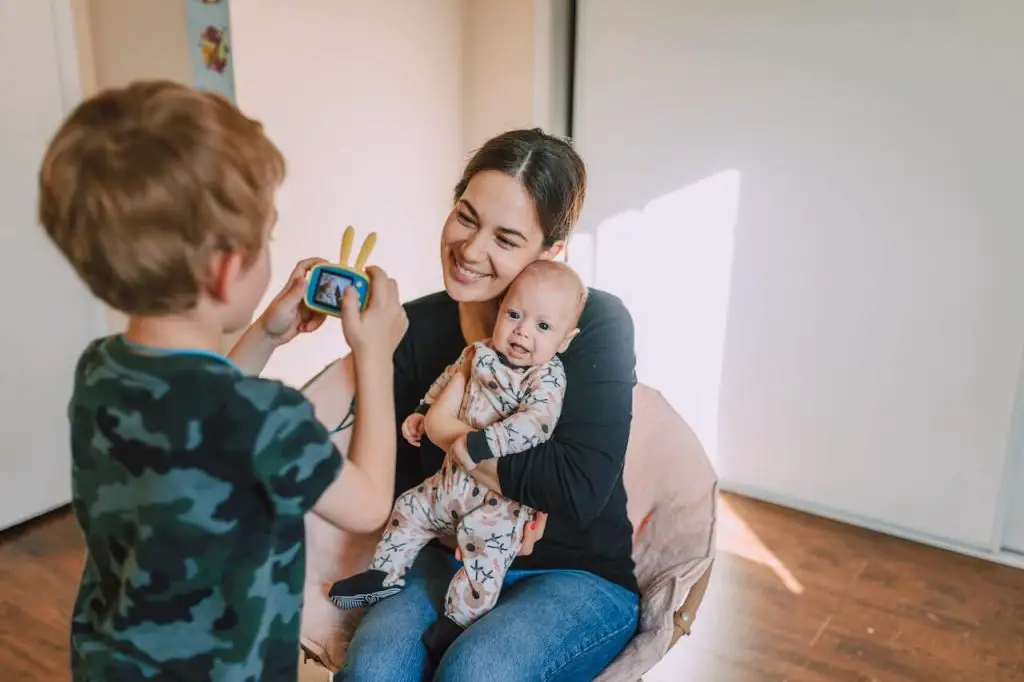 A son taking her mom's photos on any occasion always looks cute and loveable. It indicates a good affection between mother and son and portrays a scene like a movie. Here are some ideas to capture this type of shot. 
Capture shots when mom and son are taking selfies. 
Portrays a scene where a young son takes her mother's photo at a party or festival. 
Make photos when a baby son is capturing her mom with his craft camera. 
Mother Son Outfit Ideas–the Perfect Pair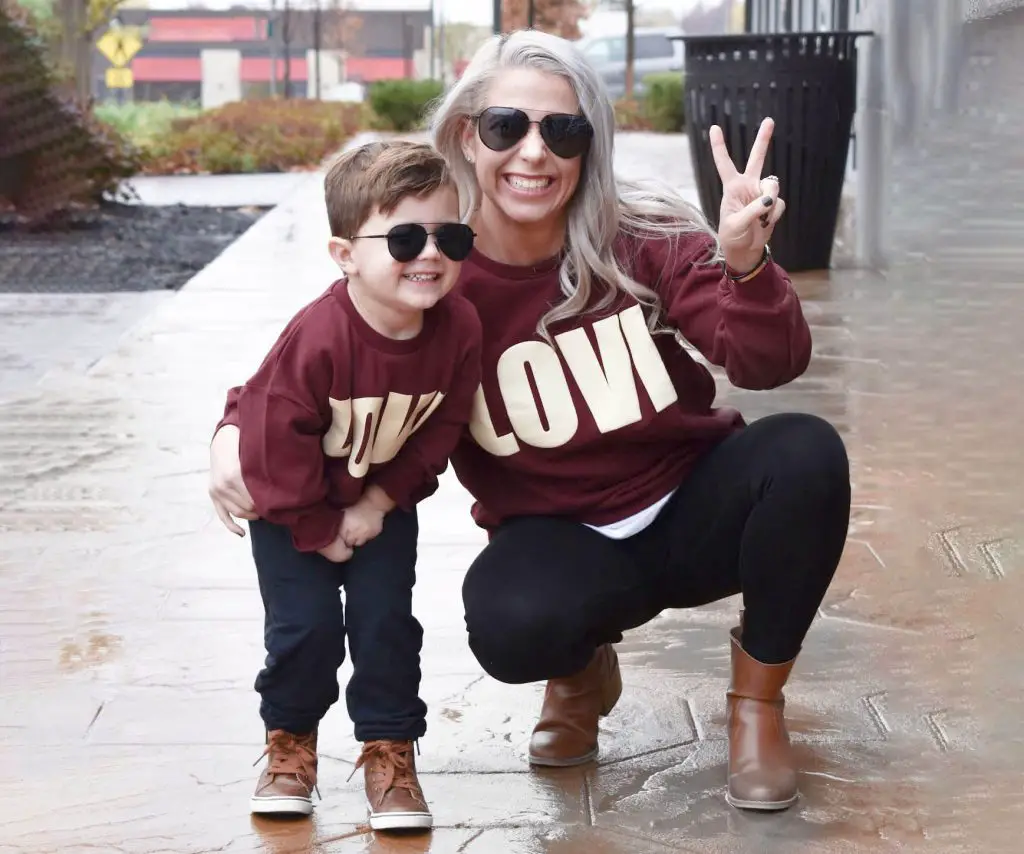 To make some aesthetic photos of mother and son, you can suggest them to make the perfect pair in their outfits. Because matching t-shirts or clothes can feature a strong bonding between mother and son. Here are some photoshoot ideas for mom and son in matching outfits. 
Try matching outfits with the same color and composition. 
Use mom-son quote shirts with similar shadings and coordinating outfits. 
Complete the mom-son photo shoot in the greens, seashore, or notable structures. 
Mommy and Me Pictures at Festivities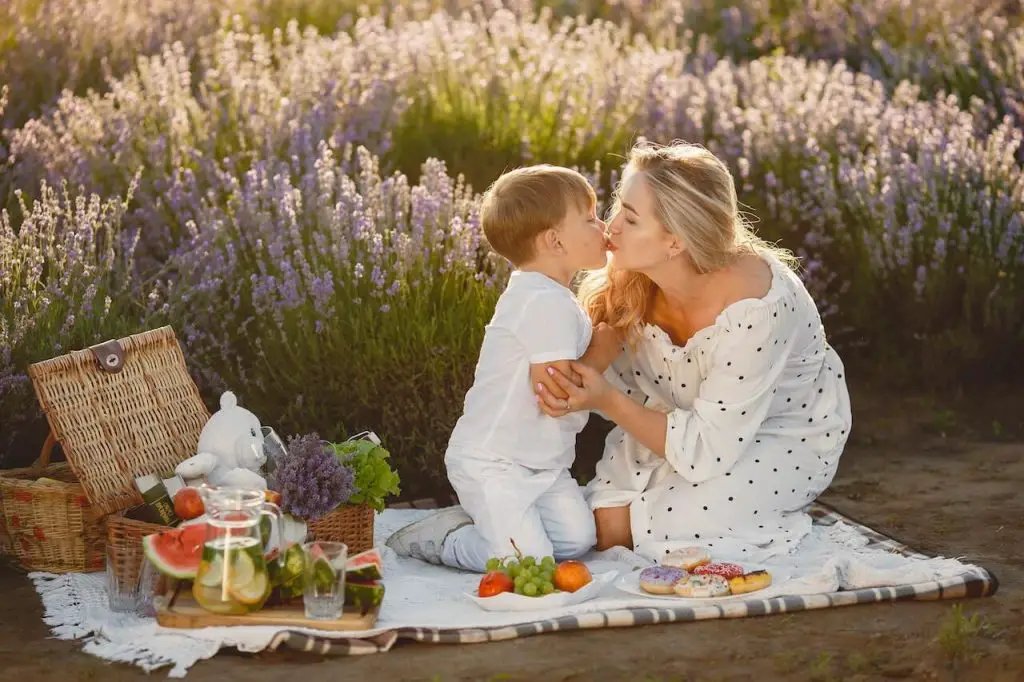 You can capture some natural mom-and-son photos during festivals. Christmas, weddings, birthdays, and picnics are the most favorable moments to make mommy and son pictures. 
You can take photos when mom and son make body paint during a festival. 
Take memorable picnic photos like cooking food or participating in a contest. 
Make pictures when mom and son are enjoying the festival in gorgeous outfits. 
Mom and Son Christmas Pictures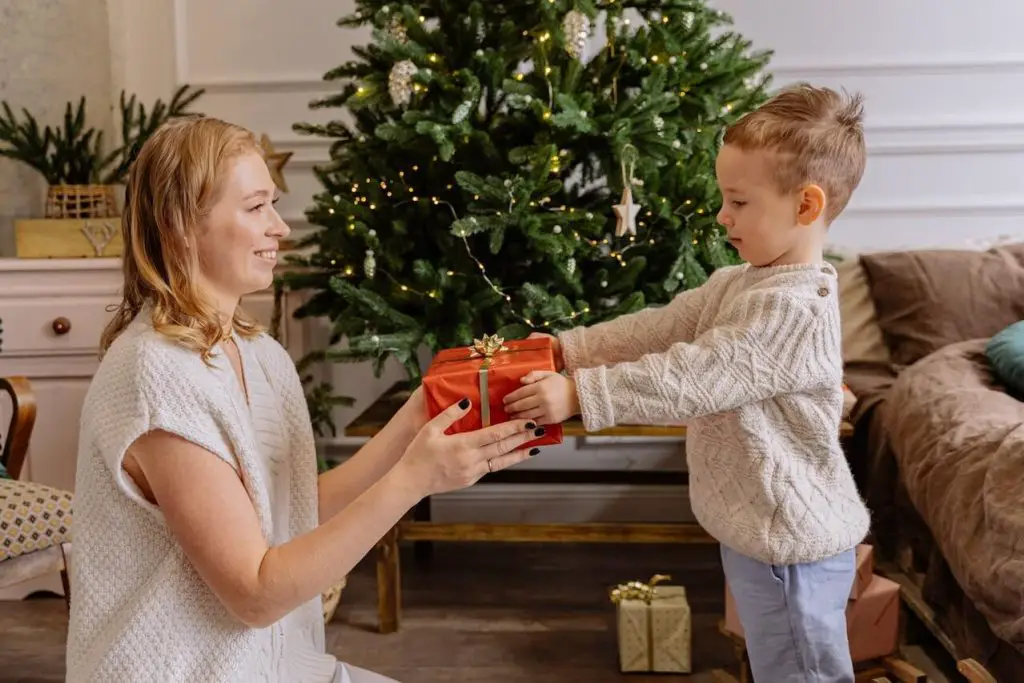 Christmas is a celebration day that makes mom and son get closer. Chocolate, Christmas tree, Santa Claus, and colorful lighting create extraordinary celebrating moments that help you capture special mom and son Christmas Pictures. Here are some ideas that you can utilize. 
Take photos when mom and son are in Christmas outfits while mom is giving her son colorful Christmas gifts. 
Capture shots when mom and son are in front of a lighted Christmas Tree at home. 
Click photos when mom and son meet Santa Claus and get delicious chocolate from him. 
Vacations with Mom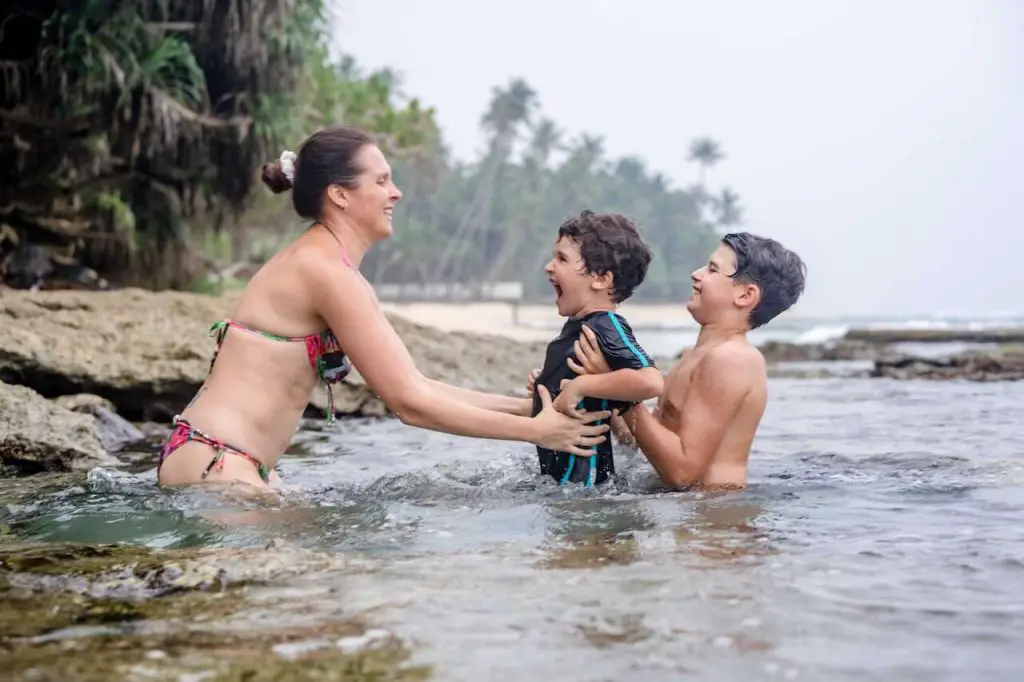 A vacation is the best option when you want to capture beautiful photos for mom and son. Because in this period, mom and son both spend some luxurious and passionate moments that display their great affection. Here are some vacation picture ideas for mom and son. 
Mother Son Photography Before/After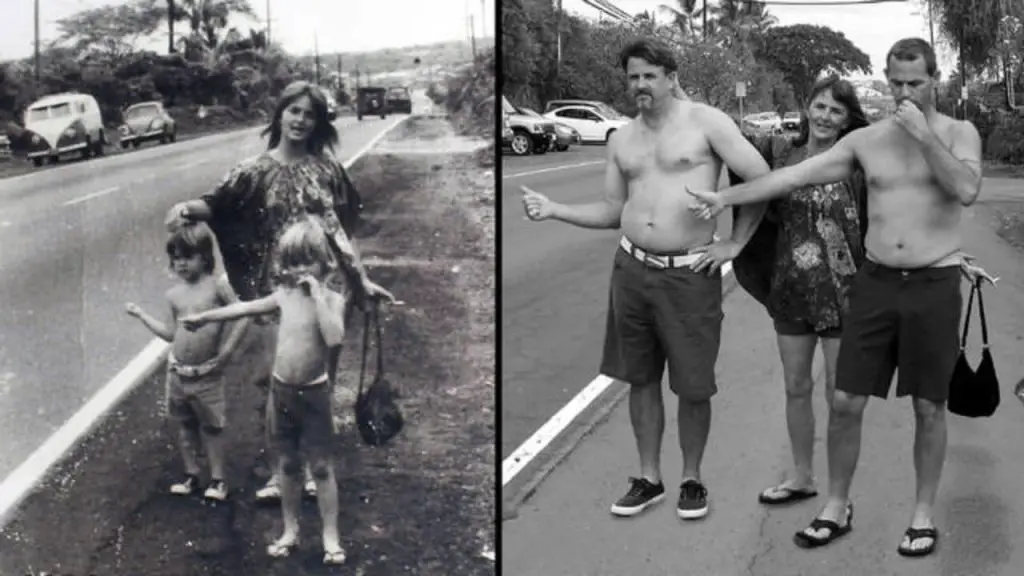 Capturing before and after photography ideas is a fantastic mother-and-son photoshoot idea. It represents two incredible memories of different times that make both pretty nostalgic. Here are some ideas for before/after mom-son photography. 
Combine two photos where one consists of the baby son and young mother, and another consists of the young son and old mother. 
You can also mix up two pictures of a newborn son and mother with a toddler son and mother. 
Try using photoshop apps for editing and making a good combination. 
FAQs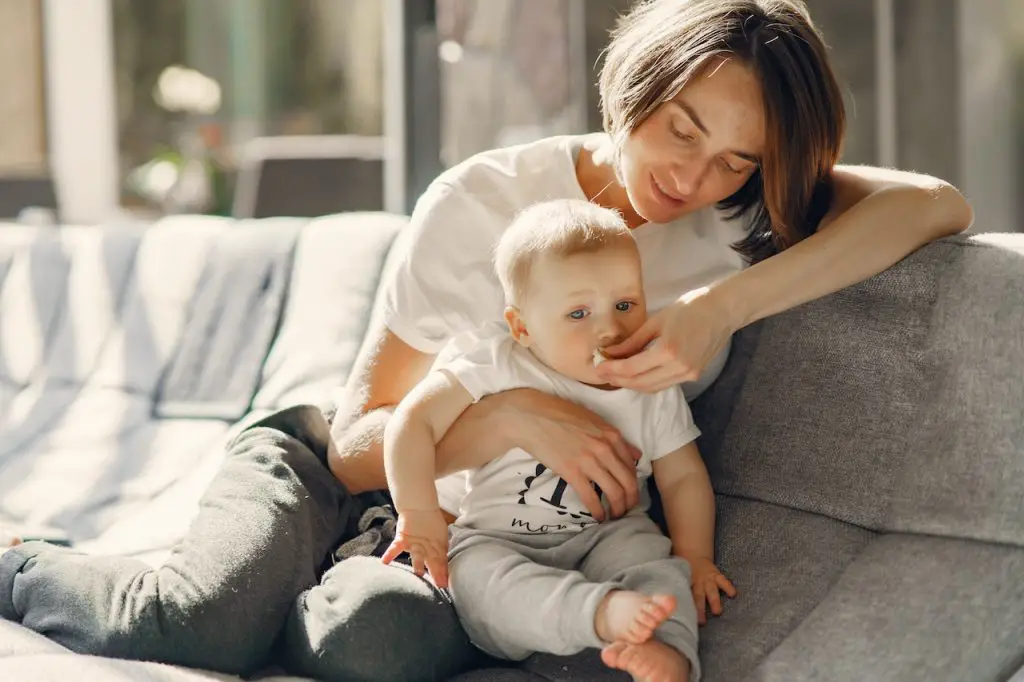 What Is the Mother and Son Posing?
Mother and son posing means getting both prepared for photoshoots. It can be any pose for any occasion, such as Christmas, birthdays, vacations, dancing moments, and more.
What to Wear for Mommy and Me Pictures?
There are no specific outfits to wear for mommy and Me pictures. You can dress up anything that matches the situation and atmosphere and helps to create perfect photography. But try to wear a unique dress to make a gorgeous photo frame.
How Popular is Mom and Son Pic?
Mom and son pics are the world's most famous because the bonding between a mom and son is exceptional and different from other relationships. Moreover, the mom-and-son photoshoot features the cutest and prettiest moments ever.
Why Is Planning Important in Mother Son Photography?
Planning is always essential in mother and son photography because to make a successful photo session; every photographer needs a proper camera setting, studio making, color and lighting effect, etc.
Conclusion 
Mom and son photos are always charming, and everybody loves them. This article gave you vast mom and son photoshoot ideas with appropriate tips and suggestions. I hope it became easy for you to make the best mom and son photos. So, go forth and conquer.