Capturing colourful and drool-worthy food photos is a trend now. On social media, several expert food bloggers and photographers are representing colourful food photographs. But snapping tempting food photos require expert photography skills, and this skill set makes the food photographers more prominent.
If you are finding inspiration, let's take inspiration from famous food photographers and learn a bit about food photography.
What Is a Food Photographer?
Food photography is one type of photography genre that consists of food and food-related item with the expression and idea of non-food-related terms. Capturing the food items with the styles and various forms requires a photographer who takes the shot of the food photos.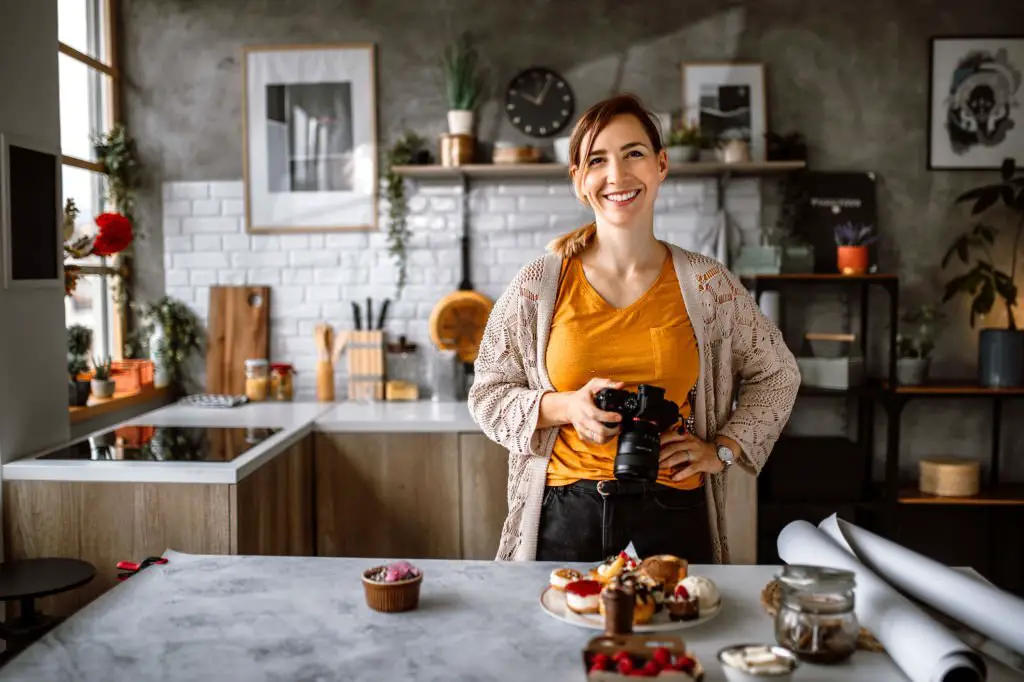 Traditional food photography includes tabletop still photos and the style in cookbooks and food magazines that uses different styles and angles with proper camera settings to capture food photos. Food photographers use various settings and camera angles to capture food photos.
The close-up shot or slight overhead angles to get the appropriate shot
Shallow depth of field for proper lighting to bring out the texture of food
Contemporary photography includes a broad sense of styles and lighting techniques 
How Do Define Beverage and Fruit Photographers?
Beverages and fruit photography is one kind of food genre that shows specific properties of a product, such as juiciness or palatability. This is the advertisement of a beverage where a customer must identify fruit with the drink. Fruit and beverage photos are shot for the purpose of commercial and creative capture, while professional photographers make it happen.
What Does a Food Photographer Do?
When you opt to create a craving food list for your customers, you need to develop a list of food items with a delicious and appealing look. So, here you need to come up with a food photographer in the scene. Food photographers take the most appropriate shot for specific food items for the customer.
Food photographers capture beautiful and enticing food images
They work for promotional materials such as magazines, cookbooks, and websites
They work with food stylists to make the food look as appetizing and aesthetically beautiful
Photographers take photos of food during a photoshoot and edit digital images
They go through every captured photo and find the suitable ones
Food photographers also communicate with clients to manage their expectations
They make sure everything runs smoothly and ensure everything is done perfectly  
How Famous Are Food Photographers?
Food photographers are well known for their style and craft in commercial photography. A lot of professional food photographers first start their career as a chef, but later they find out or discover their talent in food photography as well.
So, many work in commercial photography and shoot food advertisements for famous clients. Some of them are the best food photographers in the food photography genre.
Best Food Photographers in the World
Food photographers provide colorful, sizzling touch to the food to showcase their food photography styles. They aim to represent the food appealingly so viewers get to know the food more appropriately.
So, if you are finding inspiration to initiate your first food blogging journey, here are some prominent names to help start yours.
Dennis Prescott
Location: Canada
Website / Instagram / Twitter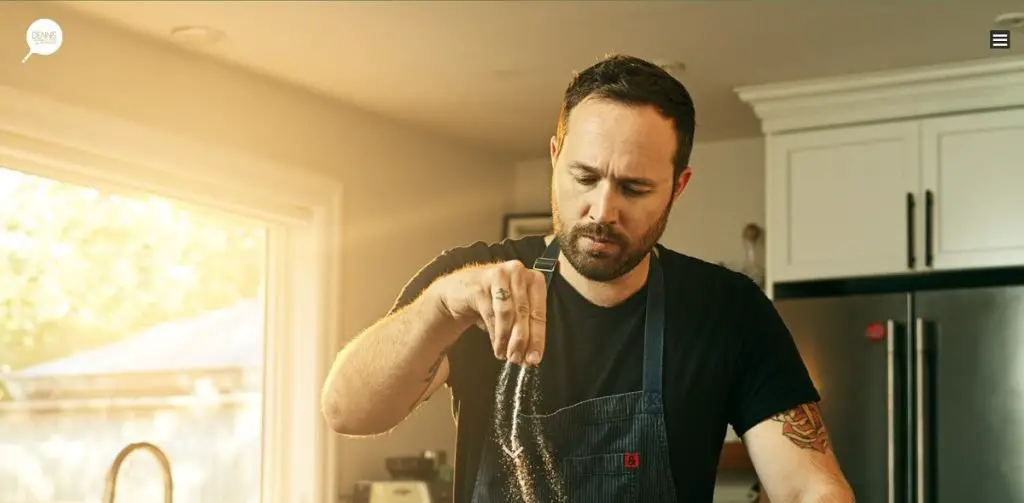 Dennis is a Canadian chef, the most famous, and one of the best food photographers in the industry. He is a cookbook author and also a chef. He wanted to be a musician, but he started learning cooking through several Jamie Oliver cooking books.
He captured food photos, and later, this turned out to be his passion and obsession. Meanwhile, he became successful within a short time. He is also a host on a Netflix show called, 'Restaurants on the Judge.' The host helps struggling restaurants find the right path. 
Mowie Kay
Location: United Kingdom
Website / Instagram / Pinterest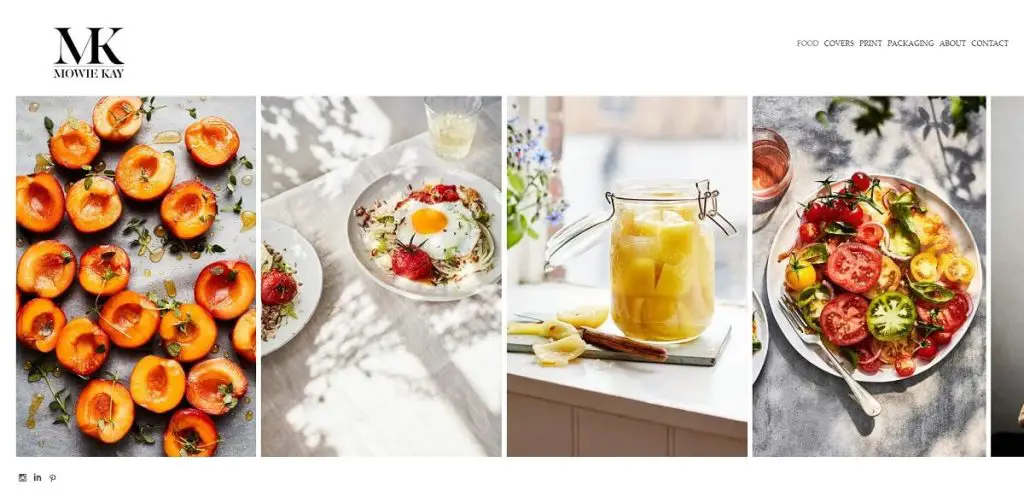 Mowie Kay is a London-based top food photographer, and her sophisticated approach to food photography makes him one of the best in this industry. He works on his photography in the studio and with various prominent brands such as Marks & Spencer, KFC, and Tesco. He has a recipe book to show a lot of his creations. 
Teri Lyn Fisher
Location: Los Angeles, California
Website / Instagram / Facebook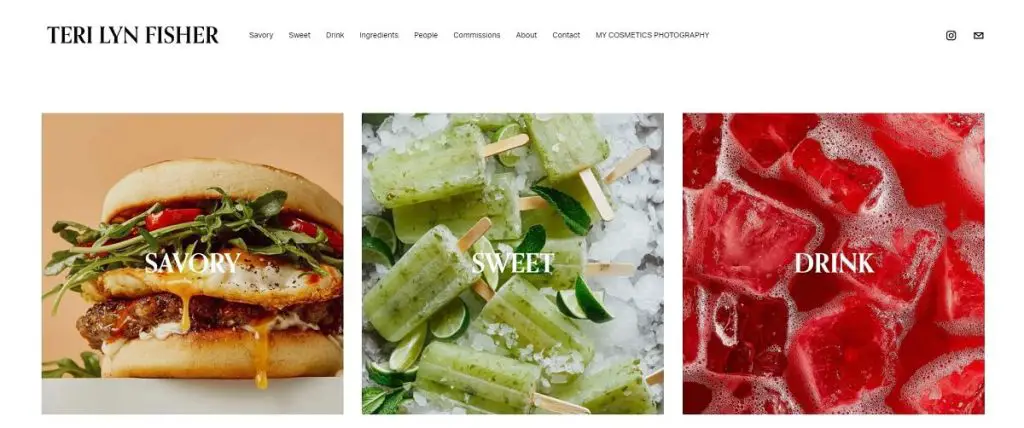 Teri Lyn Fisher in Los Angeles, a California-based photographer. She is one of the best Los Angeles food photographers for her captivating images that combine still life and product photography. Also, she introduces her photos with colors and textures that make every dish appealing. Fisher provides the viewer with a glimpse that makes the customer goes to try a heartwarming meal. 
Jackie Alpers
Location: Tucson, Arizona
Website / Instagram / Facebook

Jackie Alpers is an American photographer who is well-reputed for contributing to the photography industry. She has been a professional photo editor for over 25 years and possesses vast photography knowledge. She collaborated with giants like Swanstock, Gettyimages, The Food Network, Taste Cooking, Refinary29, and more. 
She works as an editorial journalist and works on advertising; this makes evolutionary changes for many food photographers. Her work has been featured in Reader's Digest, National Geographic, Good Morning America, and more.
Rebecca Peloquin
Location: Los Angeles
Website / Instagram / Facebook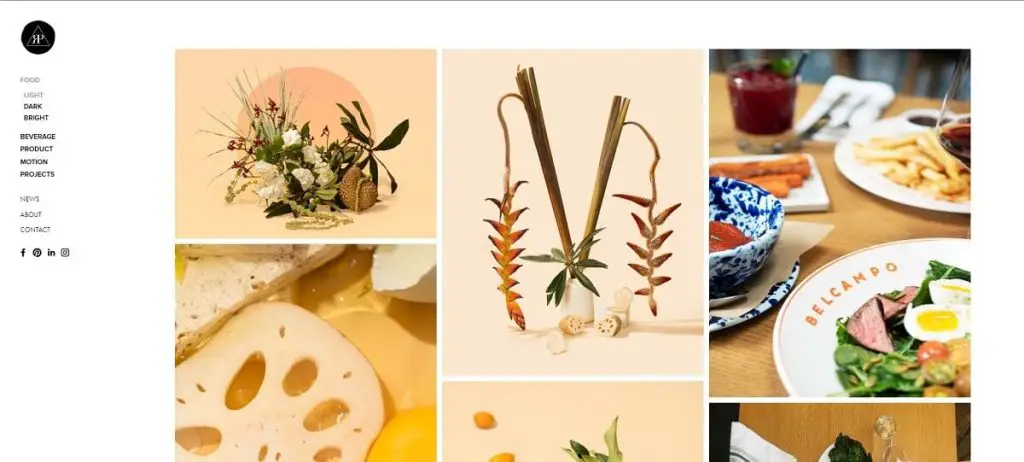 Rebecca is Los Angeles-based commercial food and beverage photographer. Her photography includes diverse backgrounds. Her work includes colorful table dishes and complete graphic subjects while maintaining skew dark and colorful atmosphere. 
She doesn't like wasting food and thinks food is super important for the living being. She has worked with various brands and publications such as L.A. Times, Top Ramen, Seagrams, Templeton Rye, El Tesoro, and more. 
Kimberly Espinel
Location: United Kingdom
Website / Instagram / Pinterest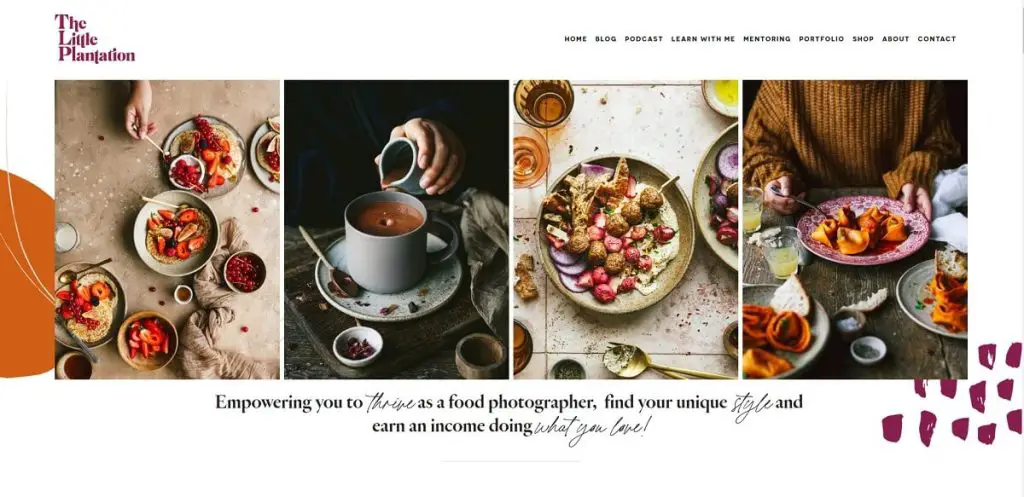 Kimberly is U.K. based photographer and an award-winning London editorial and commercial food photographer. She is also a food and prop stylist with the author of the best-selling Amazon book. She has over six years of food photography experience and owns a home studio for photography. She has worked with several high-profile clients like Sony, Tefal, Kitchenaid U.K., and more. 
Christina Peters
Location: Los Angeles
Website / Instagram / Facebook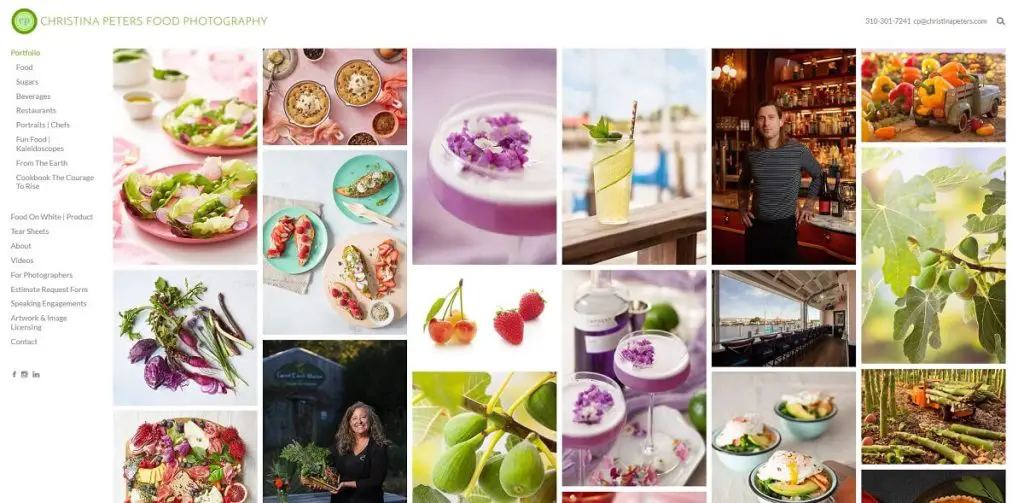 Christina is a Los-Angeles based photographer and passionate about food photography. Her lively raw shots of different ingredients, natural sound, diffused lighting, and care for the perfect photography define her photography expertise. Moreover, Peter has various satisfied and impressive clients.  
Sara Ali
Location: Los Angeles
Website / Instagram / Facebook
Sara Ali belongs to New York City, and she is a prominent photographer and also a food stylist and nutritionist. Sara Ali's unique presentation of food capturing is the ultimate goal of every top food photographer. She shares interesting photos on social media and is fun to follow.
Nick Ghattas
Location: Toronto & Ottawa
Website / Instagram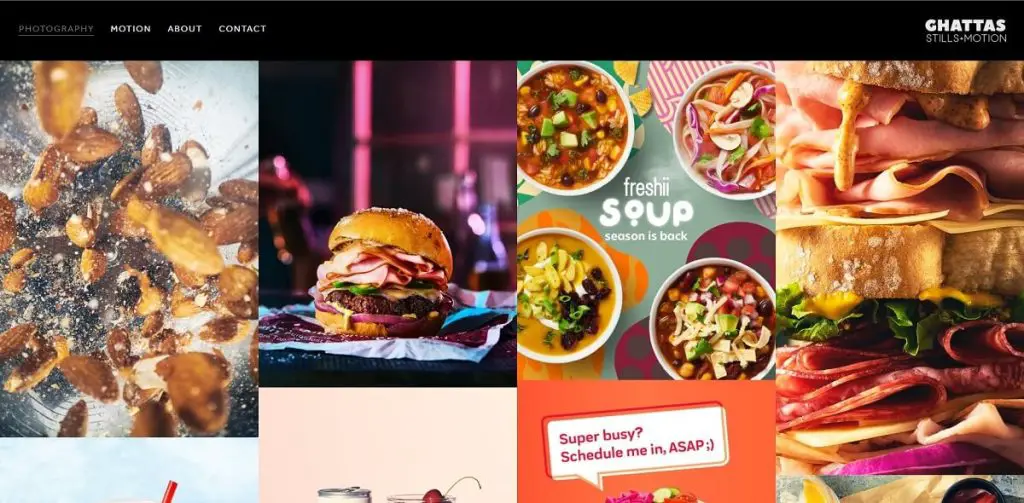 Nick is a Toronto-Ottawa-based photographer who has been specializing in the food and drink section for over ten years. He started his career with graphic designing but later, he found his ability to capture photographs at a later stage.
As a designer, he prefers to pay attention to small details, and photography also has no difference here. Nick believes, 'people eat with their eyes first, and this leads him to capture food photographs.
Lenka
Location: Spain
Website / Instagram / Pinterest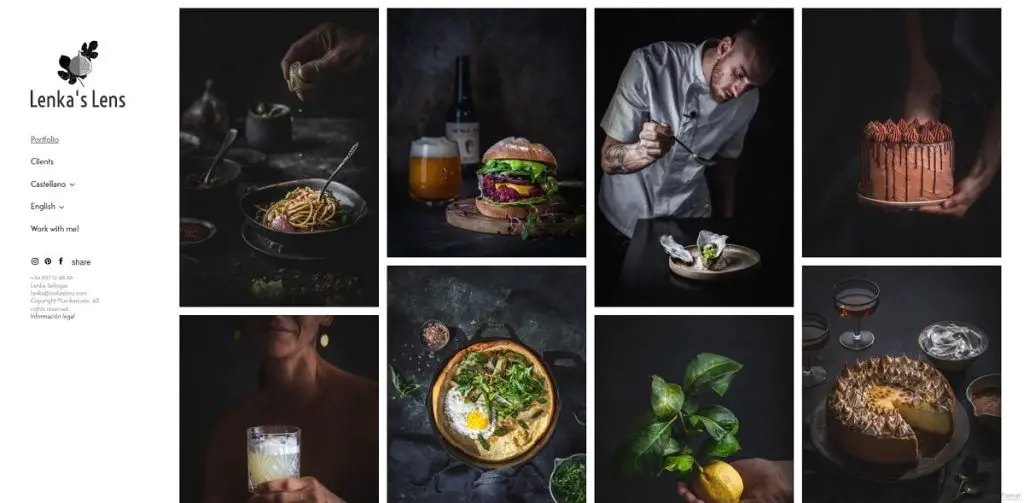 Lenka is a Spain-based food photographer; she wants to create something unique that creates stunning food images. She uses proper lighting and expert styling with the correct texture and shadow and also showcases the specific food in a fresh, appealing way. Her food photographs include a certain look and feel, making her a prominent photographer in the industry. 
Crystal Cartier
Location: Los Angeles, CA
Website / Instagram / Facebook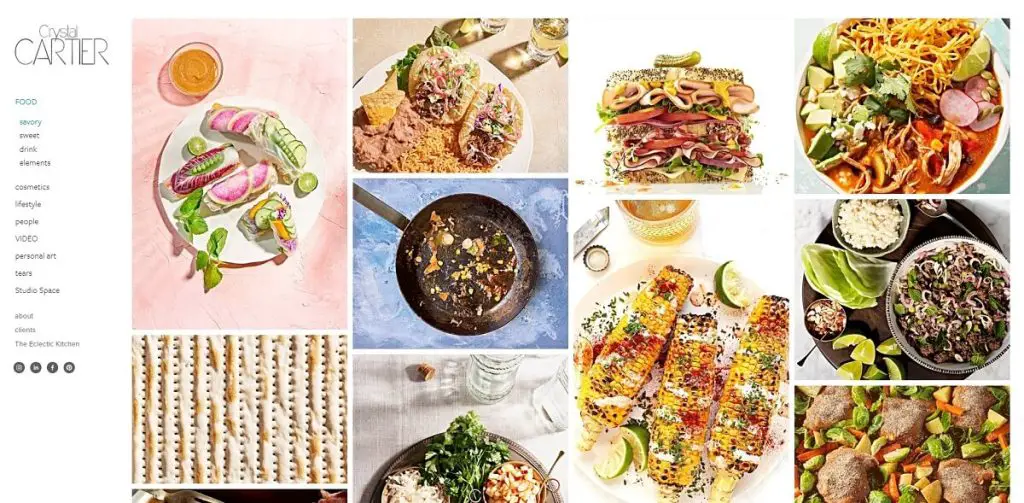 Crystal Cartier is a Los Angeles-based food photographer; her inspiration comes from her obsession with capturing photos. Her unique ability to capture the specific dish and beautiful capture of each dish is stunning, and the playful details and textured backgrounds show her dedication. He is devoted to healthy living, and it reflects on capture. 
Emily Hawkes
Location: New York City
Website / Instagram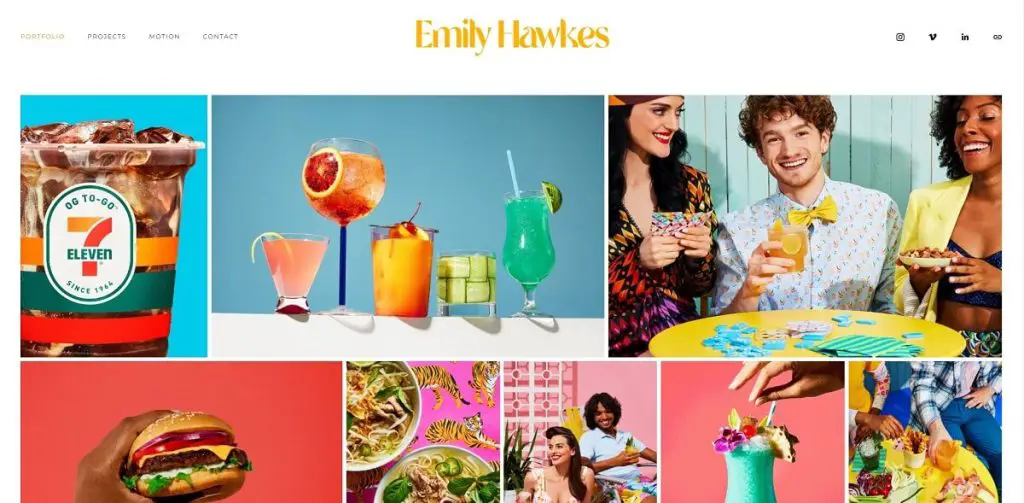 Emily is an N.Y.-based photographer and a commercial beverage, food, and product photographer. Her photography expresses cheerful and playful motion with a bold, colorful and witty sense of work. She has a studio in New York City. She has worked with several prominent brands like Olay, UberEats, 7Eleven, Kraft/Heinz, HelloFresh, and many more. 
Erin Scott
Location: San Francisco, CA
Website / Instagram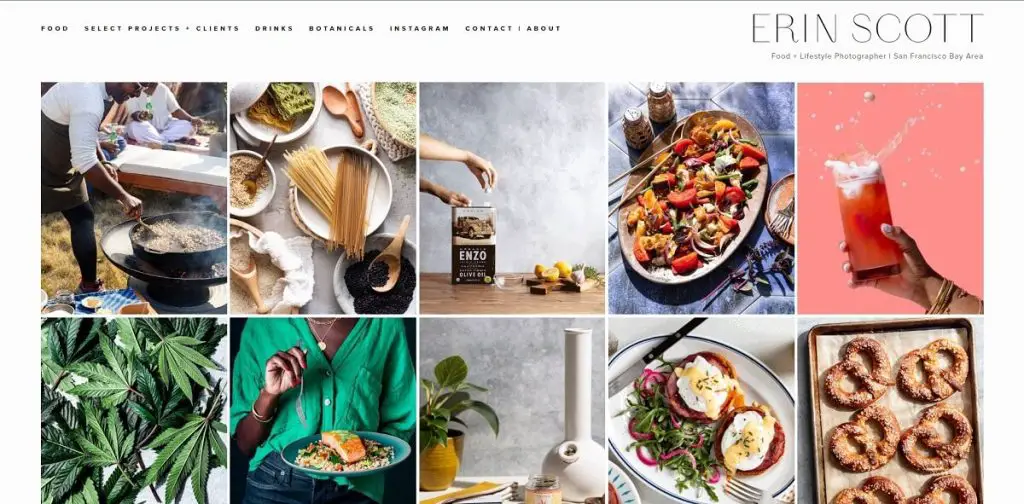 Erin is a lifestyle, beverage, and food photographer and belongs to San Francisco. Her inspiration is real people, the magic of light, and honest food. Her confidence in photography helps her build enthusiasm collaborative spirit. 
She has a studio with the best stylists and creative team for a photography project. She has over 40 photography books and also has her own cookbook. Her work has been featured in the Huffington Post, The San Francisco Chronicle, Jamie Oliver, and several more. 
Rachel Korinek
Location: Vancouver, Canada
Website / Instagram / Pinterest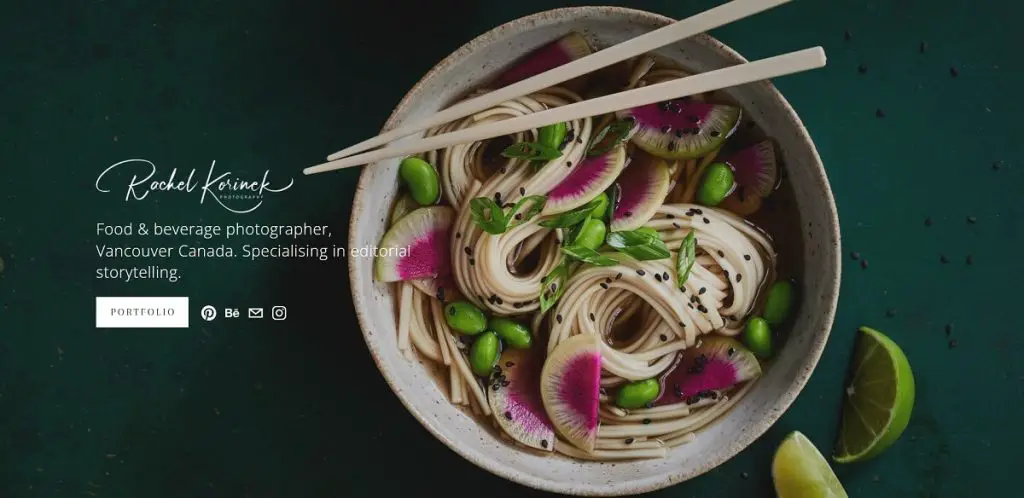 Rachel is a Canadian food and beverage photographer and editorial storyteller. Rachel is originally from Australia but traveling makes her landing in Canada. She expresses stories with clean and bright photographs. 
She mainly focuses on the details and close-ups while capturing food photos, that highlight, and crafts photographs. Nikon, Huffington post, Woolworths, and Bride Magazine are some of her present collaborations. 
Jason Kindig
Location: Dallas 
Website / Instagram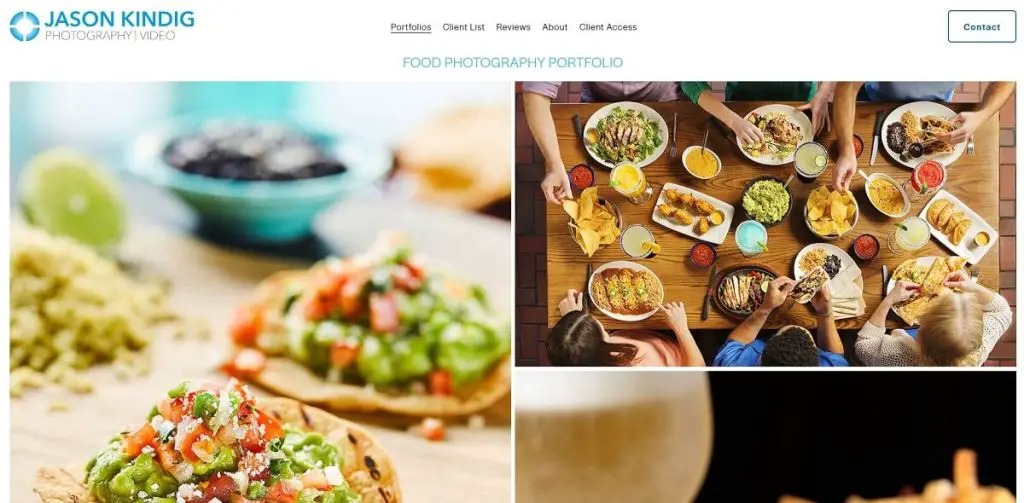 Jason Kindig is a Dallas-based photographer and is prominent for his attention to detail, artistic way, and top-notch service. He has been in a photograph for nearly 20 years, giving him the strength to go forward.
His experience, quality, and passion for providing quality photographs make him a topper. Also, he works with several prominent brands such as Google, Toyota, Fox Sports, Facebook, and Texas Health resources, to name a few.
Joanie Simon
Location: USA
Website / Instagram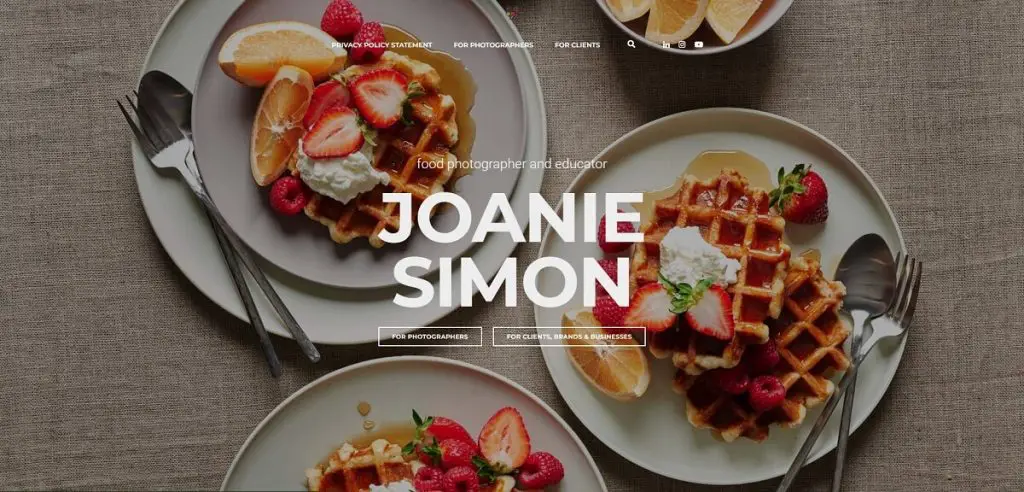 Joanie is from the U.S., and she is a food photographer and a teacher. She is one of the top food photographers and runs an online platform to teach food photography. She started stepping toward photography through culinary when she started to post culinary photos on her blog regularly. 
Her culinary obsession and art history in her undergraduate degree compel her to the path of photography. She has worked with several clients, including Nikon Imaging, Nestle, Vienna Beef, Arizona Restaurant, and more.
Davide Luciano
Location: New York
Website / Instagram / Facebook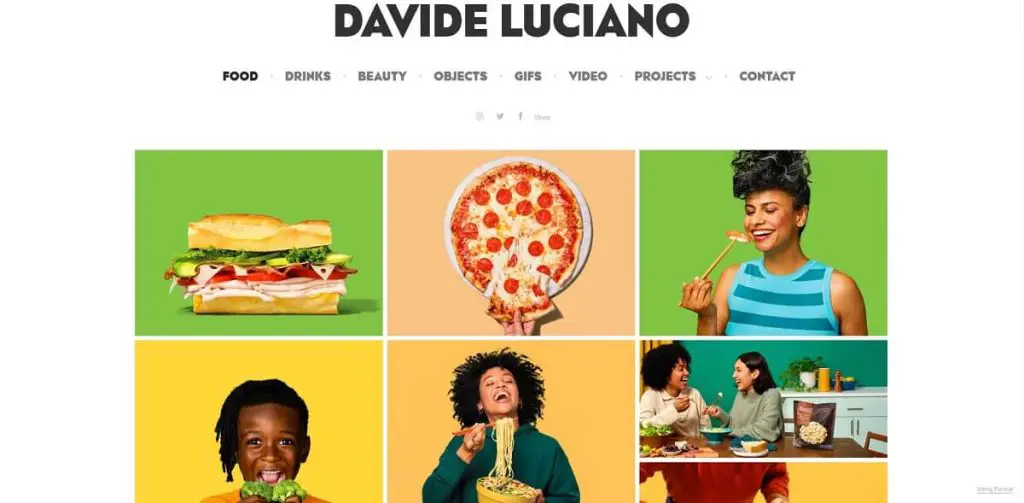 Davide is a New York-based food and beverage photographer and motion artist. He loves storytelling with photography. His artistic vision and storytelling have shaped the unique approach of his photography. His wife, Claudia, is a food stylist, and she also helps Davide to create colorful imagery bursting with energy which is ready to fill your eyes with colors. 
Lauren Caris
Location: Switzerland
Website / Instagram / Facebook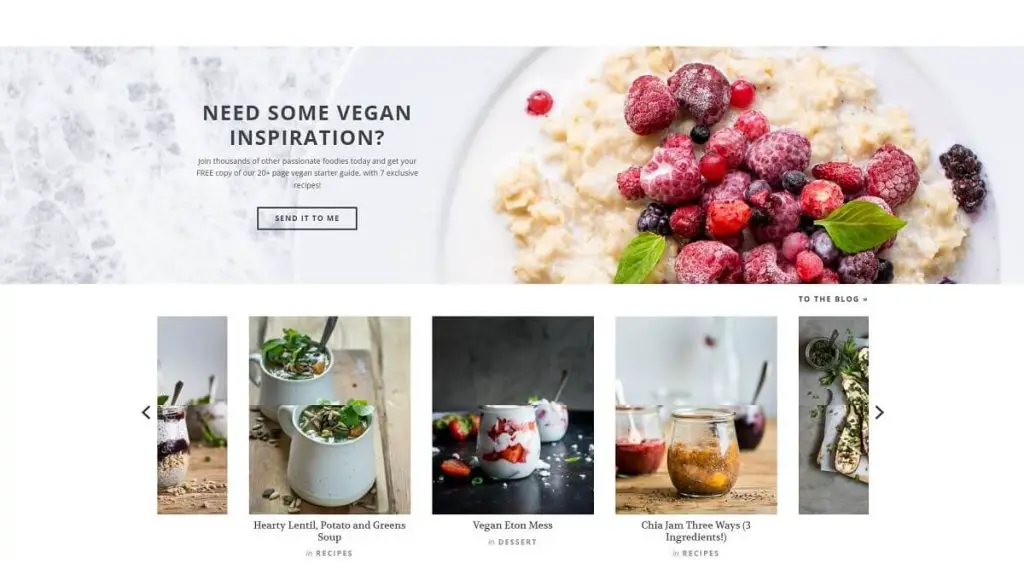 Lauren Caris is a passionate food blogger based in Switzerland. She writes a food blog for passionate foodies that include vegan recipes and enticing images. She thinks going vegan has great importance, and she has made the precise decision to go vegan. Meanwhile, the images and all the delicious vegan recipes are what make her a popular food blogger.
Dan Rob
Location: Toronto
Website / Instagram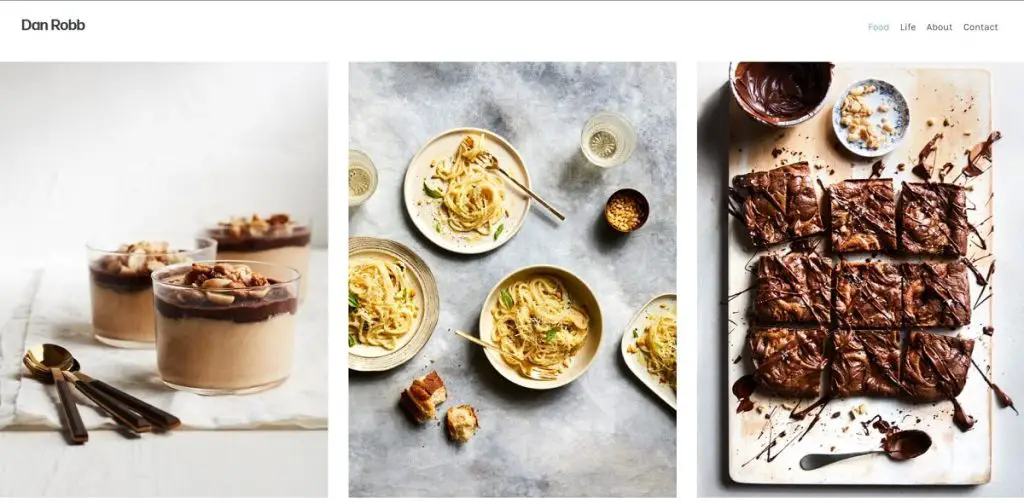 Dan Rob is a Toronto-based professional photographer. He studied photography to master the photography challenge. Dan believes that anyone should choose their path with all their heart, and where your heart wants to go, you should go. Dan has worked with prominent clients and brands such as T-fal, Food Network, Penguin Random House, Upper Canada, and many more. 
Skyler Burt
Location: Los Angeles
Website / Facebook / Twitter

Skyler is a Los Angeles-based photographer, and he is one of the best award-winning food product photographers in Los Angeles. He has traveled to numerous locations over 12 years while doing various clients project, directing, editing, and shooting for famous clients. Some of his clients include PizzaHut, Samsung, Forbes, Sunset Magazine, and many more.
Louise Lister
Location: Australia
Website / Instagram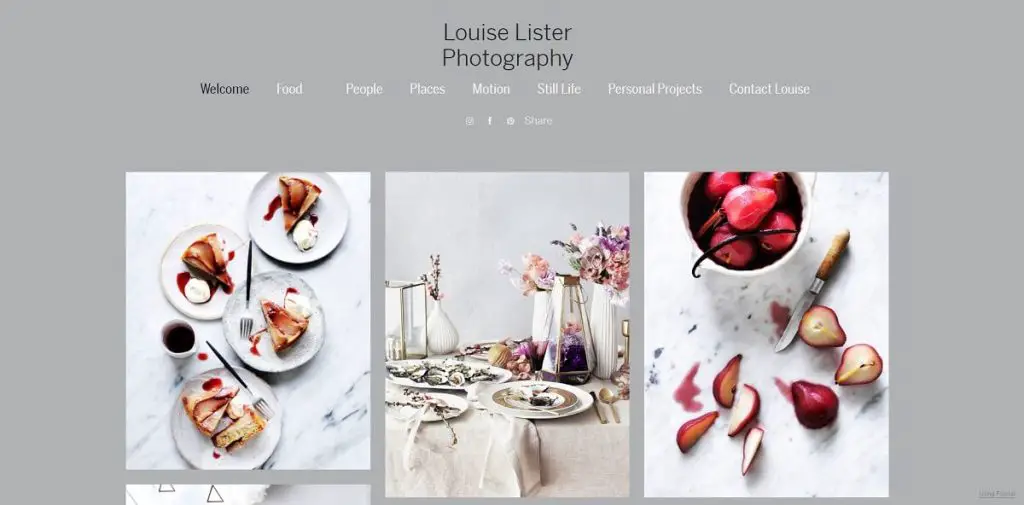 Lister is an Australia-based photographer, and she offers over 20 years of experience in food photography for magazines, books, or clients. Her major area of photography is food and portraiture as specialty areas. She has a studio in Sydney with all the skilled employees to run her photography project. 
Andrew Scrivani
Location: Australia
Website / Instagram / Twitter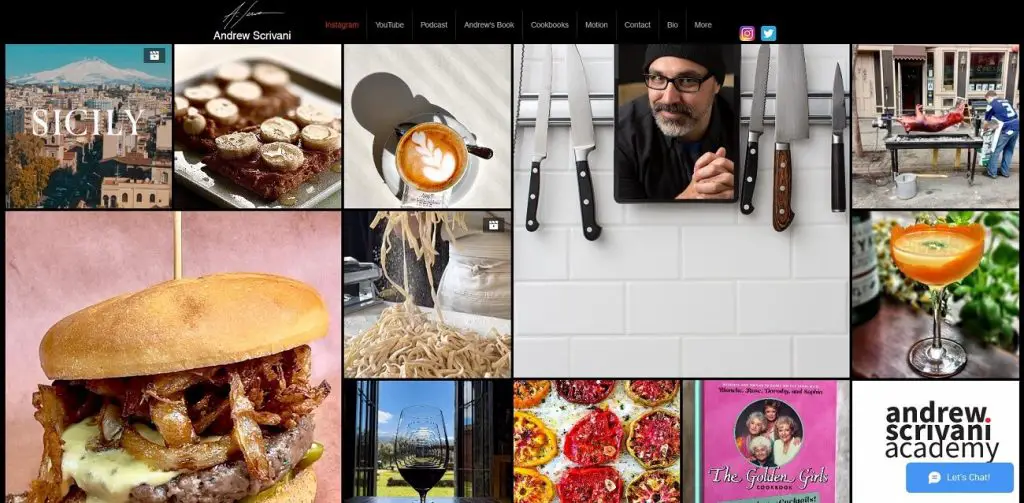 Andrew is a New York-based photographer, author, producer, and director. He has vast experience working on editorial, content creation, advertising, documentary, and film project. He is a well-known workshop instructor and columnist and has a well-established learning platform called Andrew Scrivani Academy. He worked with numerous clients such as New York Times, Disney, Norton, Harper Collins, and many more. 
Francesco Tonelli
Location: Milan, Italy 
Website / Instagram / Twitter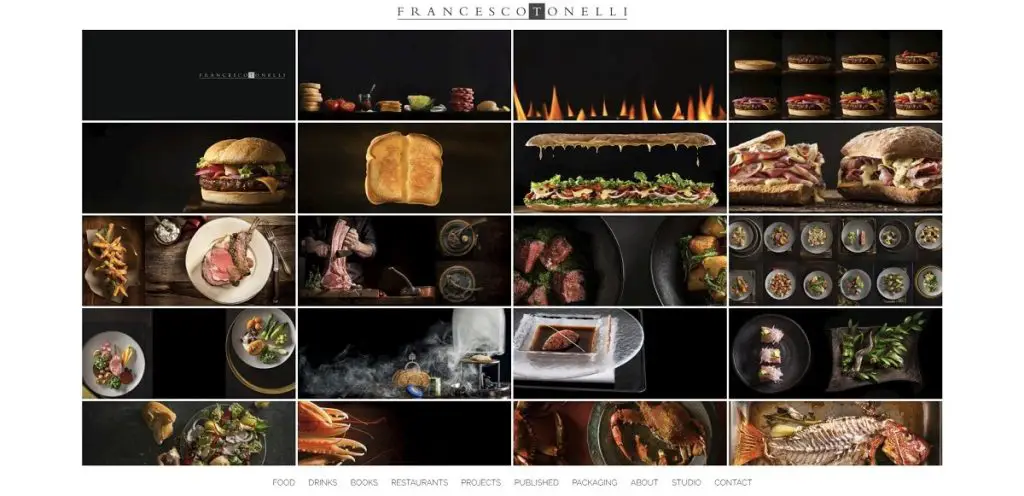 Francesco is a prominent Italian-based food photographer and chef. He has studied culinary arts, and his mother was a great cook that always inspired him to come to this platform. He always uses her mother's cooking formula and his culinary proficiency, which makes him a well-known food stylist and photographer. He has worked with many famous clients like creative directors, executives, marketing professionals, and many others. 
Kailee Mandel
Location: Toronto, Canada
Website / Instagram / Pinterest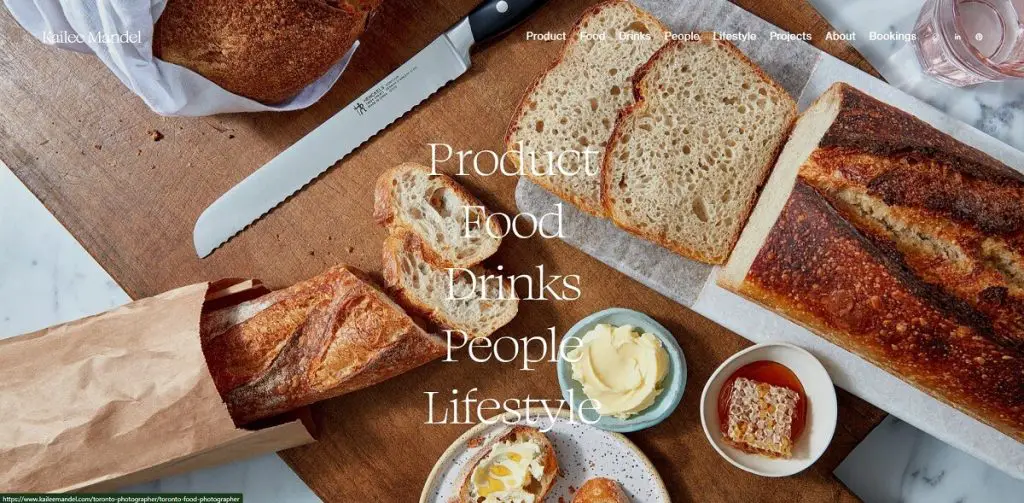 Kailee Mandel is a professional and commercial photographer who is a proficient photographer. She specializes in food, product, and lifestyle photography, and she captures photography through visual imagery. She believes in her ability to build a connection that has the reflection of capturing images. She works with local, remote, and international clients. 
Andrea Di Lorenzo 
Location: Rome, Italy
Website / Instagram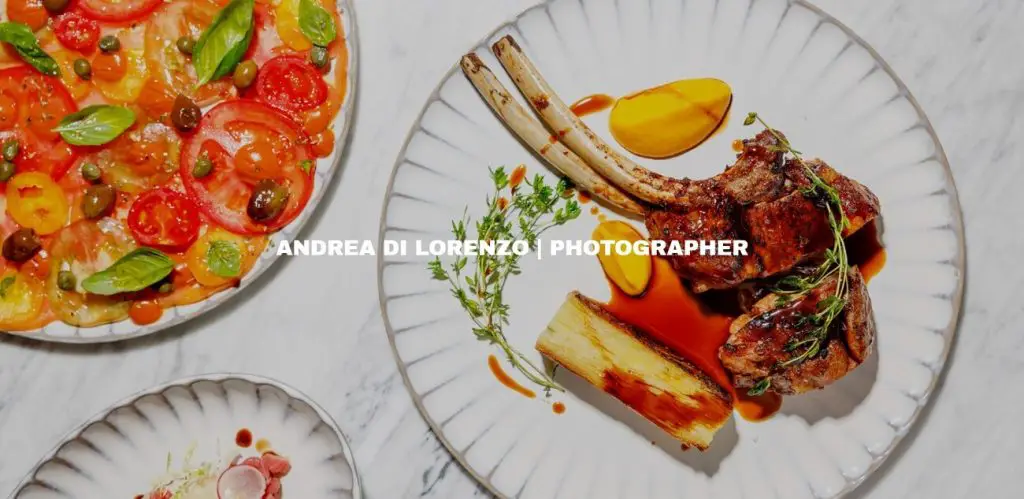 Andrea is a top professional food photographer based in Italy. His working method is to translate clients' ideas into a suitable visual portfolio that leads them to use those for advertising or editorial use. He has worked with numerous clients, editors, photographers, and writers. So, he is surely a proficient and one of the famous commercial food photographers. 
Mauro Turatti
Location: Rome, Italy
Website / Instagram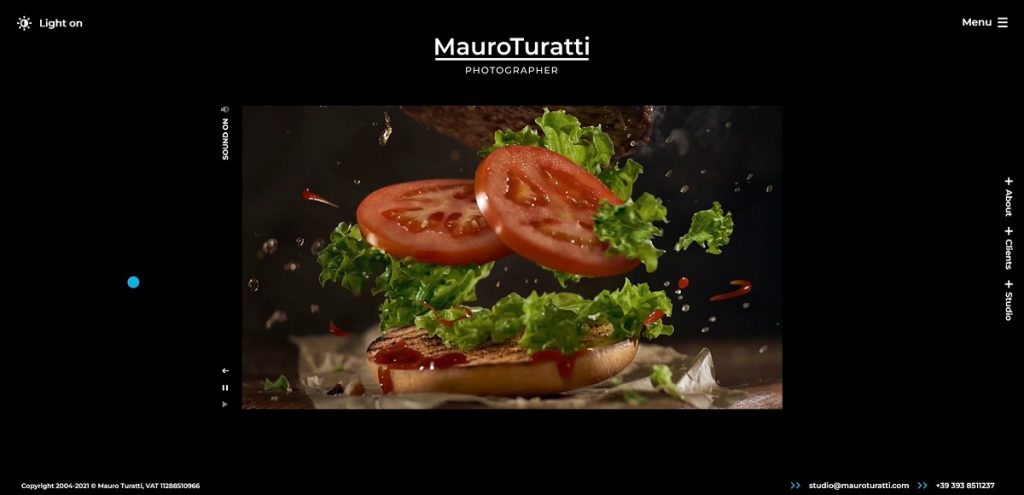 Mauro Turatti is a specialized photographer in food and still-life images. Mauro has been working in advertising and editorial since 2004. He grew up in a big hotel called Lake Maggiore, and his father and mother was a cook, so this led him to photography now. Also, he started school in a small photography studio that allowed him to keep the photography dream alive.
Matt Armendariz
Location: Los Angeles, CA
Website / Instagram / Twitter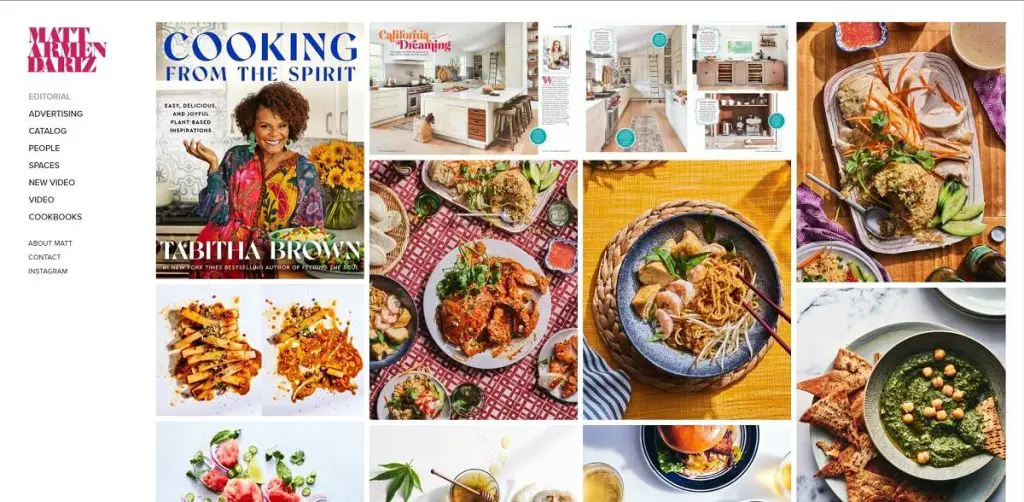 Matt is a Los Angeles-based photographer with vast experience working as a designer, which makes him step on to the photography career. Matt is a graphic designer, creative, and art director and has specialized in the food photography world. He loves to work with editorial and advertising clients as well as cookbook publishers and publications. 
Isabella Cassini
Location: Portland
Website / Instagram / Facebook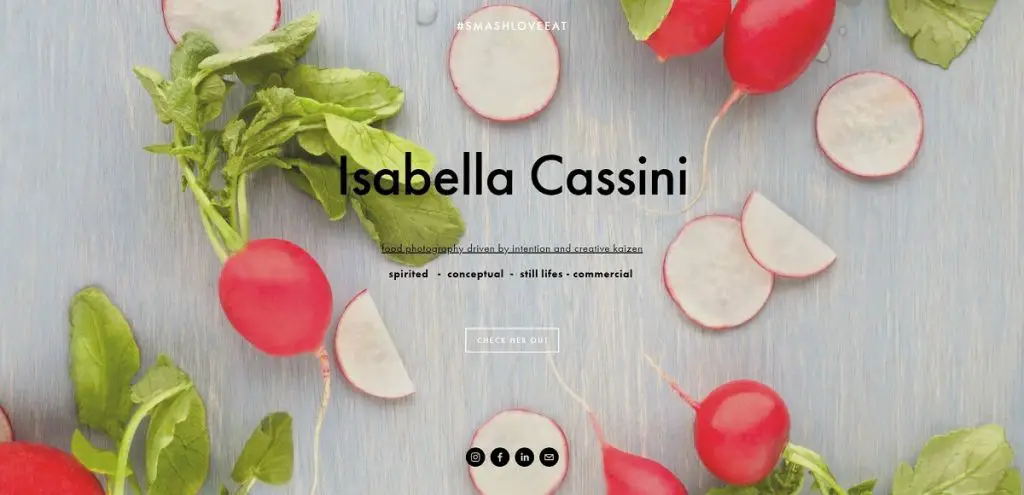 Isabella is an award-winning commercial photographer. She studied fine arts, and her photography can easily attract and delight the people of Portland. Cassini brings and forms style from the consumer perspective, and this brings her international recognition. She has won several international awards in photography, such as the international photography award, Food photography award, and Lucie award.
Laura Muthesius & Nora Eisermann
Location: Berlin 
Website / Instagram / Facebook

Laura is a photographer, and Nora is a fashion designer and works as a food stylist. They started to make delicious gluten-free cake recipes for the first time. This ultimately led them to work in food and photography in the later stage. Now, they have opened studios to work on their photography, and they have a passion for food design and interior as well. 
Kyle Dreier
Location: Texas
Website / Instagram / Facebook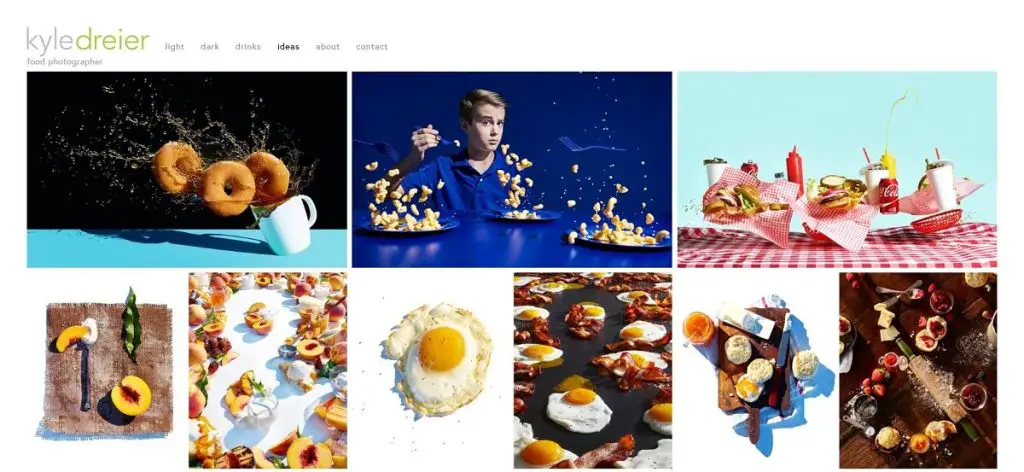 Kyle is a professional photographer based in Texas. He started his journey in photography in his teenage, and he was a good cheesecake maker at that time. This inspires him to be a food stylist and a photographer. Now he is a professional food photographer, and he loves to take on challenges and work with a team of stylists, assistants, and art directors. 
Scott Suchman
Location: Washington DC, USA
Website / Instagram
Scott is a food, travel, and portrait photographer who belongs to Washington, DC, USA. Scott loves to capture travel portraits and brings different cultures into his camera. The idea is to bring out different cultures and traditions in his frame. So, this ultimately leads him to capture the different food cultures. 
Marc Haydon
Location: London
Website / Instagram / Twitter
Marc is a professional freelance food and still-life photographer. He has his own studio in West London and uses a handheld camera to produce food photographs for restaurants, shops, businesses, and supermarkets. He works with a team of talented food, props, retouchers, and stylists to produce high-quality photographs. He owns a studio where he works for his clients. 
Leslie Grow
Location: Los Angeles, US
Website / Instagram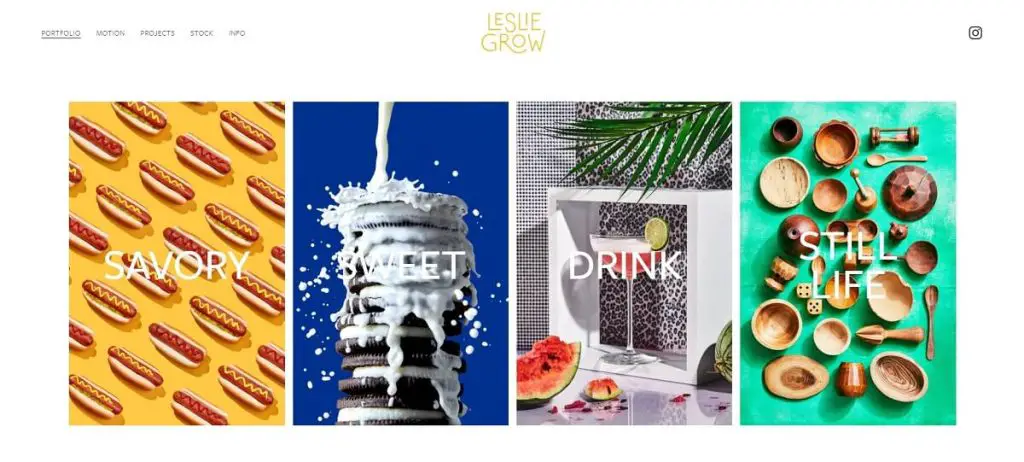 Leslie Grow is a food, drink, and product photographer who likes to enjoy cooking in the kitchen and captures appealing images. Her work is very much minimalistic and vibrant, and the inspiration comes anywhere, while she prefers observing pops and colors with dramatic lighting. She works with various clients and comes up with collaborative ideas to provide effective outcomes. 
Mary Devinat
Location: France
Website / Instagram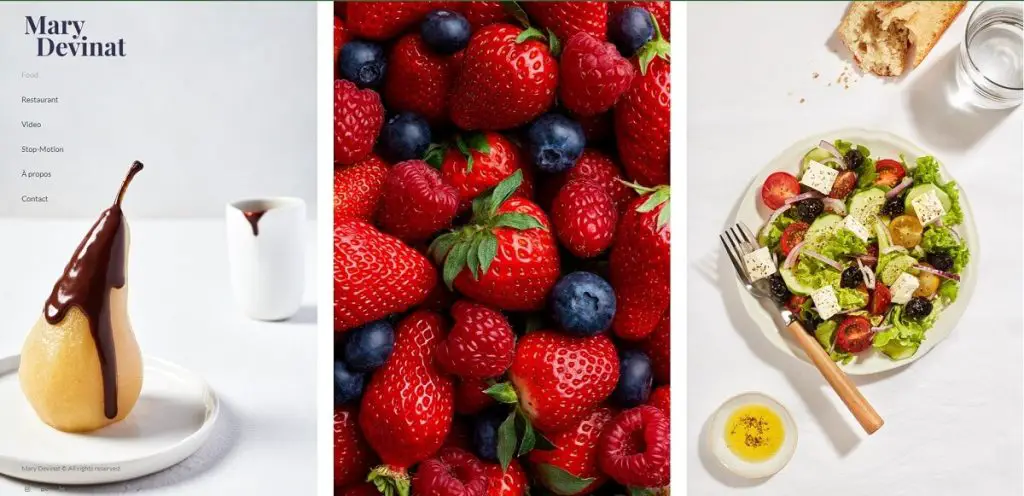 Mary is a French food photographer who has passion, and she has been a food photographer for 5 years. She is passionate about food photography while capturing images for cooking. She loves to highlight the various works of photography professionals. She likes to work with restaurants and caterers, and she is proficient enough to do client photography work. 
Libby Volgyes
Location: West Palm Beach, Florida
Website / Instagram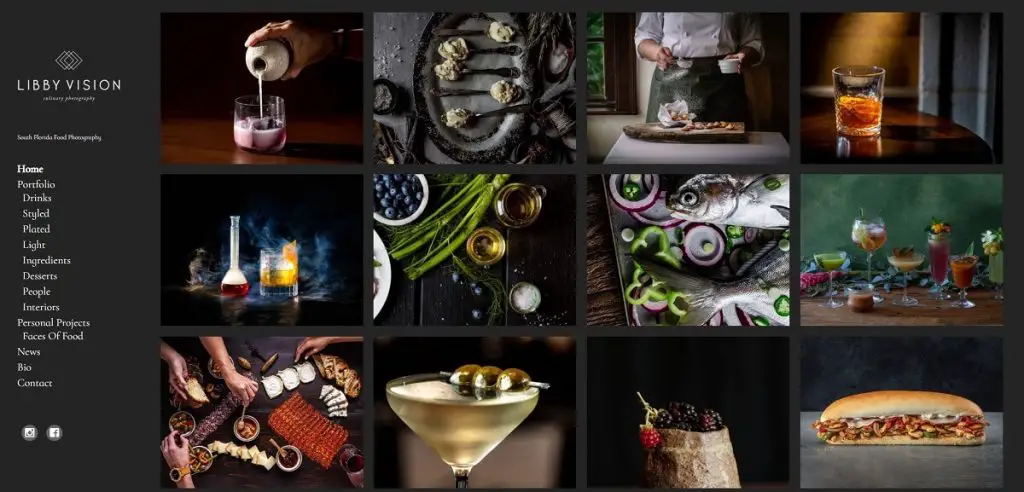 Libby is an award-winning food photographer based in Florida. In 2012, Libby launched a food photography studio, and she started to work with ad companies, brands, and magazines. Her food photography styles, such as evocative dark and moody styles define her powerful photography. Her artistry, creativity, and innovation make her unique in the food photography field.
Thomas Brooke
Location: Melbourne, Australia
Website / Instagram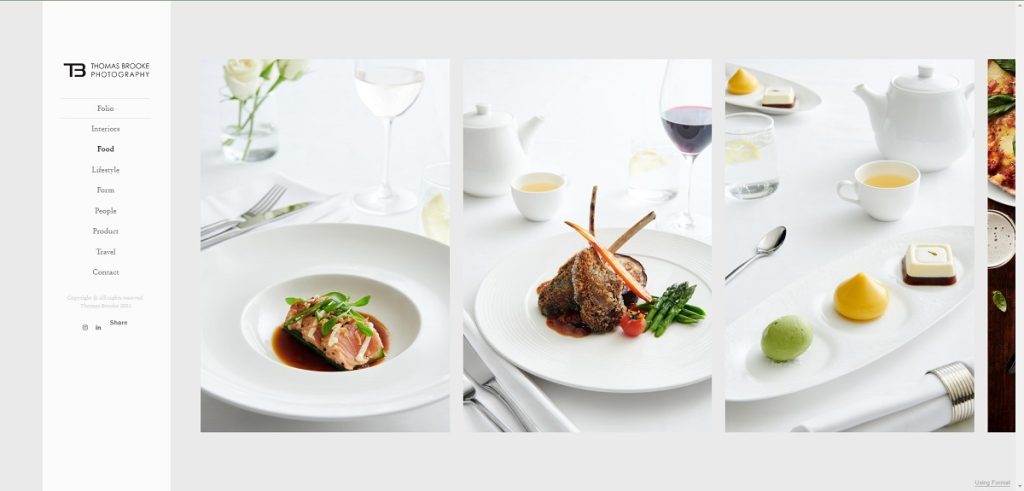 Thomas is a Melbourne-based food photographer and loves to capture simple food photos. He believes beauty, style, harmony with grace, and good rhythm provide enough opportunity to capture food photography. Thomas is well-known for his artistic and aesthetic photography. 
Neal Santos
Location: New York
Website / Instagram / Facebook
Neal is a commercial and editorial food photographer based in New York. He has a lot of experience in food photography and editorial with commercial photography. He has also worked with different clients such as American Express, American Way, Food Network, Google, New York Times, Pepsi Cola, and many more renowned clients. 
Alana Haldan
Location: San Francisco
Website / Instagram / Facebook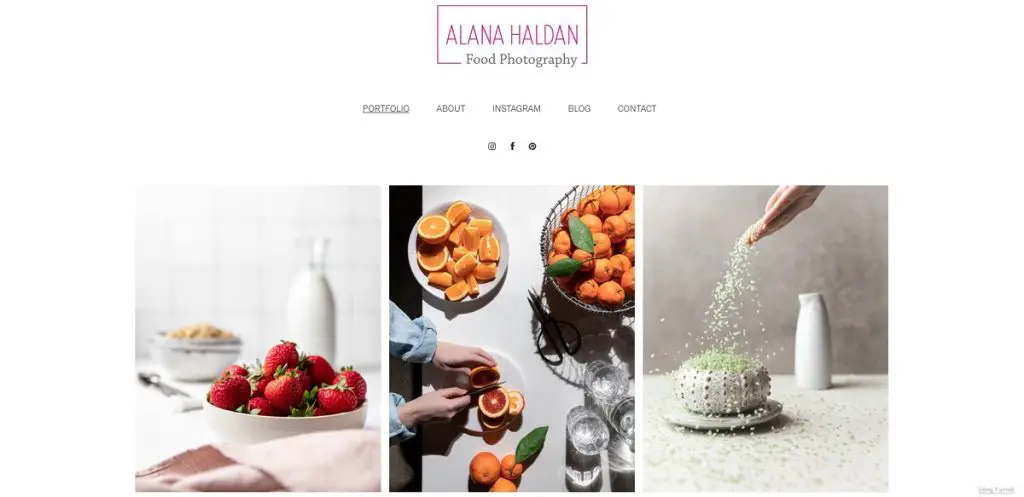 Alana is a San Francisco-based food photographer, blogger, and recipe developer. She loves to capture the overlooked beauty of different fruits, such as vegetables and plant-based cuisine. She first started as a graphic designer, and a culinary book has inspired much to grab food photography.  
FAQs
u003cstrongu003eHow to become a food photographer?u003c/strongu003e
Purchase a camera, Shoot and practice every day, open a website, provide a portfolio, learn more advanced styles and show off your work. 
u003cstrongu003eHow to become a food stylist photographer?u003c/strongu003e
First of all, you need to learn precisely about food stylists, so go to culinary school, attend a workshop or find a job assisting food stylists, build portfolios and venture more. 
u003cstrongu003eWho are the commercial food photographers?u003c/strongu003e
Commercial food photographers assist a restaurant, company, or individual in achieving their demanding task and style of food photography. 
u003cstrongu003eHow to make money as a food photographer?u003c/strongu003e
You can earn money through food photography with affiliate commission, content creation, licensing images and photography commission, and utilizing lots of other ways.
u003cstrongu003eHow to find local food photographers?u003c/strongu003e
Search on the web to find location-based food photographers and visit their website, collect their social media or email and contact them. 
u003cstrongu003eHow much does a food photographer charge?u003c/strongu003e
Professional photographers charge $150 to $500 per hour, but average photographers typically charge $150 to $200 per hour. 
u003cstrongu003eHow much does a restaurant food photographer charge?u003c/strongu003e
If you are a starter in photography, you can charge $360 to $570 a day, and an experienced would charge $720 to $1770 per day. 
u003cstrongu003eHow to hire a freelance food photographer?u003c/strongu003e
Several freelance websites like Upwork and Freelancer can provide you with the decent food photographers you wish to hire.
Perfection
Food photographers are artistic and understand proper food photography. So, if you want a photographer to shoot food, you need to check their bio and style of photography. Make sure you check their portfolio and photos posted, and if there's pricing mentioned on the website, it conveys a good or famous food photographer identity.