Your relationship and the whole camaraderie you share with your partner offer you an exciting time for both of you. Couples photography can immortalize those memories, love, and happiness in one frame. And you don't need to wait for special occasions like anniversaries or others.
Do you want to ace your Couple's photoshoot by understanding different photoshoot techniques? Check out the article: Couple photoshoot ideas with cute Couple pose references to portray the emotions, feelings, and storyline creatively and uniquely. 
What Is Couple Photography?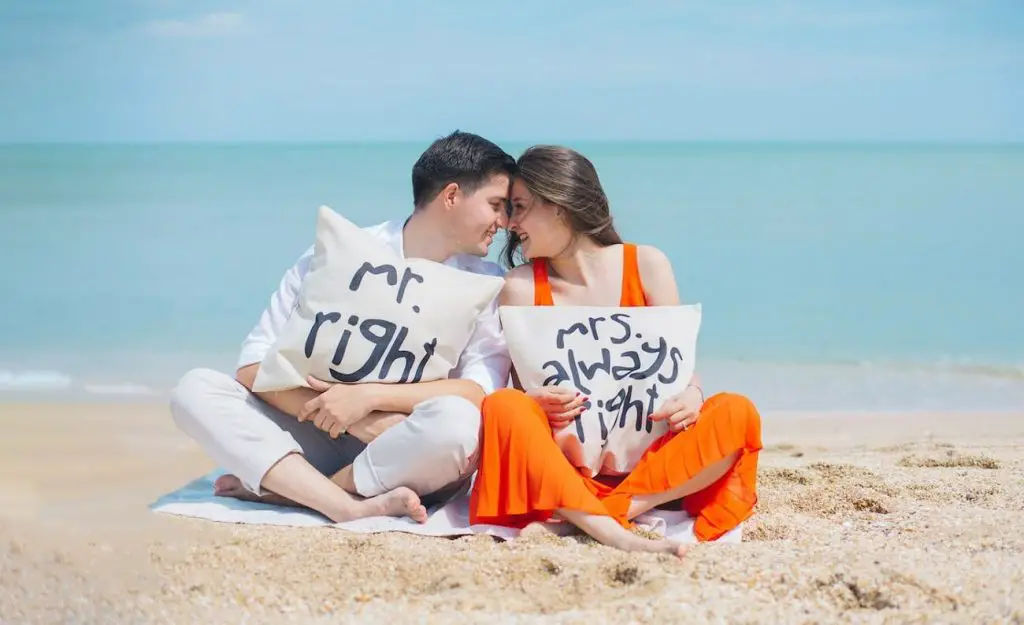 Couple photography is the art of capturing a couple's precious memories, togetherness, emotions, and love stories. Enjoying every moment of your life with your significant other and exploring the world's beauty together is amazing. Photographs allow you to look back on those memories and give you a way to immortalize those precious milestones over decades.
What Is a Couple Pose? 
In general, posture or attitude is known as positioning your body in a particular way, like dancing, hands in the air, etc. Couple pose is a medium to express their inner thoughts and feelings, like placing hands on the soulmate's face, being playful, and others. 
What Is a Couple Portrait? 
Portrait photography is about highlighting a person's essence, personality, and attitude by utilizing perfect backgrounds, lighting, and posing. On the contrary, couple portraits store two people's milestone stories in one frame by utilizing intimate or playful posing styles. 
Why Widespread and Trendy Couple Photography in Real Life?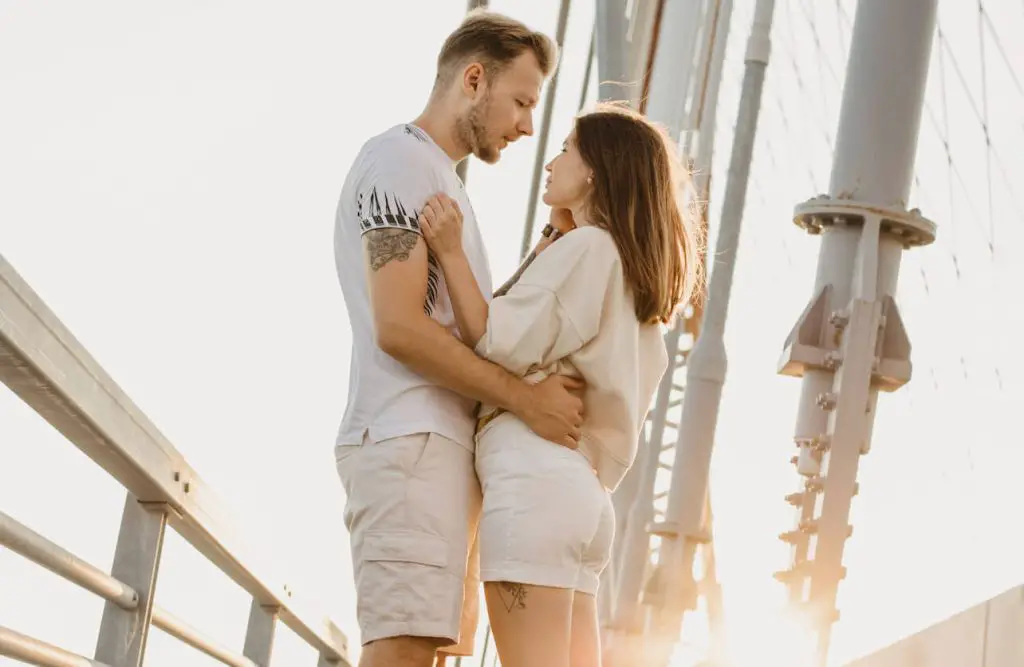 Couple photography – sounds like a series of dreamy or most wanted moments which are captured together. From the wedding day to the anniversary, you two spend lots of time together by sharing or living with memories. With photographs, you can cherish and relive those precious feelings. 
Let's look at the real cornerstones behind trendy and unique couple photography ideas below!
Time together – quality time offers a fantastic opportunity to get closer together that helps to nurture and strengthen your relationship. It's all about you and your natural love with real emotion.
Get creative – different poses for couples' photo shoots give freedom and creative thoughts to capture love in its purest and rawest form, like art. 
Celebrate your love – Your togetherness from becoming a friend to a life partner; photographs can carefully store every moment. And it's a great way to celebrate your love.
Create lifetime memories – these photos will become part of your family legacy and spread motivation to the next generation. And whenever you look at them, you'll recall those carefree and crazily in love you were.
Get rid of awkwardness – some couples become uneasy or shy in front of the camera. By trying different couple photoshoot ideas, you can capture milestone pictures of two.
Now it's time to capture your precious bonding pictures. But before clicking, let's understand some techniques that can offer you a mindblowing couple photo.
How to Take a Good Couple Photo?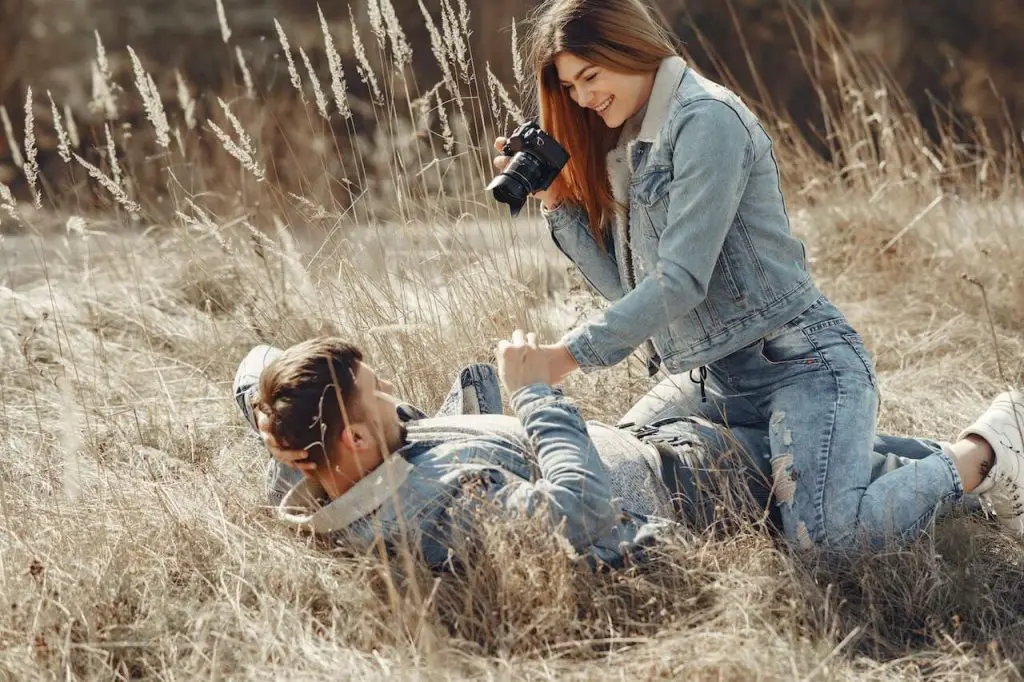 Couple portraiture is a treasure trove of memories that last decades and immortalize their strong bonding. For capturing feelings and highlighting the essence of your relationship's beauty, you need to pay attention to some essential settings and planning like: 
Mindset
Powerful and evoking photos have the power to convey some emotion. That means framing the shot requires proper planning and mindset, like posing ideas you need to implement, energy to try different styles, connection building, etc. 
Camera & Lens
With the right equipment and settings, you can be able to shoot like a pro. If you have a DSLR, you get the flexibility to capture in different lighting situations. And pay attention to some camera settings to understand which value is ideal for capturing your Couple's portraiture.
Pro Tip: Self-timer & tripod offer you blur-free, high-quality images with a hassle-free and natural capturing experience. 
Choose the location 
The idea of location doesn't only affect your mood; it will also help you to create an outstanding and romantic storyline. As a fun-loving couple, you might enjoy an open, lively place or a city street. But as a romantic couple, you might enjoy a seasonal garden or some natural view. Also, a luxury or fashion-lover couple can choose a top hotel or other places. 
Use the Best light 
To add more wonders and move your photoshoot session up, you need to choose the right time of the day. Golden hour is known as a magical hour for creating a warm and attractive vibe to the angled sunlight. But for nighttime shooting, you can use surrounding light, incorporate ambient light, backlight, or utilize flash by adjusting camera settings. 
Coordinating Outfits
It is a wise decision to choose outfits as per the location to harmoniously match the place's beauty. Suppose you can wear a blue and white color dress when you pose near the sea or a river. However, a comfortable outfit gives you more flexibility to open up about your emotions. 
Plan the Composition
A certain shot works well when it balances the compositions like lines, shape, form, texture, color, space, and reflections. Composition gives your photos a structure and determines how your image appeals to your eyes. 
Camera Angle
Will you ever prefer to capture photos from the below line of your face or block your partner from being seen? To avoid these situations, you need to pay attention perfect camera angle by making sure the light is hitting you or shadowing you. 
Props
Props can add extra beauty and charm to your photos. But using more props can lead to extravagance. Suppose when you two enjoy the beach's charming view there, you don't need to use any props. But when you propose to your soulmate, you can add balloons, flowers, and other things.
Pro Tip: For using props, consider how planned versus spontaneous you want to portray the story.
How to Pose as a Couple for Pictures?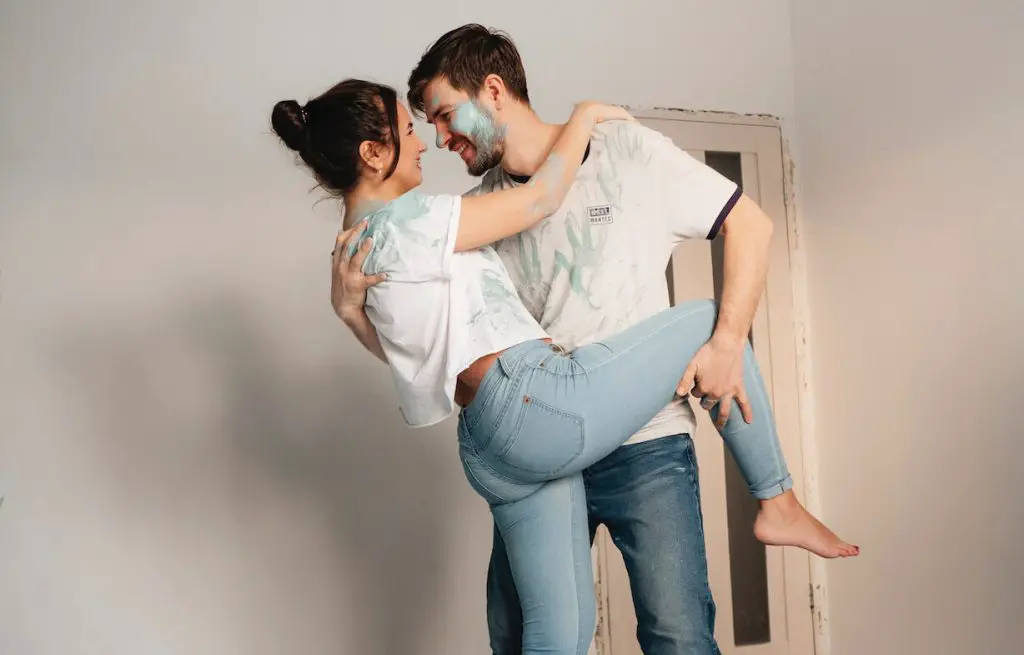 Every Couple has a unique storyline to highlight their love essence. That means not every pose will work for every Couple. But when you explore more, you can re-innovate your own posing style. Also, the Couple's photography posing ideas give you some quality time to enjoy and relive every precious moment with your soulmate. 
Here are the Best Poses for Couples Photoshoot:
Young, Wild, and Free
Do you want to portray your playful side with your partner or something creative? Feel free to open up your childish fun, like pretending to be punching, and your partner is flying in the air. 
Whimsical Wonder
You can try to recreate a world where only you and your partner seem to exist. For this, you can choose a forest and whimsical places and take photos using a drone to emphasize the illusion with more details.
It's a Match
Fashion-trendy couples love to highlight their matching outfits and other matching things like tattoos, passions, etc. However, to open up your bonding intimacy, you can share whatever you want.
Bookworms
You might have an idea that with books you can express lots of emotions; because it's one of the great visual tools for photoshoots. So, why not find books with appropriate titles and use them to convey a storyline or mood?
Stargazing
Long-exposure photography offers you create opportunities to execute something new. But you need to shoot in the low light to add night sky beauty as the background.
Feeling motivated to put your finger on the shutter? Scroll down and try any poses you like most. 
Creative Couple Photoshoot Ideas with Couple Poses Reference
Need some awesome and trendy cute couple photoshoot ideas to freeze your memories for eternity? Check out the list below, where you explore different and popular posing ideas with references.
Couple Portrait Poses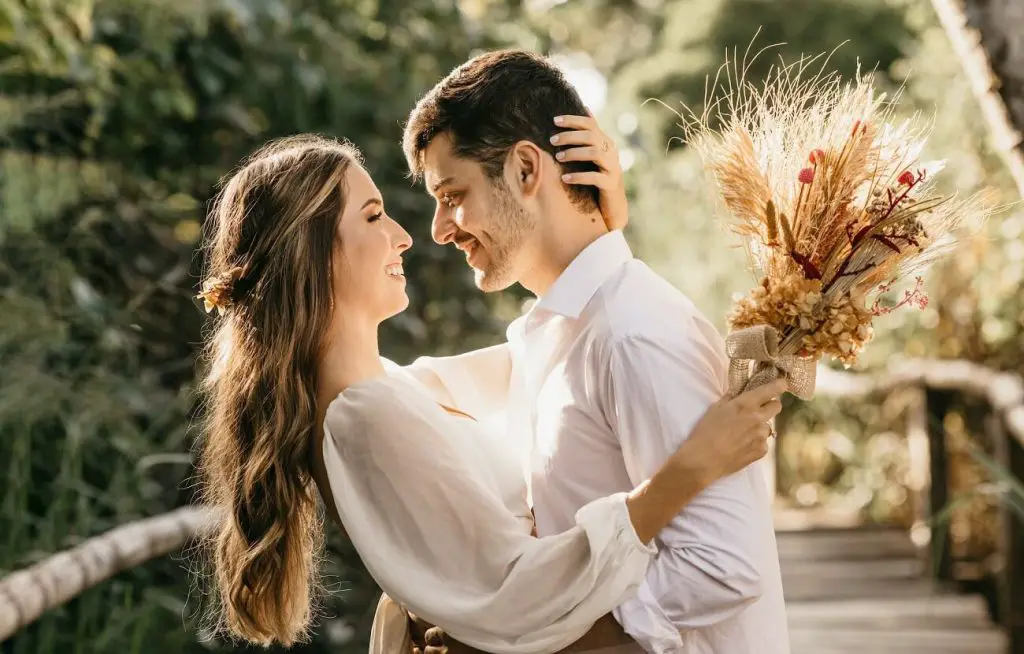 Couple portraiture is the witness of their togetherness, feelings, and strong bonding. And the Couple's portrait poses are all about expressing their emotions for each other in one frame.
Leaning on a wall pose, sitting on the stair and looking at each other's eyes pose, Coffee shop intimate pose, holding hands and making promise poses, etc.
Try some smoke bomb photography ideas to make your Couple's portraiture more fun and trendy.
You can also try something funny like whispering, picking up, stretching your arm out, and holding hands is one of the popular photoshoot ideas for couples.
Couple Romantic Poses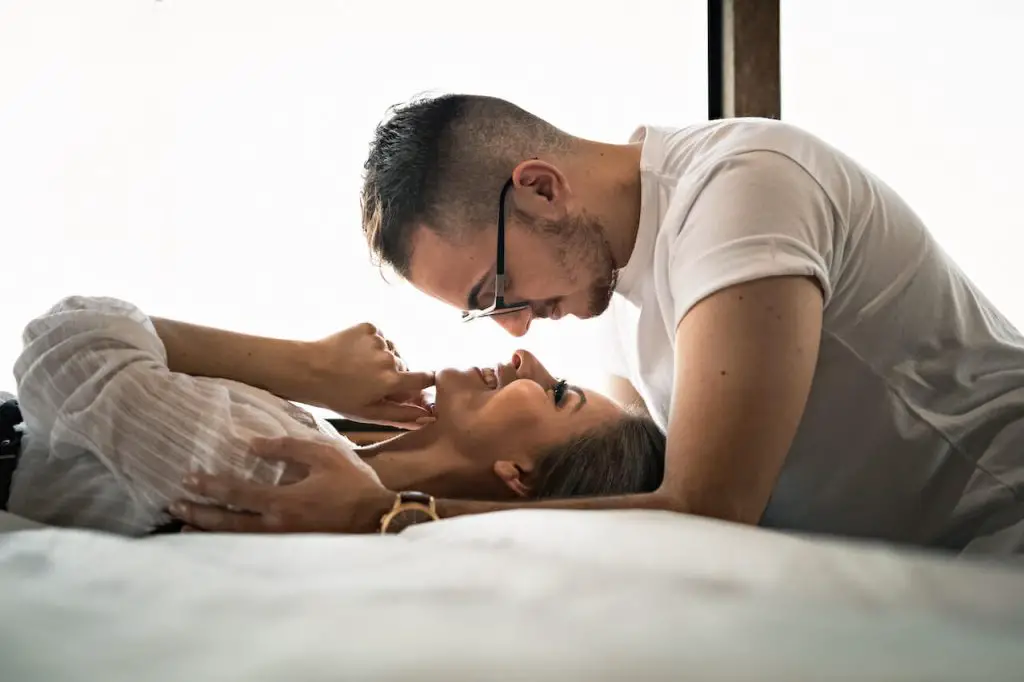 When you want to portray your, and your partner's chemistry through a photograph is known as a Couple's romantic pose. You can create gorgeous, playful, and intimate moments with these couple photography ideas. 
Sunkissed hug and kiss pose, be together forever pose, hand kiss, Bollywood style proposing pose, and others.
Add sky or other natural beauty.
For outdoor shoots, pay attention to sun reflection.
Couple Kissing Poses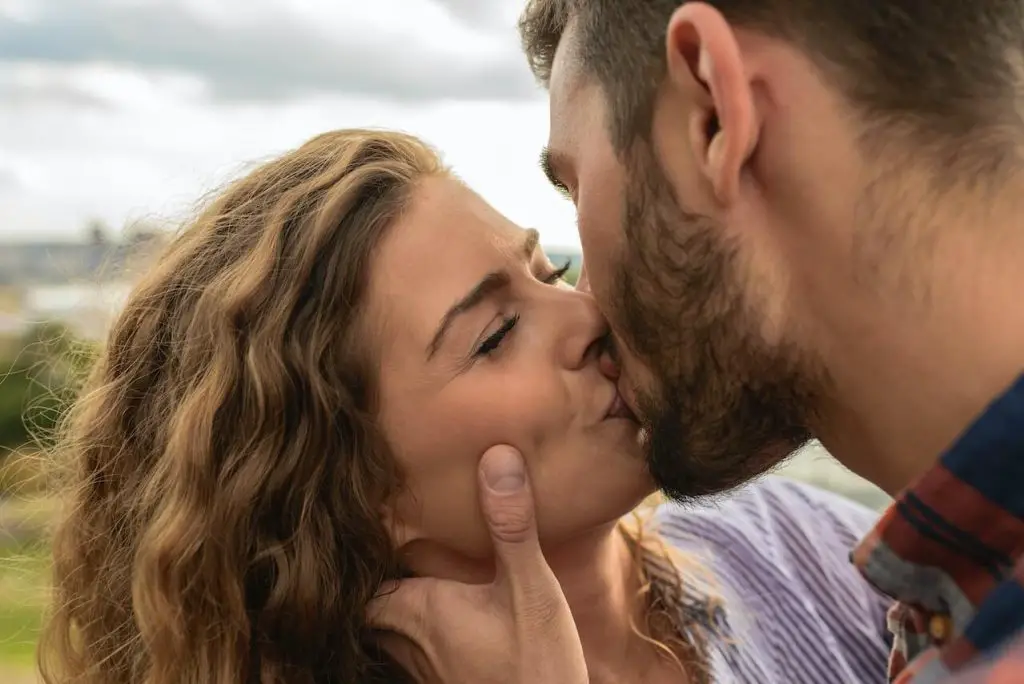 The Couple kissing poses is all about sharing love, romance, and beautiful emotions. One of the most incredible and heart-touching photo pose ideas for couples. 
Take some portraits to capture the love moments, or you can include clasped hands and fingers-entwined scenarios.
To share your feelings with your partner, you can try the forehead kiss pose, the tip of the nose kiss pose, being kissed by holding hands, or others.
Use a wide lens to include the environment's beauty.
Couple Cuddling Poses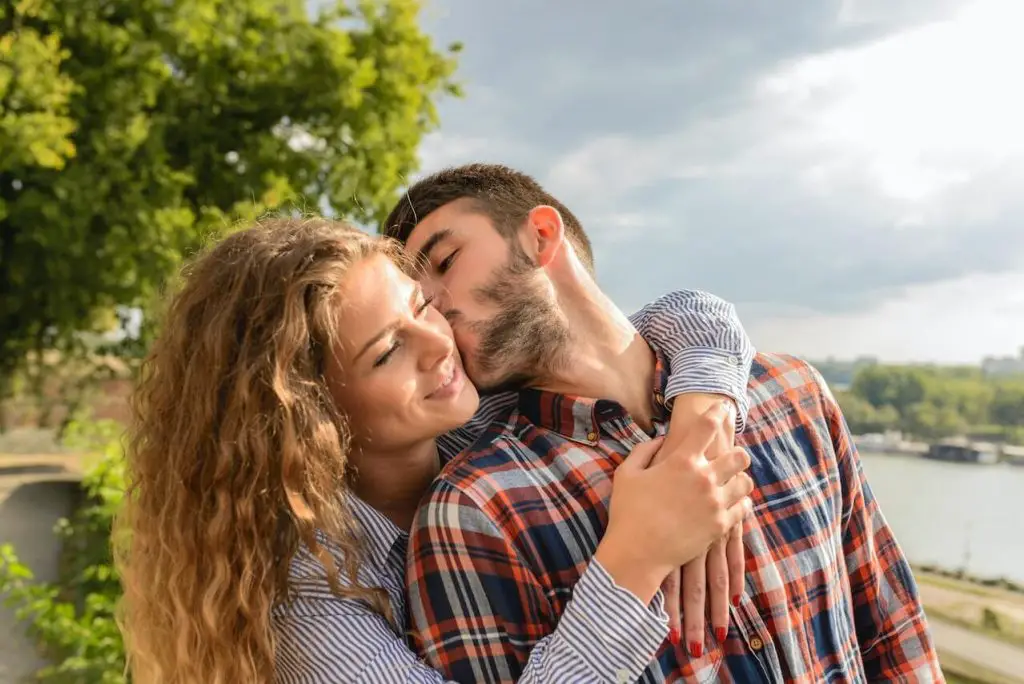 When you try cozy poses by putting your arms around each other is known as a couple cuddling pose. Do you want to try cute couple poses while taking candids? 
Winter cuddling poses, Swim cuddling poses, spreading the love in the air poses, etc.
Try to take some close-ups and candid shots, like when you two are walking, laughing, or feeling the natural beauty of each arm.
The bedroom is the best place where you can try something silly or romantic cuddling poses.
Couple Selfie Poses
From a foodie couple to travel lovers, all prefer to capture memorable moments in one frame. Couple selfie poses offer unique, special, and unforgettable moments with your beloved person. Want to live in the moment, forgetting the rush lifestyle? 
Be cool and use fun filters for taking cozy mirror selfies or elevator selfies, couple fashion selfies, or others.
You can play with monochrome to achieve aesthetic photography.
Try to implement some funny ideas like kitchen selfies when cooking, walk with me selfie pose, the Bollywood pose, and others.
Couple Yoga Poses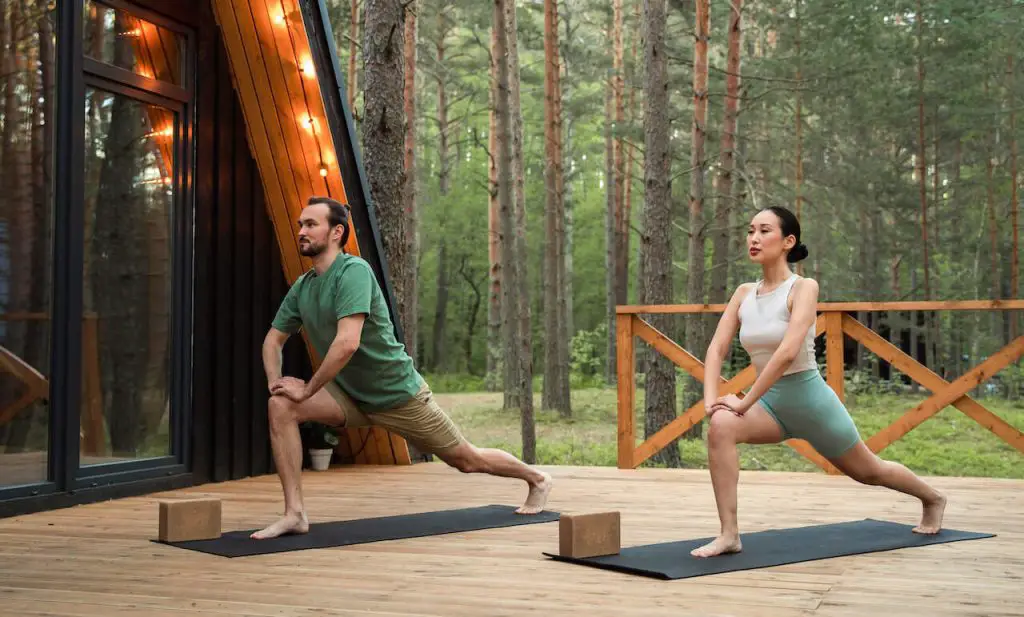 When you and your partner shoot, physical activities are called a couple of yoga poses. Partner yoga, or acro yoga, is one of the most demanding and popular photo postures for couples because it ties you two in a strong bonding. 
Partner back stretch pose, couples camel pose, Partner yoga twist, and others pose.
The most popular pose is the partner yoga tree pose or partner acro pose.
Depending on your body flexibility, you can try any yoga poses. 
Casual Couple Poses for Photoshoot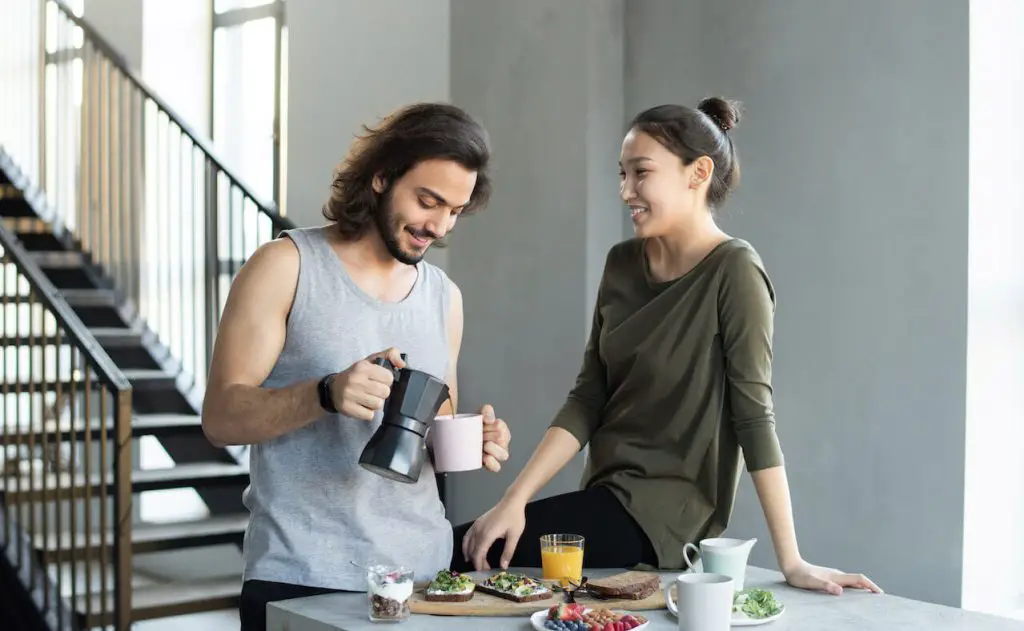 Casual couple poses require no extra arrangement only need to highlight tenderness, natural emotions, and lots of funny moments. With this pose, you can highlight your inner creativity and lots of silly things.
A titanic-style couple poses or takes a selfie when you two sing your favorite songs. 
Play with hands sign, use props to express the feelings, or lean on each other in front of a sunset pose.
Jump and hug from behind pose, spread the love in the air of autumn pose, or run away from the party pose.
Formal Couple Photoshoot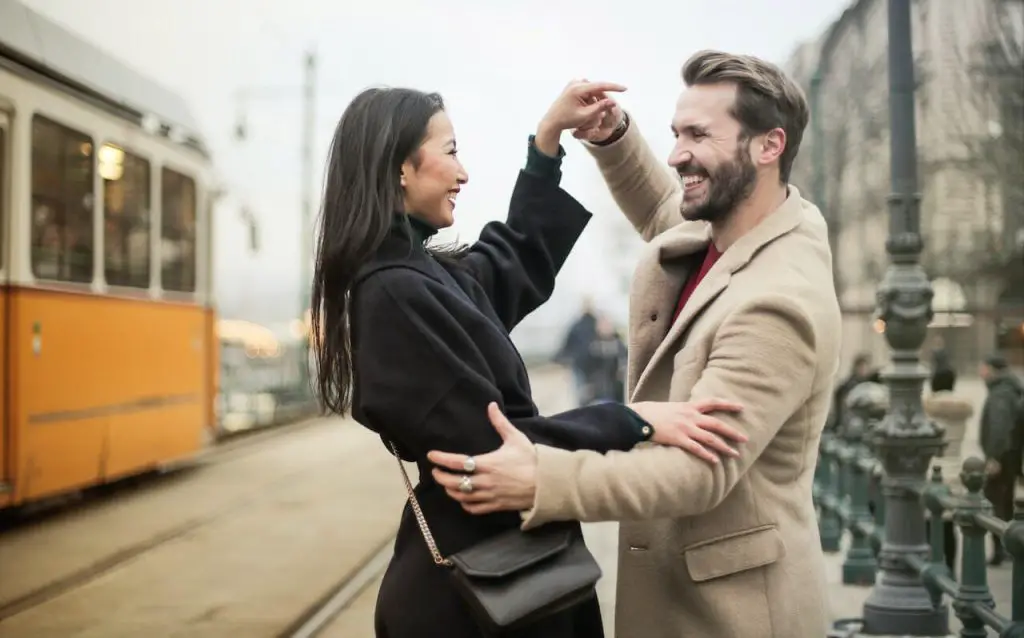 The formal couple photo shoot is not a snapshot. It's all about arranging a pose under effective light, composition, and highlight story. Here, you must focus on your facial expressions, outfits, and surroundings to give the best shot.
To shoot a joyful and fabulous formal couple, you need to choose a location, your makeup, and outfits.
You can hold your partner's arm, hug from the back side, or sit on a couch. 
The most popular pose is when you sit on a chair, and your partner is sitting by touching a portion of the chair. 
Anime Couple Poses
Do you want to experience something new that may give you an animation vibe and detach from a realistic lifestyle, just like the KDrama series? With this pose, you will also acknowledge some awesome couple photoshoot outfit ideas.
You can try the most popular love sign by using fingers or can express love by standing opposite but resting your head on his back.
Something cool like wearing fairy wings and almost kissing poses.
The first meet in the moody weather or snow day where your soulmate is sheltering you.  
Couple Drawing Poses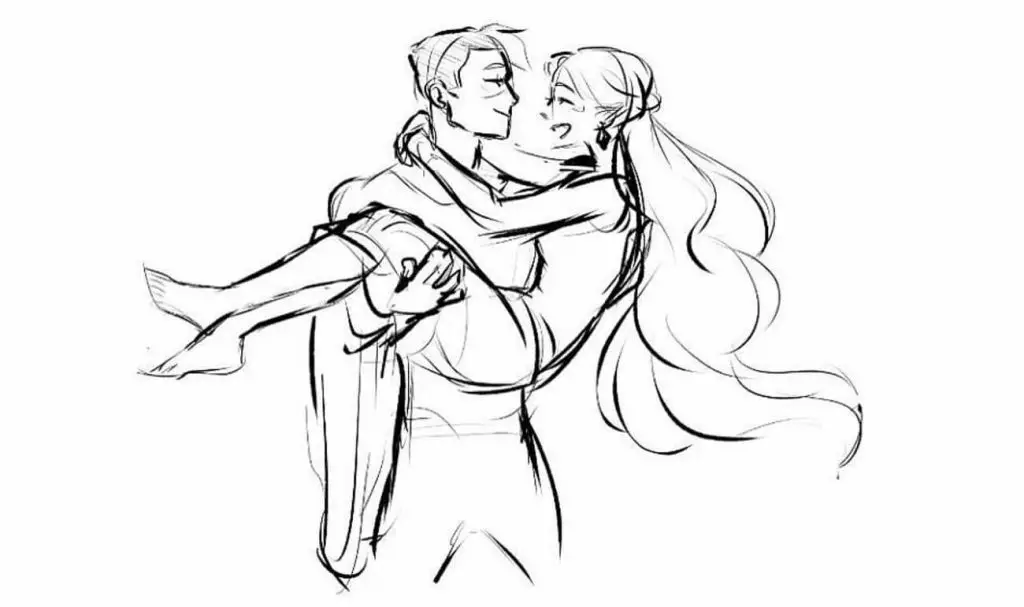 Some artistic couple love to enjoy their drawing time and try different poses like drawing plans, fun with colors, and others. Life is beautiful when you find your precious partner with whom you can explore new and unique things. Let's implement some cute couple photos ideas below:
A couple of artists work together and draw poses, play with drawing instrument poses, or show their masterpieces.
You can try some funny moments, like using frames and colors to paint your hands or others.
Play with your partner or plant a soft kiss.
Funny Couple Poses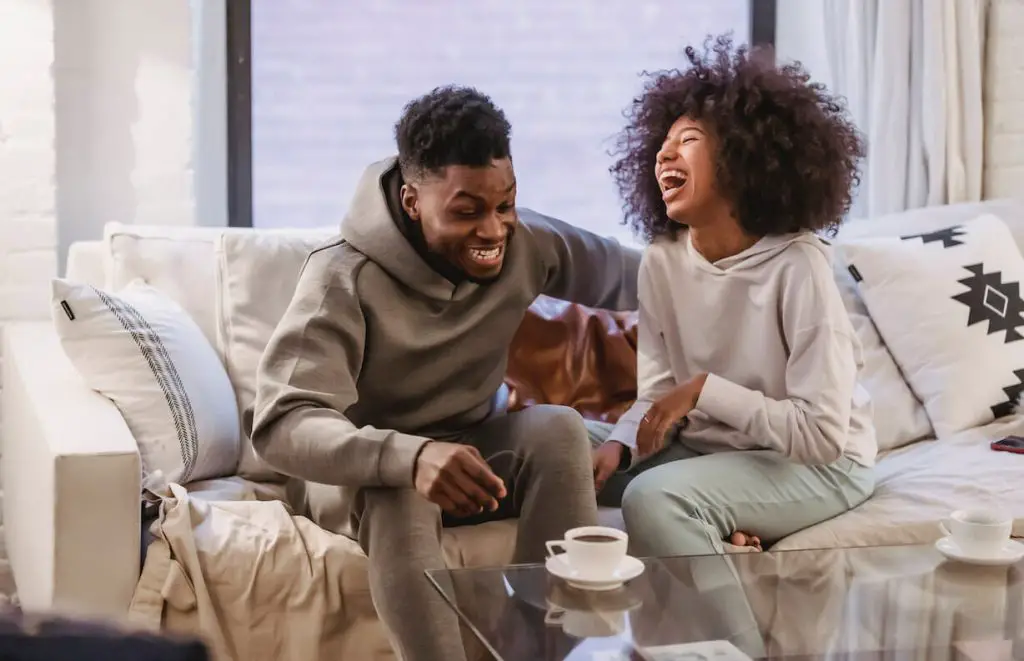 The funny Couple's poses are all about expressing joy and excitement while shooting the pictures. This pose can easily demonstrate your funny angles and your partners' natural feelings. 
Portray a planned pose on the bed, have ice cream fun, or sneakily look at each other's phone pose.
You can use cute and amusing props like simple cardboard mustaches, lips, or other funny faces.
Snow fights, shopping fun, or other funny poses to enjoy every single moment. 
Prom Poses for Couples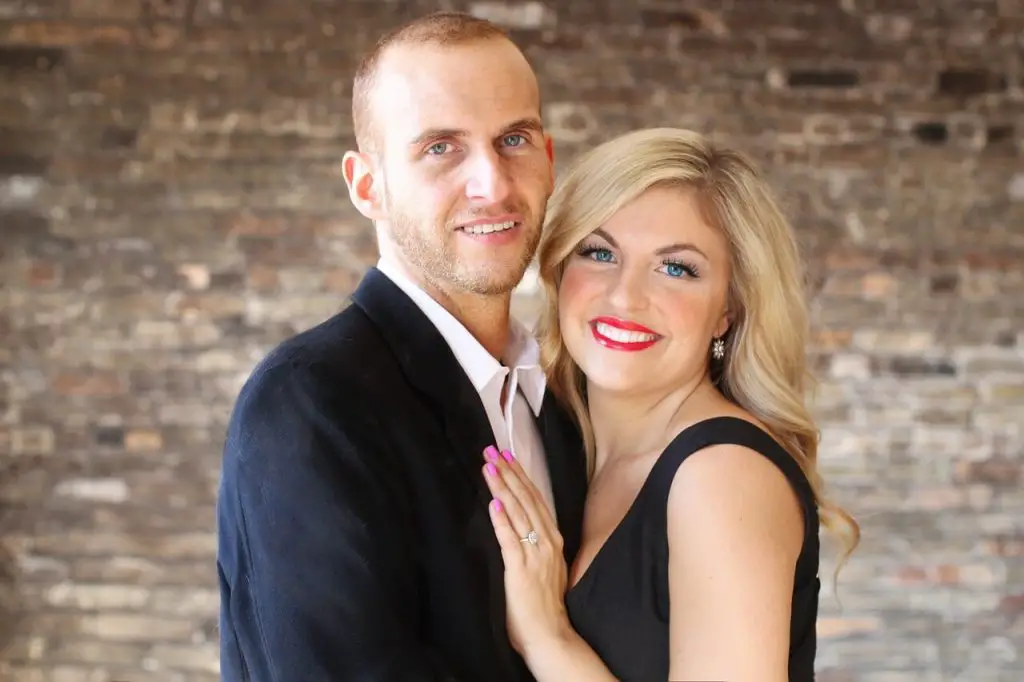 The pose is full of joy, dance, and enjoying the last single life before becoming a bride. You can follow TikTok's page or other popular social platforms to try celebrity style.  
Have your partner stand behind you for a classic prom pose and angle both of your bodies away. 
Bust a move, pop your leg up pose, take a stroll, or blow a kiss pose.
For doing something silly, try whatever you wish to do before your big night with your partners.
Couple Sleeping Poses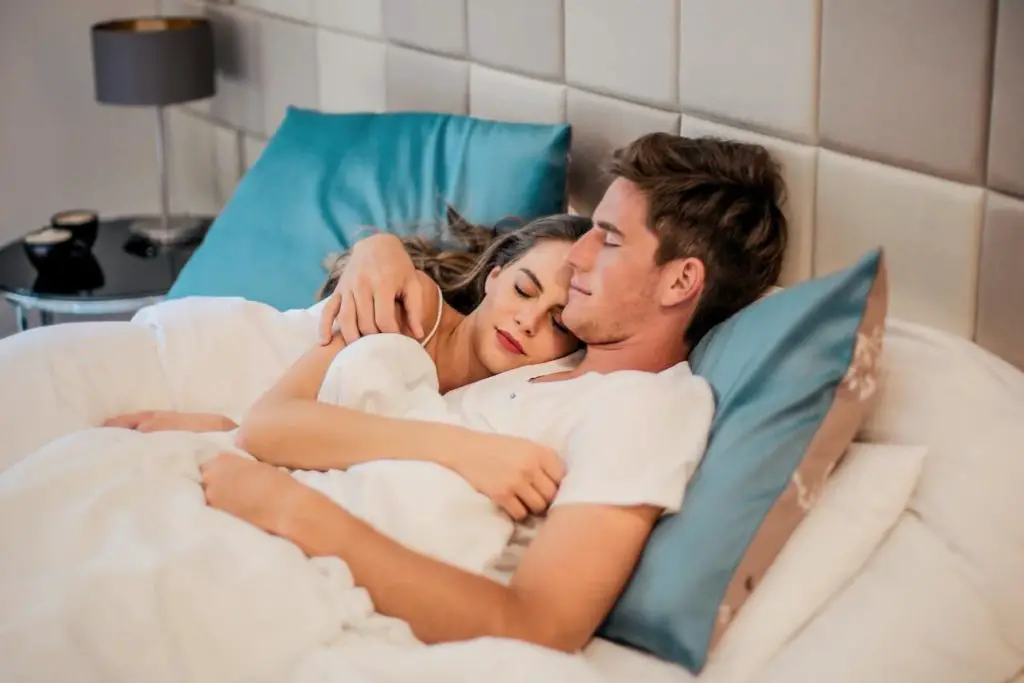 The poses demonstrate your intimate moments, security, and trust when you fall asleep with your partner. For this reason, it is considered one of the purest Couple poses ever. 
The leg hug, heart on the sleeve pose, tummy nap, or the over-body pose.
You can try any sleeping positions to express the sleeping beauty or the intimacy between the two.
Make a tent and decorate it with adorable items to give a relaxing view.
Sexy Couple Poses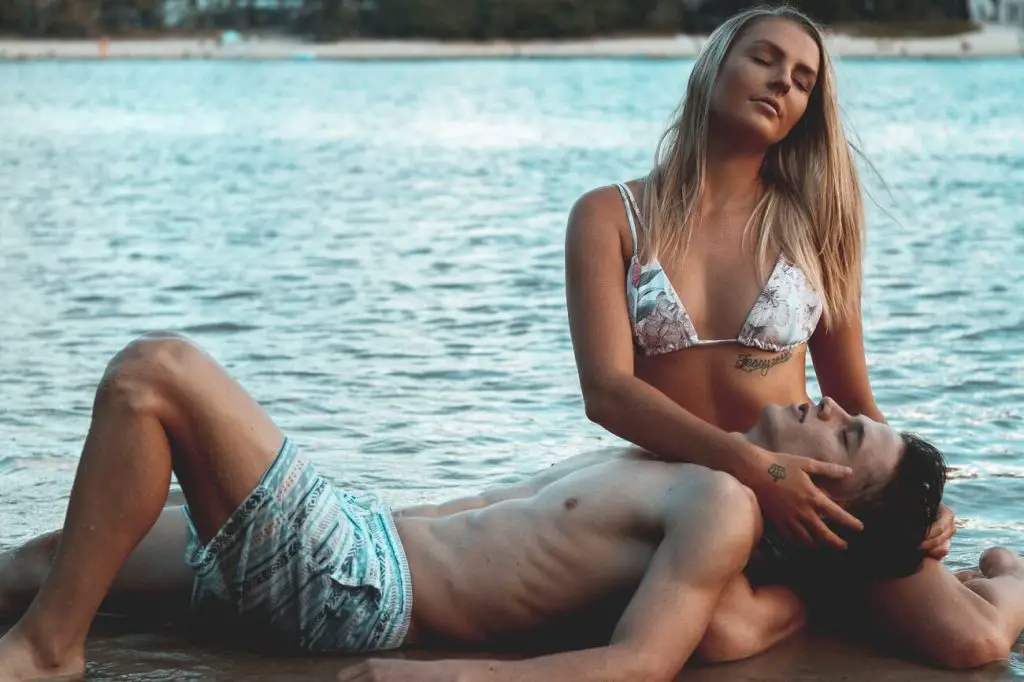 This pose is one of the most romantic photoshoots for couples. With this pose, you can express your inner charm and relationship craziness. Do you want to try something cool with your partner? 
Bathing together and expressing intimate feelings pose, cuddling, or wrapping together in one blanket.
For the outdoor photoshoot, try sexy outfits before sea bathing, the t-bone pose, or lying down on the bed expressing something naughty.
Sitting on the partner's lap is one of the best couple photo poses, tickling or ear-bitting pose.
Pro Tip: You can also try beauty photography or night photography ideas to open up your inner feelings with your beloved person.
Romantic Wedding Couple Poses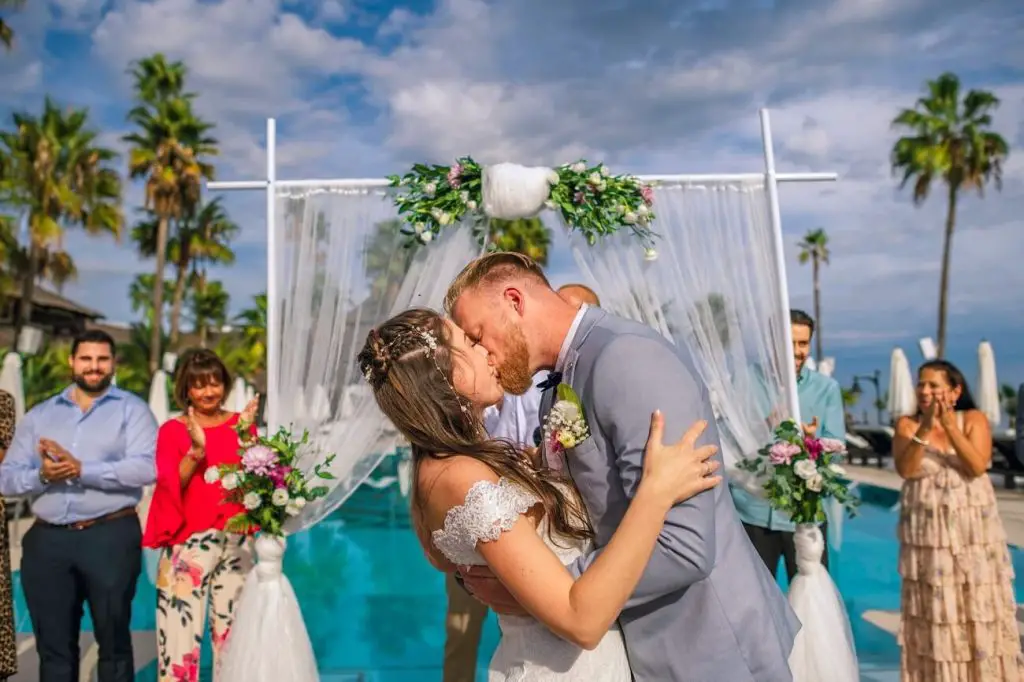 The romantic couple pose shows the groom and bride's love story turned true to what they have dreamed of for so long. You can highlight everything from decoration to a wedding outfit to immortalize every moment and memory.
Blossom gardens and fields are the best places for a wedding photo shoot or to create a love story.
Ceremony prayers pose, black and white, blindfolded to create a suspension story or a first look pose.
The first kiss pose, walking up the aisle, or newlyweds leaving the venue pose.
Couple Maternity Poses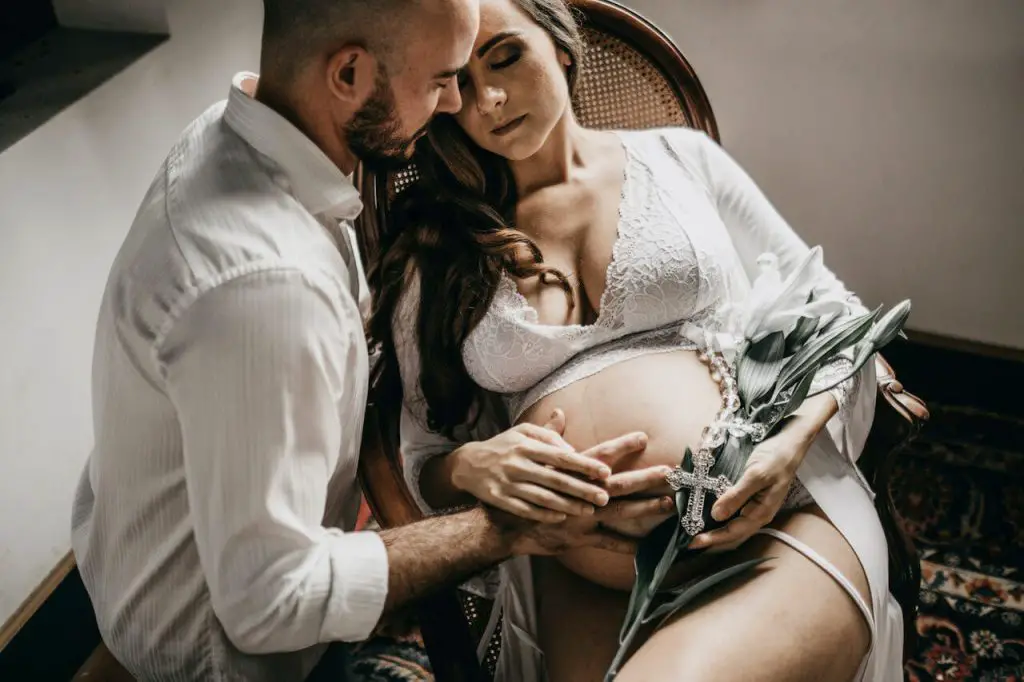 Couple maternity photoshoot poses are all about revealing the pregnancy's beauty with your beloved person. From Instagram feeds to Pinterest, you get lots of creative and unique couple maternity photo ideas. Let's check out below to explore more:
Holding the belly, showing a sonogram, baby shoes and other amazing props are couples' most common and popular maternity photo shoot ideas.
Milk bath photography, sunbathing or partner kissing the belly pose.
Add older children or try some flattering maternity poses. 
Outdoor Couple Photography Poses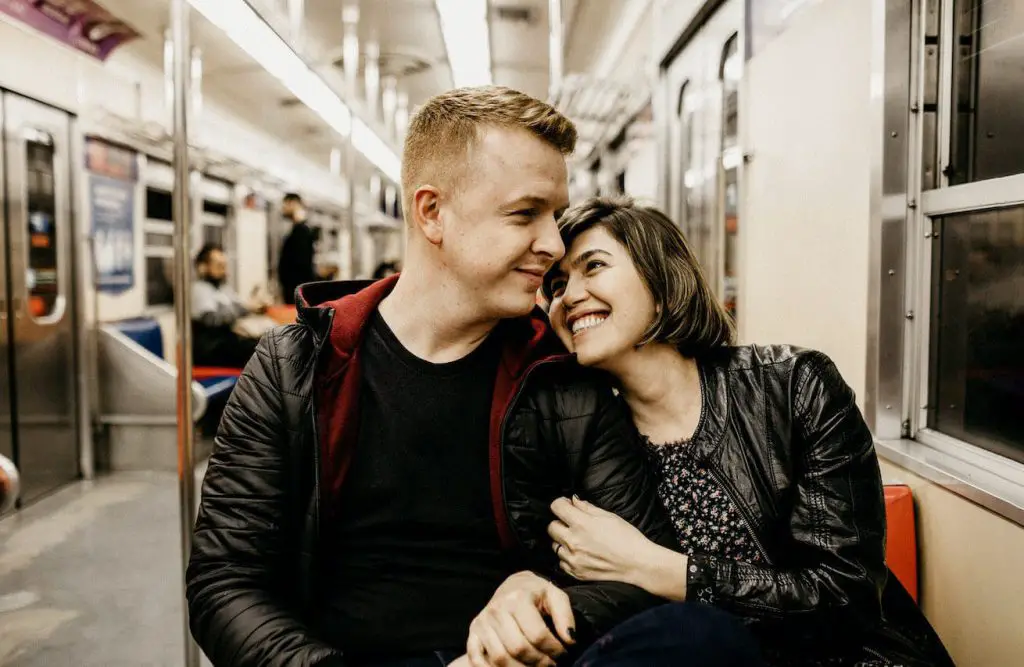 When you want to mix up natural beauty with your lovely relationships is known as outdoor couple photography. 
Cityscapes pose in a golden hour or blue hour.
Being silly poses to living the moment or your favorite place outing photographs. 
Try to create some stories like proposing or the first date. 
Pro Tip: Try to take wide-angle shots to showcase the location's beauty and partners' love.
Indoor Couple Photoshoot Poses
Imagine you and your partner are cooking or baking together with more fun and joy. This type of pose doesn't require extra arrangements. Only you need to highlight your inner beauty and creative thoughts. Do you want to get some interesting indoor photoshoot ideas? Let's look at below:
Shower together, gossiping, or pillow fight poses gives you lots of space to show off your relationship's beauty.
You can add your favorite pet into your couple frame.
To add more fun, you can add cute props, fairy lights, candles, or other things to decorate your world.
Beach Couple Poses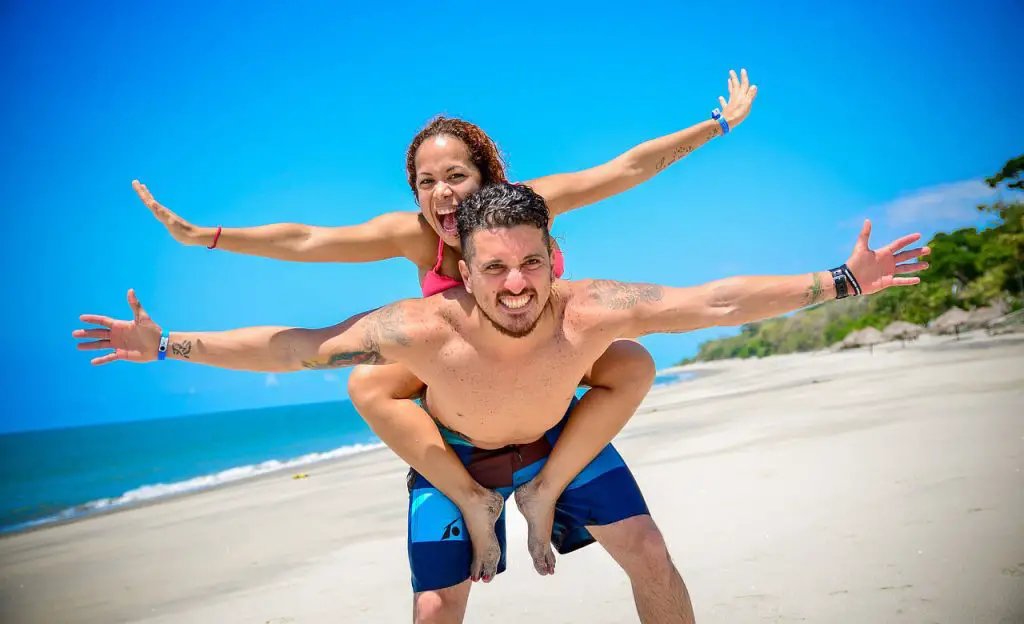 When you desire to mix up your romantic feelings with impressive hues and fascinating patterns of sunlight or sunset is known as beach couple poses. By implementing creative couple beach photoshoot ideas, you can make a perfect composition. Let's check out below to get awesome erotic couples photography poses ideas: 
Watching the sunset pose or the jump off the high cliff into the water is one of the best couple of beach photo ideas.
Create a love shape or underwater photo. 
Hold arms, touch noses, or arrange a beach candlelight dinner.
Boudoir Poses for Couples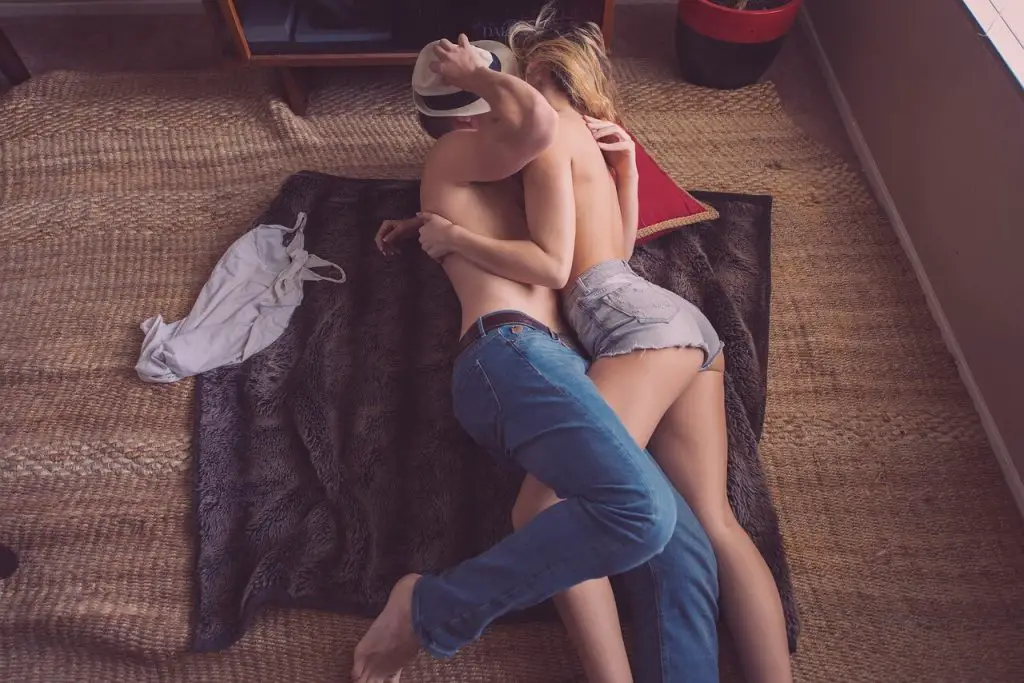 Couples boudoir photography is a great way to connect with your soulmate. You can try your more special and fabulous pose by trying some couples' boudoir photography photo shoot ideas.
Choose the outfit for your Couple's boudoir poses like glam, comfortable, and intimate.
Use candles, flowers, and other props for more classy pictures.
You can change perspectives or do some close-ups to express your emotions.
Couple Dance Poses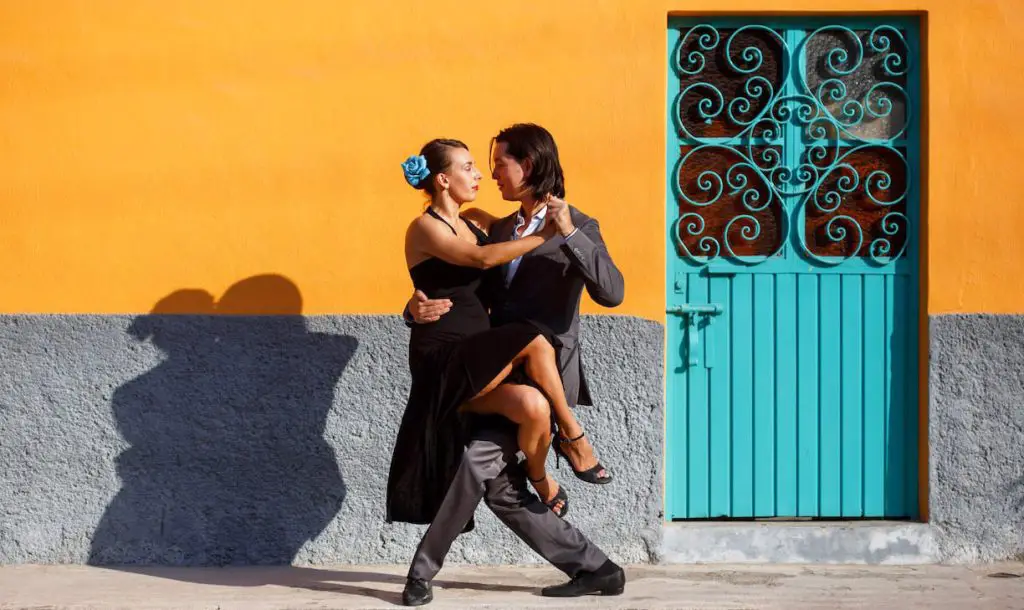 In your wedding ceremony, dancing with your groom is the most precious scenario ever. Romantic couple dance poses are all about spreading joy in the air by holding each other. Let's look at below:
You can select your favorite indoor place, like the kitchen, and play some funky songs to dance with your partner.
Using bubbles or balloons, you two can create a sweet dancing pose.
For outdoor dance poses, you can dance by feeling the rhythms of the air or the song of the seashores.
Note: To freeze the motion or capture moving subjects, use a fast shutter speed, aperture, and tripod (to avoid motion blur). 
Couple Art Poses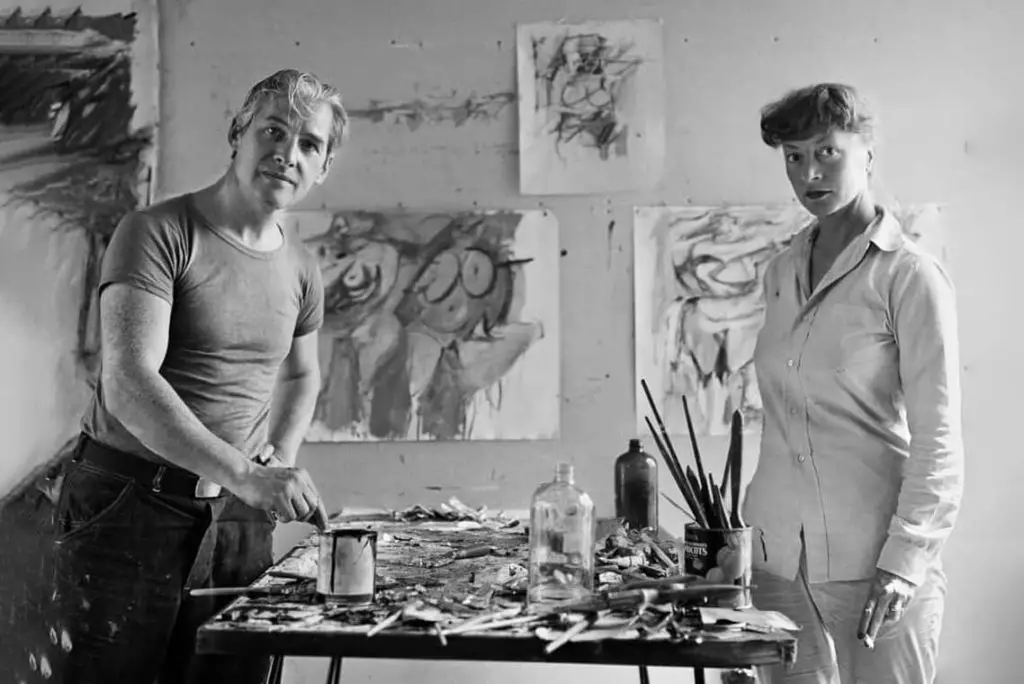 Most trendy and stylish photo ideas for couples. The couple art pose is all about creating an artistic environment to link with your creative and conceptual ideas. Check out below to know more: 
Shadow poses without highlighting faces reveal your conceptual idea.
Under the water, pose gives you fine art photography feel.  
Standing middle of the crowd wearing something unique that highlights only you two.
Awkward Couple Poses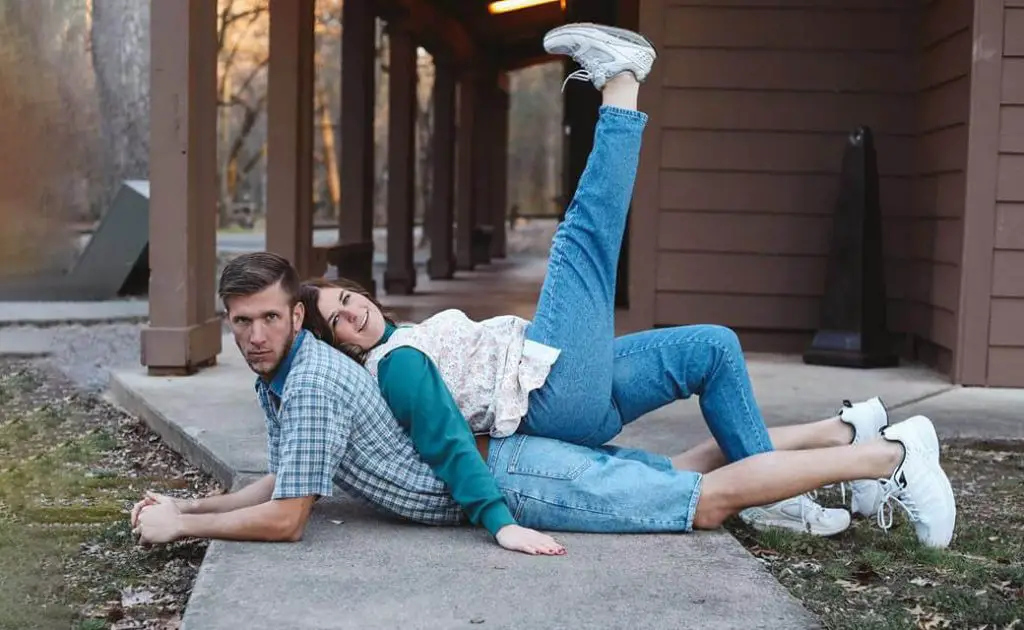 When you two want to experiment with different facial expressions or share a funny personal story, it indicates an awkward couple pose. Sounds like a weird couple pose idea? Not at all is a funny personal story.
The lift and kiss pose is the most romantic, where you two can show passion and dedication to each other.
Do something silly or goof around to express playful sides to frame out.
Sit on your partner's shoulders or others as per your choice.
Couple Angry Poses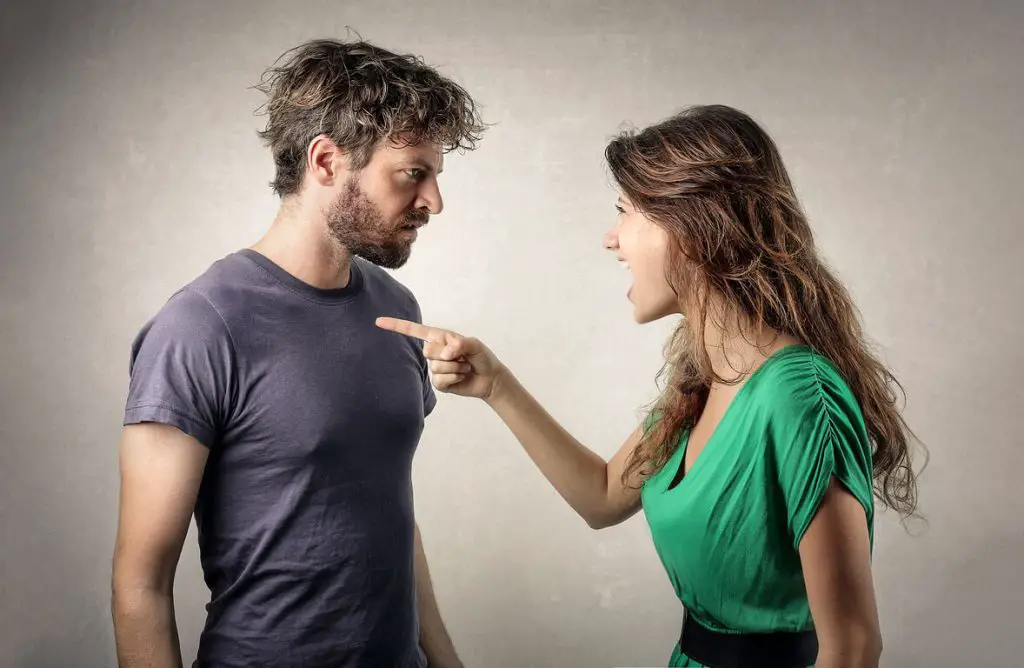 A couple's life is full of fun and joy. If you want something different to come out from the usual couple poses, you can try this angry yet sweet pose. 
You can pretend to hit your partner with flowers or can convince them with some candies and gifts pose.
To add an extra twist to your love story, you can steal a TV remote, and your partner hits you with boxing gloves.
Or, you secretly see recent drama series without informing your partner, and your partner gives you an angry look.
Girlfriend Poses
Do you and your partner go for a long drive or to a coffee shop before your wedding? Girlfriend poses are nothing but to express your crazy or funny moments together. To know more, scroll down:
A secret kiss poses using a cap to hide faces, a night on the town, or a ring shot after proposing.
Lift-off poses to have more fun.
Stylish details pose like highlighting what you and your partner wear or try some aerial shots including realistic view. 
Couple Mirror Poses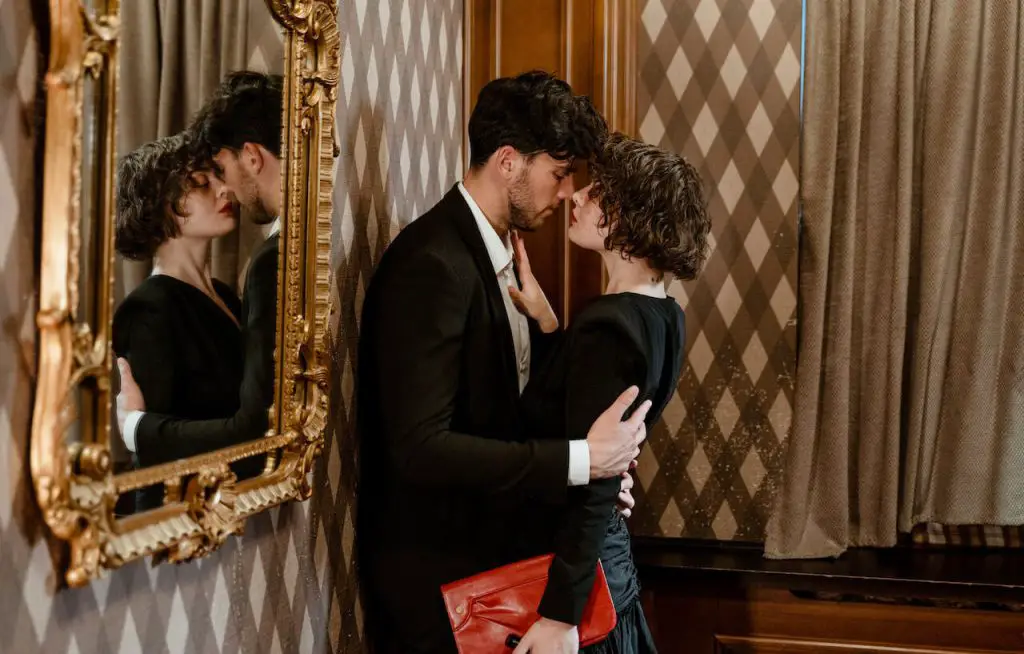 You can use a water surface or mirror to shoot the reflection of your relationship's strong bonding. It is one of the unique couple photo ideas which open up new perspectives. Want to try your own?
You can sit in front of the mirror, and your partner can hug you or help you to wear jewelry from the back.
Choose golden hour and take pictures near the river or pond to get reflections. 
For outdoor shooting, you can select a beach to add natural beauty.
Couples Christmas Photo Ideas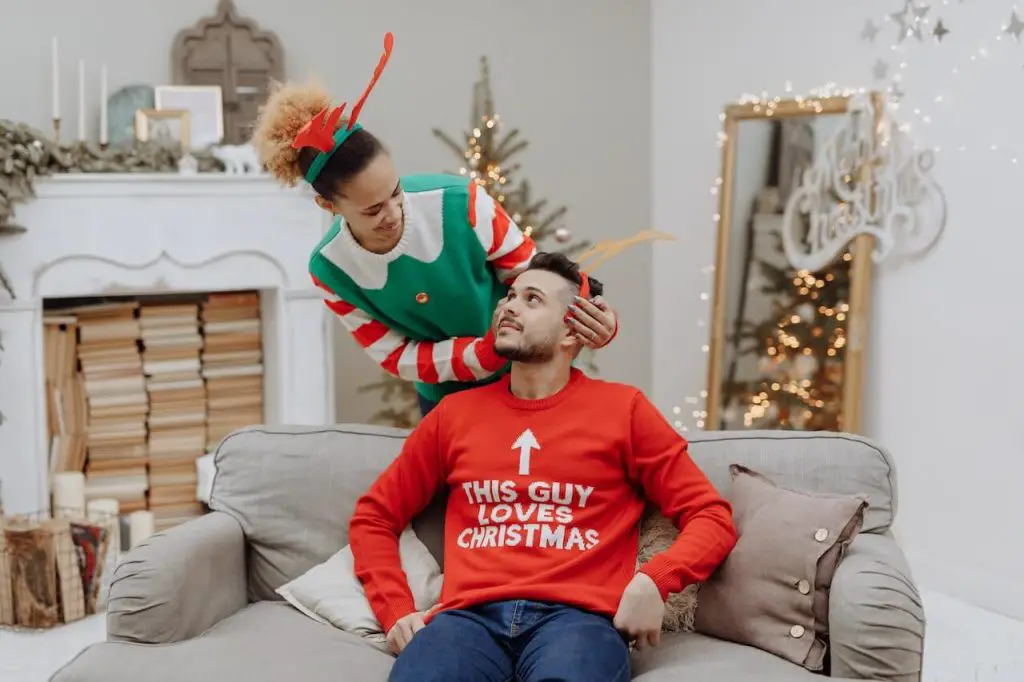 Christmas is full of laughter, love, gifts, and cheer. If you want to celebrate the spirit of this joyous occasion, you can try seasonal family photo ideas or popular Christmas poses. Let's take a look below:
The backward-leaning kiss pose shows off love and trust. For this, you two need to align your bodies front and back to emulate this pose.
Sit behind the guy by holding Christmas gifts or open gifts wearing Christmas caps.
You can dance together, decorate the Christmas tree with beautiful accessories, or light the sparkler. 
Lying Down and Facing Each Other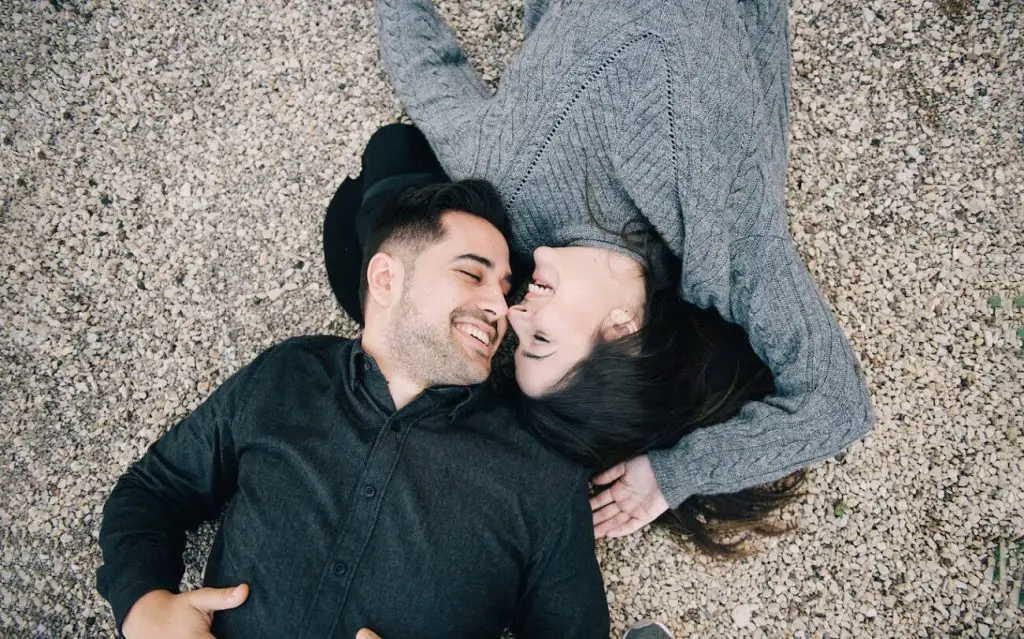 When you lie down on your stomachs facing one other, lie flat on the floor side by side, or in opposite directions, all of these portrait couple poses are recognized as lying down. From outdoor to indoor, these versatile poses can give you a playful moment. 
You can use a blanket if you want to implement the pose lying down on the grass.
For adding extra beauty, you can try interesting portrait photo accessories.
You'll need to create a little space and use a low angle to pay attention to the feet or faces.
Pro Tip: To create an artistic scene, you can plant a kiss on your partner's forehead when you, too, are embracing each other. 
Romantic Walk Couple Poses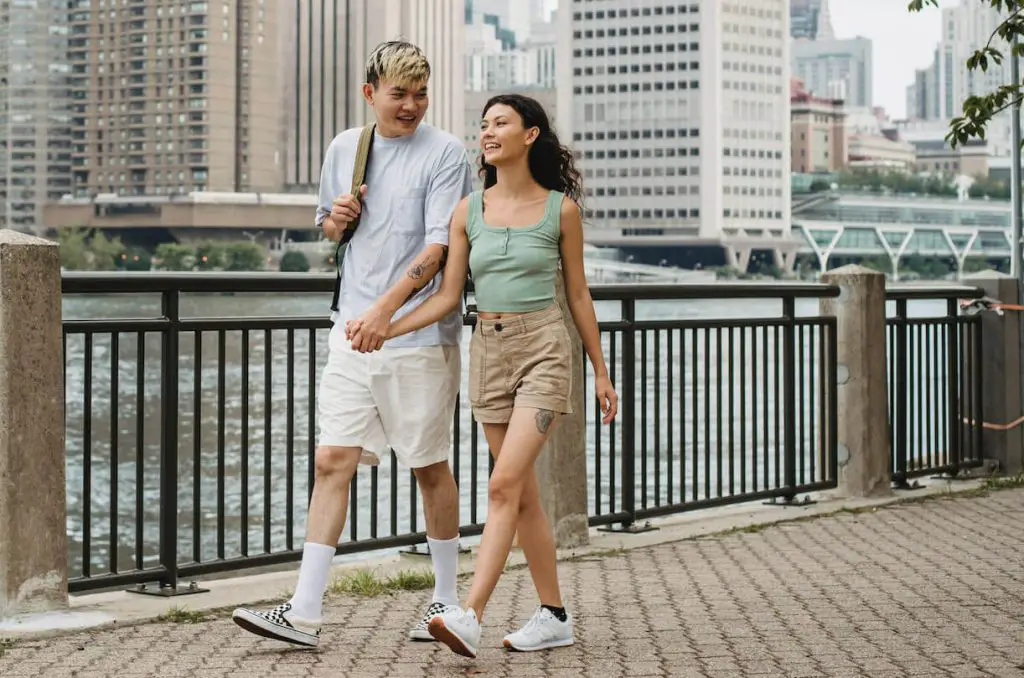 When you want to spend some quality time by holding hands and roaming around with your partner to express your natural feelings is known as a romantic walk pose. With this best couple poses, you can highlight the natural beauty from falling autumn leaves to soft winter snow. 
You can hold hands, smile, and look into each other eye's to live in the moment and express your relationship's beauty.
You can capture only "walking legs & footsteps to open up your creativity."
You and your partner can choose any comfortable clothes that suit your scenic location. 
Couple Holding Hands Poses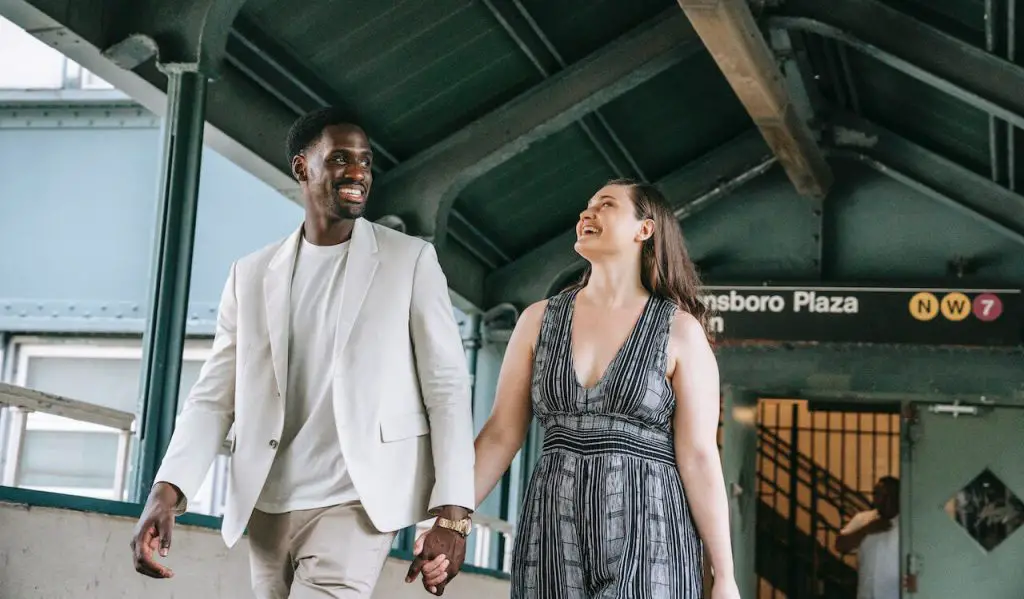 Holding the hand of your beloved person, you can laugh, walk, or point out anything interesting – all these deep connection moments are known as the Couple holding hands pose. It's a gesture of support, unity, and affection for each other. 
To show off an intimate feel of the universe, take wide shots interacting with the landscape hand-in-hand, or zoom in on the hands.
You get awesome creative couple photo pose ideas from hand poses photography tips.
To make it more iconic, casual, and romantic photographs, you can focus on holding hands or linking feet.
Candid Poses for Couples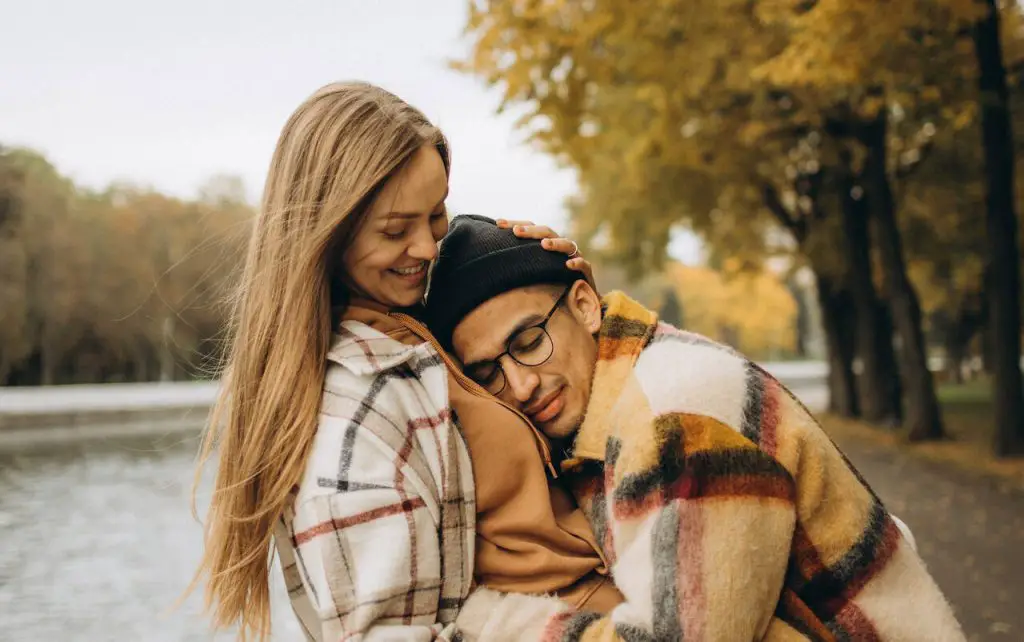 When you get lost in a couple of natural activities like whispering, sharing, or feeding each other, fun and laughter moments to enjoy the day, are known as candid. Just like documentary-style wedding photography, candid photos don't need to be concerned about the posing style.
Check out some lifestyle photography tips to get unique ideas.
Enjoy the moment with your favorite scenarios.
Pay attention to the surroundings.
Note: Avoid using food, props, or background that would give you awkward pictures.
Couple Dip Pose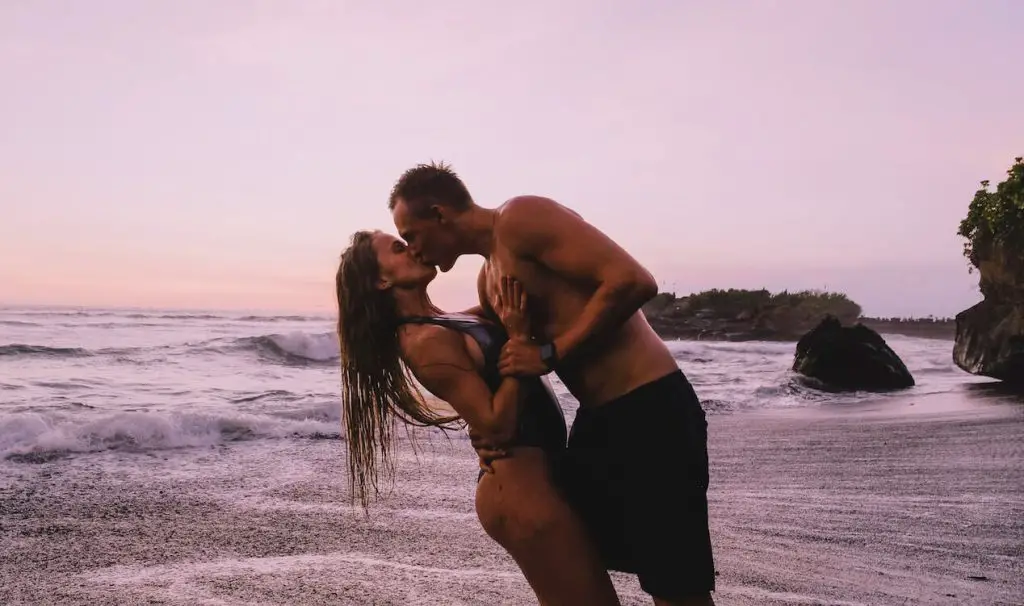 The dip pose shows trust in your partner by holding you for now and forever. It is one of the most popular poses in TikTok, movies, dances, and wedding photography. 
You can experience different dip poses like high seas, gown flare, dance dip, royal kiss, water dip, and others.
Add some interesting props and select a suitable place as per your vision.
You can choose nighttime city lights, sunny weather, or recreate fairytale romance themes like Cinderella to celebrate your love. 
Couple Photo Ideas in the Rain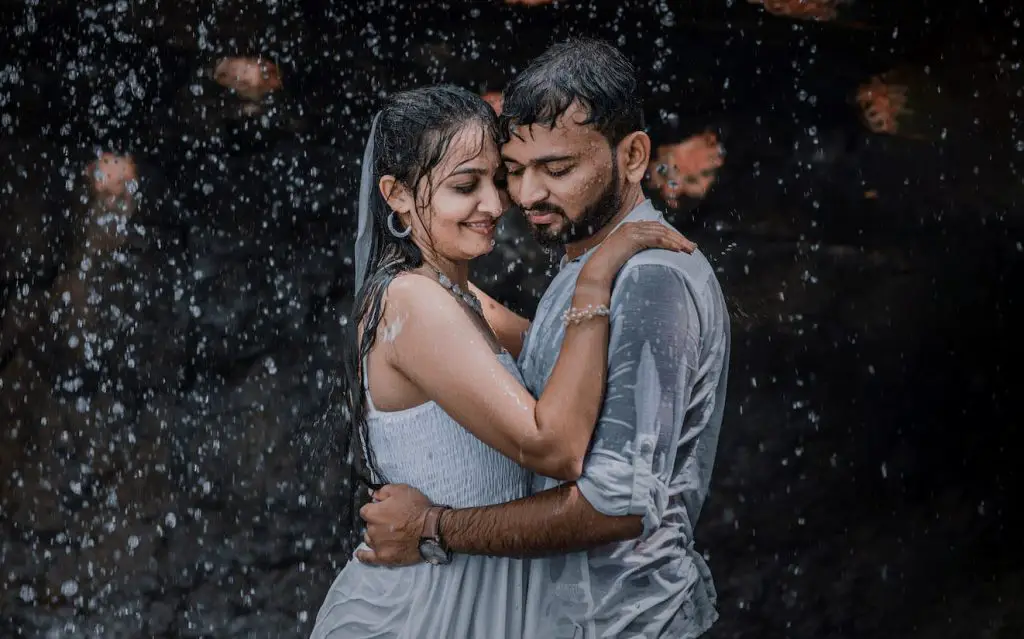 A couple of rain photoshoots highlight the tender electricity, raindrops, and mystery airflow. With these nostalgic and memorable photographs, you can store your rainy trip moments that last a lifetime.
Use a transparent umbrella to demonstrate the beauty of raindrops, or you can hide under the jacket.
You can also cover part of your lens by using an umbrella to create a beautifully blurred foreground. 
You can try cinematic couple poses or others on a gray day to capture moody weather and your love.
Note: You must use special rain equipment to protect the camera from rain. 
Bedroom Couple Photo Poses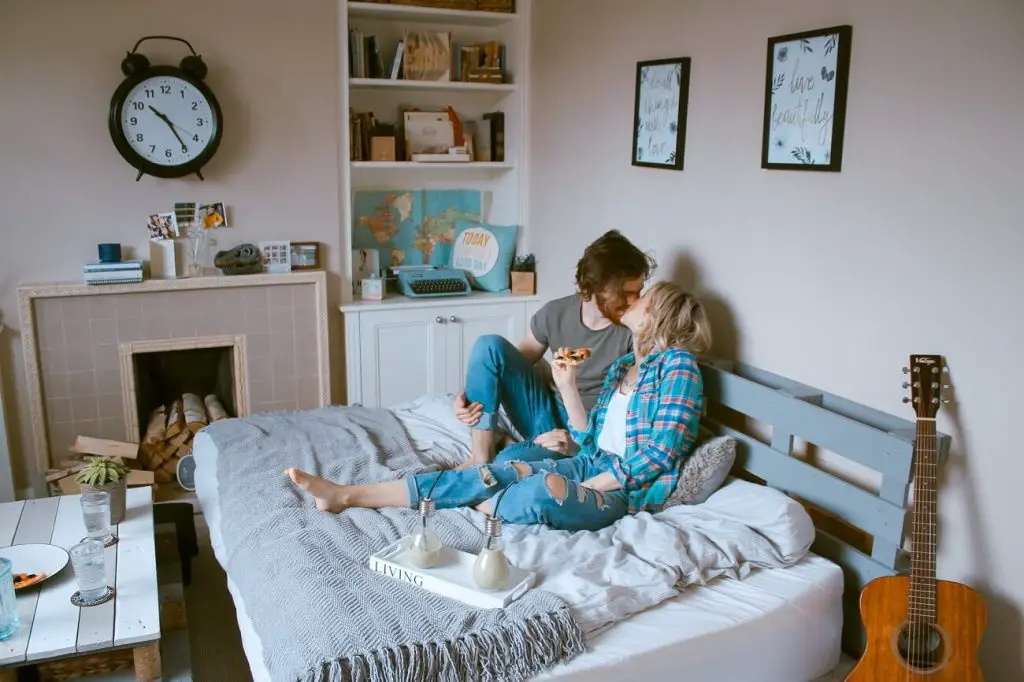 Do you want to shoot some crazy and fun pictures with your loved ones? A bedroom is the best place where you can implement your creative ideas by showing off your decoration. 
Feel your strongest and most confident together in your comfort place.
You can capture a pillow fight, mirror reflection, or sensational moment with your beloved.
To open up your creativity, you can use different decorative lights.
Note: Pay attention to the room colors and place the bedroom in the northwest or southwest direction to get enough natural light. 
Sunset Poses for Couples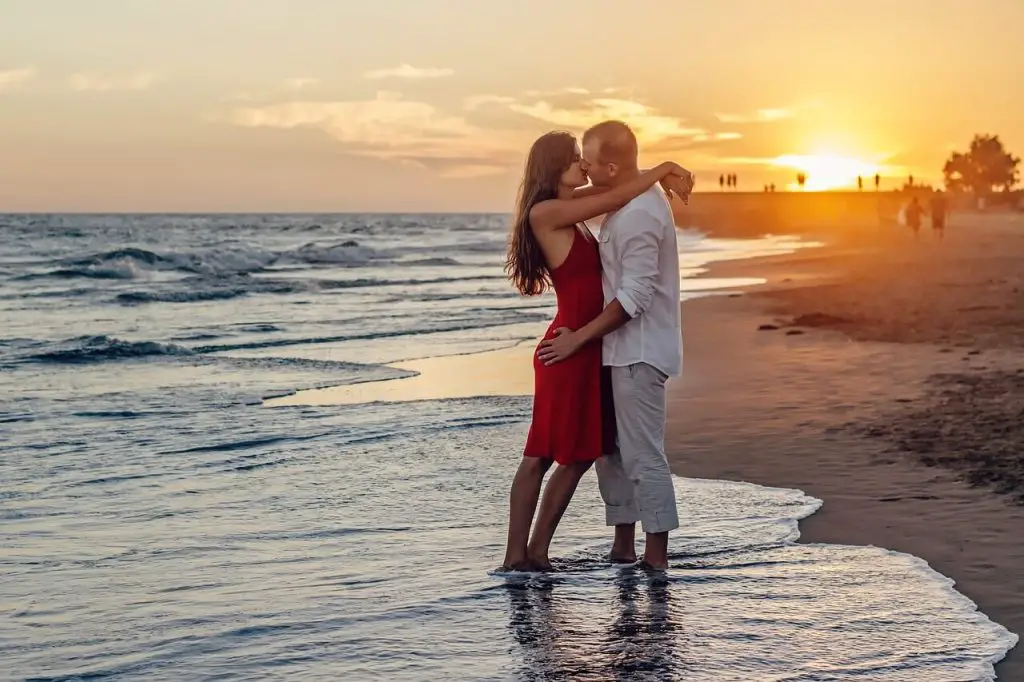 When you use a sunset or a bright light source as a background, the pose is known as the sunset pose. You can try shade shots, filtered light shots, sunset shots on the beach, dusk shots, and others. 
Golden hour is an ideal time to capture dramatic and backlit silhouettes using dark shadows.
You can capture the photo against the light or create a loving moment surrounded by soft light and sprawling skies.
To spread your love magic into pictures, shoot a landscape, waist-up, and close-ups.
Forehead Kissing Poses for Couple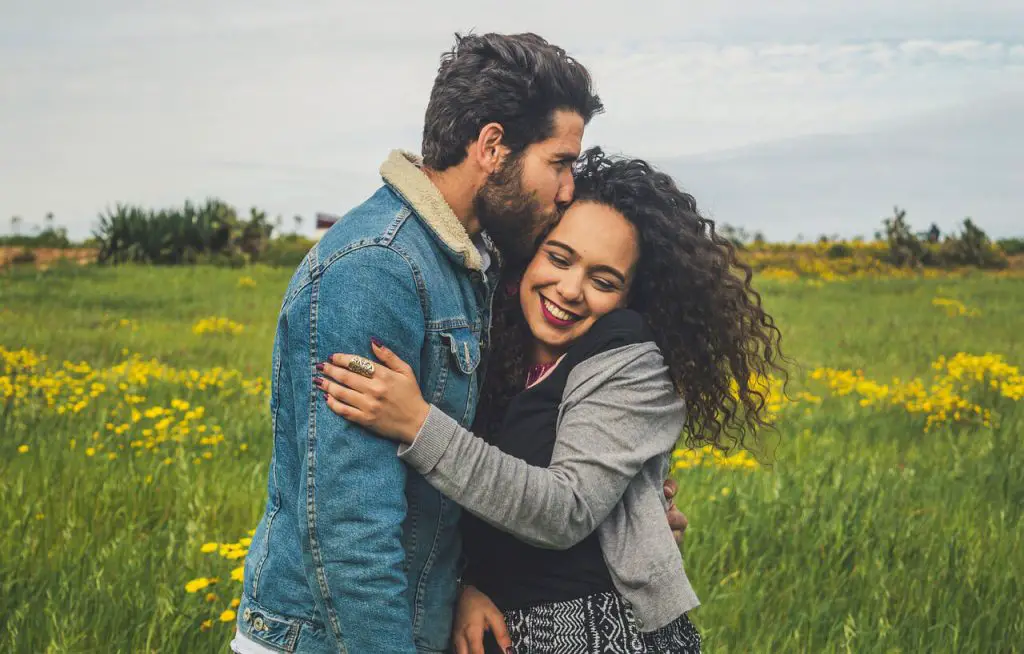 One of the best close-up portrait photography that symbolizes love and respect for each other. It is a caring and gentle approach to your loved ones. Do you want to try this tender and simplistic act? 
Get into a romantic mood by closing your eyes or holding hands.
Plant a kiss with a sweet and natural expression on your lover's forehead.
Feel the moment to highlight your natural feelings.
Bold Couple Poses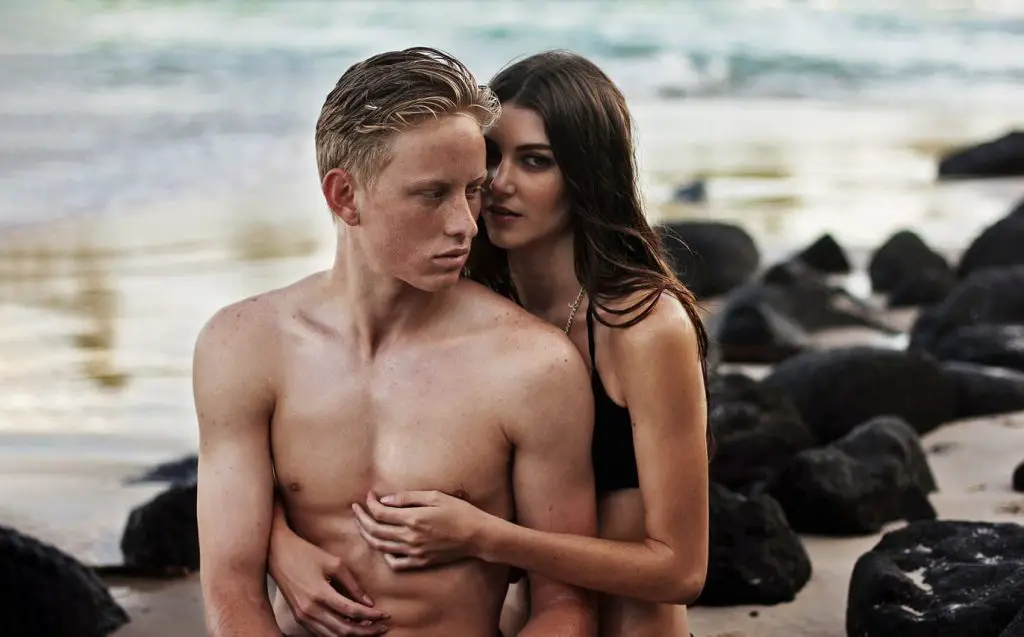 Demonstrate the tenderness of real feelings with your bold couple poses. It might be a moment before kissing, piggy riding couple poses, snuggling under a cute blanket, or anything as per your vision. 
You can try any pose to highlight your relationship goal.
Try the black-and-white effect on your Couple's portraiture. 
Avoid distracting colors that steal your feelings.
Couples Photography Tips for Wonderful Images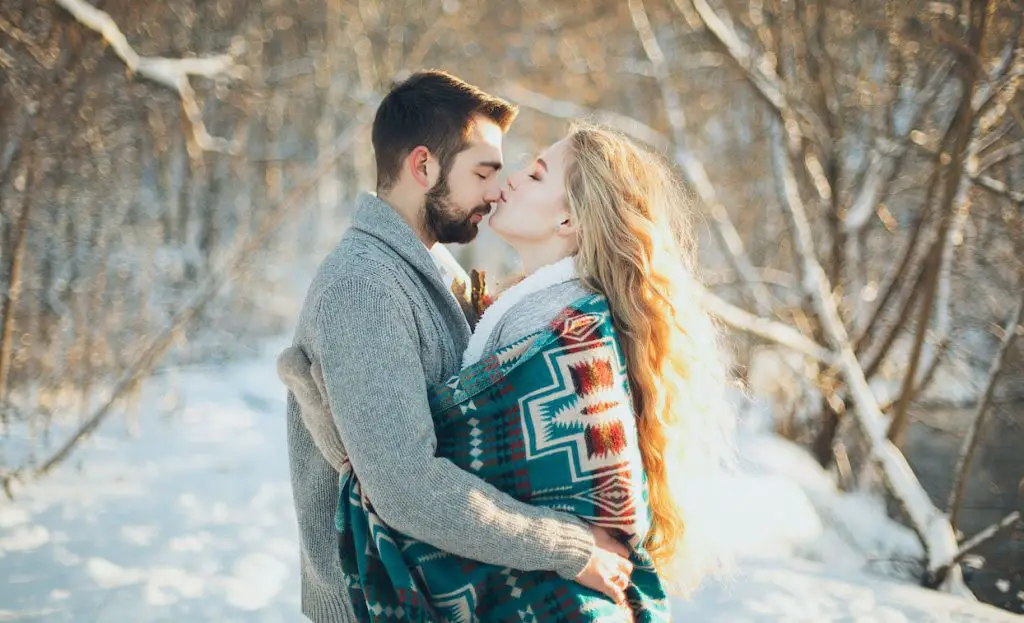 From celebrating an anniversary to exploring the city together, couple photography offers you a unique opportunity to look back on those memories. So, to preserve these timeless moments and feelings in an incredible way, check out some tips and tricks below:
Understand the Couple's vision
To highlight your strong bonding and years of story, you need to focus on your relationship climax first. To make a couple of photography series, you can portray different stories in different frames. 
Note: Always imagine the spot or wall where you need to showcase your love story.

– Visit Wallpics to frame and print your beautiful photos.
Choose a style
Everyone has their style and pose to narrow down their never-ending bonding climax. However, by applying different outfits, locations, and lighting, you get switching options to capture different looks. 
Use foundation posing
It would be best if you had an idea that posing can make or break your Couple's photography session. You can choose your comfortable and relaxing pose from our foundation posing framework. 
You don't need to show faces always.
Is it a rule to show a couple's facial expressions to tie a message? Of course, no. You and your partner can share any emotions using different props or highlight your lovey-dovey expressions, like hiding behind the tree by showing the love sign.
Try foreground foliage
The tip is all about artistry. It's a great way to play with stunning effects or camera techniques to add extra beauty and a natural vibe. For example, shooting through plants and other objects, creating a blurry foreground, or giving the illusion of secrecy.
Check out Pinterest or Instagram
Pinterest and Instagram are the most trendy social media for high-resolution photographs and creative ideas to create one. 
Edit to match the emotion (if required)
Photoshop can be your best friend when you've set up an editorial pose or dramatically lit shot; because it helps to create contrast and offer you the flexibility to play with highlights and shadows. 
Pro Tip: Keep the edit on the brighter side when featuring photos with a light and airy style. 
FAQs
How do couples make photographs?
Couples make photographs by trying different couple portraiture poses and getting inspiration from photographers or social media like Instagram. 
Where do you focus when photographing a couple?
You can focus on their connection, emotion, and feelings for capturing incredible couple photographs. 
What to wear for a couples photoshoot?
Muted, Neutral, and earth-tone colors have the power to highlight every beautiful and precious moment, bonding, and story of couples.
Note: Avoid wearing super loud or distracting patterns and colors that blend with your surroundings. 
How do you take a good kiss picture?
Check out the posing ideas and references from this article, or you can get ideas from different social media like Pinterest.
How much does a couples photoshoot cost?
Most couple engagement shoots cost from $100-$400 or more. But the pricing may fluctuate depending on the photographer's popularity, project details, traveling expenses, length of photo session (hour or day), photo editing services, and other factors.
When do couples take engagement photos?
Couples schedule their engagement photo session within 1-2 months of getting engaged to show off the radiating post-proposal bliss and some moments before marriage. But this time frame is varied as per the Couple's planning. 
Perfection
After completing the article: Couple photoshoot ideas, we hope you find your preferred posing style to capture your milestone couple photographs. But before shooting, pay attention to the photography details and tips we mentioned.
And most importantly – don't forget to share your cute photographs and unique couple photoshoot ideas if you discover any. 
Wish you a memorable photo session!